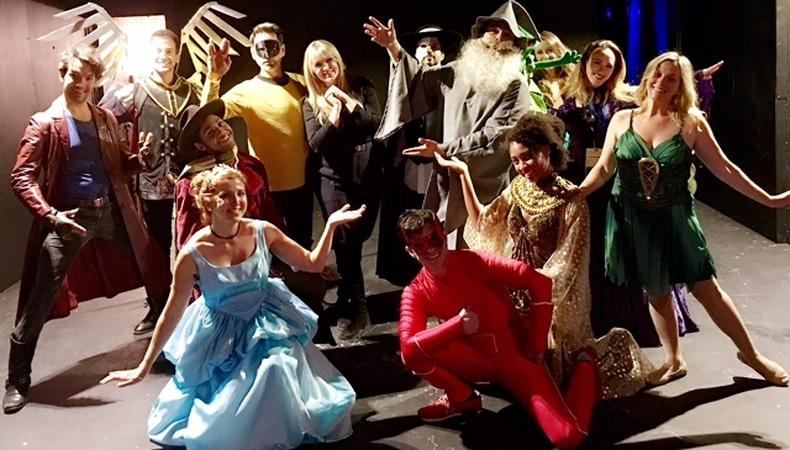 Calling all over-zealous comic book connoisseurs, cosplayers, and fandom aficionados! Can't wait for San Diego Comic-Con? Start the season early with "Comic-Con the Musical" at the Hollywood Fringe Festival! The musical follows three con attendees as they set out to achieve their goals and follow their dreams on an inspirational, nerdy, and comical journey through the world of cons.
It started with a couple of songs and just kept growing. Composer Laura Watkins wanted her next project to be about comic book nerds, so she enlisted writer/director Nicholas Brandt as her unofficial consultant. "I started as Laura's nerd consultant (questions like, "What's the name of a comic villain who rhymes with 'quaint'?")," Brandt says. Watkins says she had a bare-bones story and about 10 songs when she approached Brandt to write the book. Together they created a version of the show which they workshopped at the Wallis Annenberg Center for Performing Arts in Beverly Hills as part of the ASCAP Foundation DreamWorks Musical Workshop. As part of the workshop, they received feedback from Stephen Schwartz. "I learned about form and motivation in regards to the story... In general, it made very clear that certain things were not working, and how I could improve music for other things. The biggest change we took from that workshop was that we re-wrote the main characters, and changed the intro completely," says Watkins.
The cast also morphed as the characters changed through each version of the show. Watkins says sometimes bringing in a different actor who provides a different delivery can inspire music and book changes. Brandt also agrees that adding new actors to the mix can alter the overall package. "It's a good opportunity to ask, 'Are we doing this moment because we've done it in the past or because it's the right thing at this point in the musical?' It's a good chance to test the truth of the moment for those characters."
One notably different character is the Flarg Princess who "changed totally" from the workshop to the final version. According to Watkins, they needed "a strong musical theater person who could also do screaming rock and hip hop," which both agree made finding the Flarg Princess for the Fringe Festival challenging. After posting the notice on Backstage, the team found Mariah Rose Faith. Faith joins fellow Backstage actors Davis MacLeod Haines, Spencer Carney, Shawn Skye, and Holly King Bennett as well as the actors from the previous workshops - Luke Adams, Michael D'Elia, Jessica Gardner, Abigail Herman Margulis, Christina Lea, Mark Lewis, Sierra Marshall, and Ryan Shrime to complete the 13 person cast.
Brandt says Faith "stood out for me in her taped audition because, unbeknownst to her, she auditioned with one of my favorite songs from 'Heathers the Musical.' So my advice to actors would be to stalk creatives and learn their idiosyncrasies. But seriously, she had an amazing voice, great acting range, and fun personality, which really shined through on her tape." She also followed the directions perfectly. "Which," says Brandt, "surprisingly, very few actors do. But there were specific things we needed to see from the actors and if they don't send them, it's hard for us to be 100% excited about casting them. Always be as professional as possible and follow the submission directions."
The whole creative team - Watkins, Brandt, and Jessica Gardner (co-director) - were involved in the casting process. They were looking for actors who could hit the notes both musically and emotionally. Gardner, an actor herself, focused on who was listening, while Brandt looked for who was capturing the essence of the character. Watkins says, "My concern is always musicianship and voice. Some people with great voices auditioned, but their musicianship was not what I was looking for. I needed singers who could learn music on their own from demos and sheet music. I asked a lot of questions to make sure of their ability to do that." In addition to the acting and singing ability, the team also wanted actors who were as excited about the show as they are, says Brandt.
"Comic-Con the Musical" runs June 2, 11, and 18 at Sacred Fools Theatre in Los Angeles, CA. For tickets, visit http://hff17.com/4333.
Inspired by this post? Check out our Los Angeles audition listings!