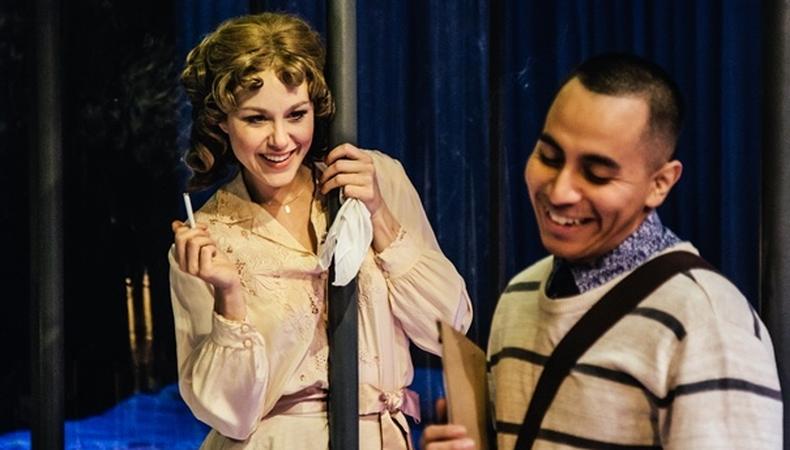 Boasting a truly multicultural cast, Michael Michetti's "A Streetcar Named Desire" for Boston Court Performing Arts Center brings Tennessee Williams' classic into the modern world. Casting director Victoria Hoffman came on board after having worked with Michetti previously on "Captain of the Bible Quiz Team" at the Rogue Machine Theatre. Rogue Machine is a membership company, so Hoffman typically casts from the membership first, but the multicultural needs for "A Streetcar Named Desire," gave her the opportunity to meet many actors she was unaware of. "I don't think it's possible for any one casting person to know every actor in this town because there's so many, and so many really gifted ones."
Other than the leading role of Blanche (played byJaimi Paige) the entire cast is made up of actors of color. According to Hoffman, the idea was to have Blanche as the only Caucasian onstage and fill all the other roles with actors of color speaking in their authentic voice (no Southern accents), to highlight the sense of Blanche being stuck in a world where she doesn't feel like she fits.
To give actors an idea of the vision they were going for, all the actors were advised to bring in something that was authentically them and not to use Southern accents. "If somebody was from New Orleans and already had a Creole dialect great, use it, that's who you are," she says. If an actor spoke English with a heavy accent naturally, he/she was encouraged to use it and not cover it up. "Keep it absolutely authentic…these are people who live and work in the city and it's now," says Hoffman. The text itself (written in the 50s) lent well to the modernization, she says, "It doesn't have a Southern lilt, but we don't say our 'ing's' all the way."
Hoffman compares the casting process to creating a tapestry: "The fabric of this piece is made up of so many different threads. As you find each one, the shape and texture of the next may change." Hoffman says she had initially heard Stella as Latina in her head, but Maya Lynne Robinson came into the audition and claimed the role. "[Actors will] just sort of put their mark on it and say 'this is mine.' Like there's just no room for any other choice," Hoffman says. Once they locked in one actor, the fabric would change and they'd play around with bringing different actors of color into the mix. "You want to make sure that you're representing a truly multicultural world, that you're not leaning in one ethnicity or another," Hoffman explains. For the role of Eunice they were able to cast a trans actress of color, Guatemalan Mariana Marroquin.
Casting has taught Hoffman that every director has a different vision and story they want to tell. "It's always being observant and cognizant of what his needs are to tell the story that he's trying to tell." She notes that there are usually multiple ways they could cast a role, but it ultimately comes down to what choice supports the director's vision.
"Open calls do work, and actors should know that," says Hoffman, who cast one actor and came close to casting a few others who came to the open call posted on Backstage. Michetti and artistic director Jessica Kubzansky were at the open call from 11 a.m. to almost 9 p.m. because they wanted to see everyone. Christopher Ramirez showed up for the open call and was cast as Pablo. Hoffman notes that although Michetti had directed Ramirez at USC and had planned to bring him in to audition, Ramirez took the initiative to go to the open call.
Earlier in her career, Hoffman worked as an Equity monitor at open calls, so she learned early on how to do whatever she can to make actors feel comfortable. Actors are nervous at open calls and have very little time in the room, so Hoffman says, "I thought, I want them walking in the room feeling like a million bucks, so I'm going to just make sure to send all kinds of positive energy their way. That's the actor in me. I can't turn that off." Hoffman gets very invested in the actors auditioning for her. "People come in and they're just leaving their hearts and souls in the room and on that floor," she says, so it's very important to her to make the actors feel really positive. The only control an actor has in the room is to give the performance they want to give. "Beyond that they can't do anything, so I want them to always come out of a room feeling great."
Performances run Feb. 15-Mar. 25 at Boston Court Performing Arts Center in Pasadena, CA. For tickets, visit www.BostonCourt.com.
Pictured: Jaimi Paige (Blanche), Christopher Ramirez (Young Collector)