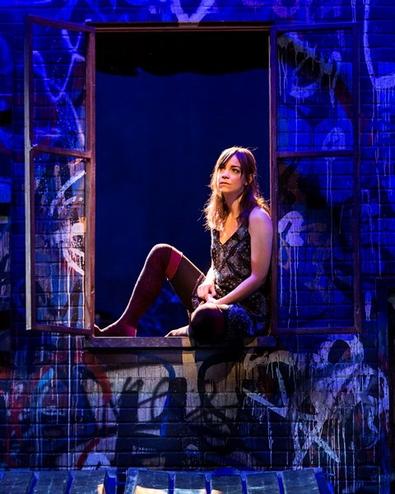 Dámaso Rodríguez's production of "Romeo and Juliet" which runs through May 8 at A Noise Within opens doors in terms of casting options. Directing the play that he first discovered as a child, Rodríguez was inspired by his experiences on a trip to Cuba to employ a framing device in his production. He saw a play in Cuba in a living room that had been blacked out like a small theater. "When the play was over we had tea with them and cookies and talked about the play." Rodríguez took this minimalist approach for the ANW production starring Will Bradley and Donnla Hughes, setting it in an alley where a group of actors are putting on "Romeo and Juliet."
The framing device and the support of artistic directors Geoff Elliott and Julia Rodriguez-Elliott opened up Rodríguez's casting options. "It became clear that Will Bradley was going to be our Romeo in any scenario," says Rodríguez, but finding the perfect Juliet proved more of a challenge. Casting director Julia Flores was employed to find more options for Juliet and Tybalt after the theater's initial sessions failed to produce actors they were satisfied with. "This is the first time that Geoff and Julia and A Noise Within have asked a casting director outside of the company to come in and open more doors," says Flores. With the holidays approaching and no Juliet, Flores decided to open the process up to video auditions. "We were cutting it a little close, but we found Donnla and she is everything that we wanted her to be," says Flores. Rodríguez notes they were only five days out from the first read-through when they finally cast the role. "It was us being in a sense of the word greedy or demanding of ourselves. We certainly saw many excellent actresses, but we were just trying to get the whole package," he says.
"Juliet is one of the most intelligent characters in all of Shakespeare and yet it's supposed to be played by this very young woman so we wanted youthfulness to a certain extent, someone that fit in well in the more raw version of the story that we're doing," Rodríguez explains. Flores was excited about finding a smart Juliet, adding "She's incredibly intelligent and I think that's something in a lot of productions that gets glossed over…She's a catalyst, she's strong…she's everything that you want to see a female be in a play. And that was really exciting that we really stuck to our guns to find somebody that could really embrace that and Donnla absolutely did."
After seeing Hughes in the pre-sessions, Flores says Hughes stayed in her head. "Sometimes when an actress or an actor reads a role I can't get their voice out of my head and she was that for me." So, even though it was the 11th hour by the time they were holding the final casting session, Flores says she wasn't panicked because she had met Hughes already: "She was my ace in the hole."
The framing device opened up casting options in other roles as well. As they went through the casting process, Rodríguez saw many male actors to play Benvolio, but at some point realized it didn't have to be a male. When the idea for casting a female in the role came up, Will Bradley reached out to Charlotte Gulezian who Flores had cast in "Stupid F**king Bird" for Boston Court. "She's just completely her own person and really an amazing actress. So she came in and did a great job," says Flores. Rodríguez adds that he considered a couple possible male Benvolio's but Gulezian was the only female they seriously considered.
Flores love that A Noise Within was so willing to reach beyond their company. says "They have an amazing repertory company, [but]… they were that committed to making sure that they found the Juliet and the Tybalt. It was impressive because not a lot of people go that extra step and they definitely did that."
Inspired by this post? Check out our Los Angeles audition listings!