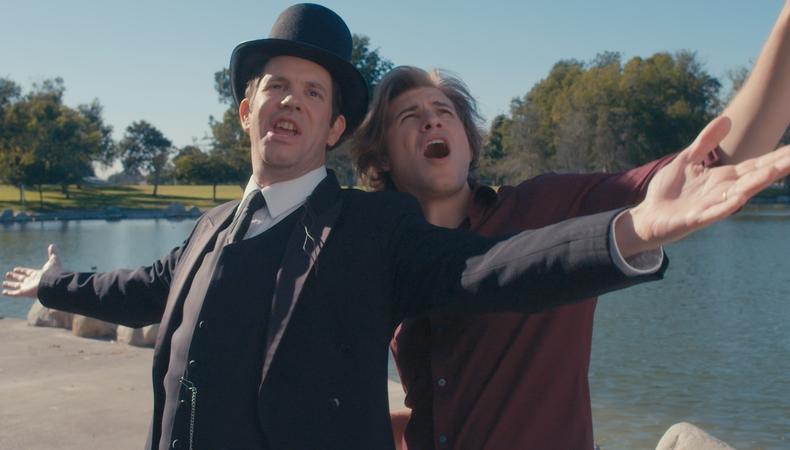 It wasn't the edgy title that caught the interest of Ashton Avila when she was trying to pick a project to direct for her Chapman University class; she fell in love with Matt Gibson's student-Emmy nominated script. "Trying to Fuck: A Modern Day Romance" is a musical comedy that plays on a role reversal in dating roles.
"It was just such a great story and a unique story and a unique way of telling it…" Avila says. "I think Matt was very aware that men and women oftentimes have similar feelings that aren't portrayed equally. It was his vision of these characters that they were all people. They were not men and women. They were all people."
Avila loved the combination of the musical and comedy elements, but since she'd never directed a musical before and had very limited time to do it, she faced new challenges. She gladly took tips from her fellow filmmakers, including the suggestion to make sure to hear the actors sing and not just rely on the fact "singing" was listed on a resume. "…you don't know if that means experienced singer or musical theater or to what extent that actually means," she explains. So, Avila had actors submit videos with songs similar to the ones in the film. For the actors they brought in, Avila provided a rough recording of the songs from the film and an instrumental version so they could practice for the audition.
From her previous experience, Avila understood the importance of casting. "Actors are the most important thing that you're going to put on the screen so make sure that you actually take the time to do it right. Because a lot of times projects will save it for the last moment. Like they'll hold off on casting because of the work it takes, but that can ruin a project because everything is based on the acting."
Avila also paired the actors for their auditions based on their tape submissions. "So, for example, Beau and Kingsley, the British guy and the lead, we had different pairs audition together singing the opening number."
Avila says Lady was a difficult character to cast. Alina Bock had submitted an audition tape through Backstage and auditioned in person. "When she came in she just had this personality… she's so funny. Like she comes in and she's automatically joking around and then she gets into character and takes it very seriously," Avila said. That skill to play the comedy with seriousness was important. "Because while it's funny to the audience, the character has to believe the actual pain they're going through." Bock was able to joke around on set and get everyone laughing, but for her performance, Avila says "You just see that she feels everything and she feels it when she performs and it comes off as very genuine and very real and very honest and that's why it's funny."
In addition to the actors called in from Backstage, Avila also brought in Demetris Hartman and Poonam Basu based on recommendations. Avila says Hartman's video was great. "He had just a great presence on-screen, and so we called him in and he just really fit the character." Avila cast him as the lead, Beau, and Basu as Vivian.
Avila says she likes to see what the actor has prepared before giving any direction in an audition. "Because one of the worst feelings as a director is when somebody brings something to the table and then you give direction and ruin it. I want to make sure I see what they bring to the table, because it could be better than anything I'd imagined and that's why film is a collaborative process, because if they bring something that's better than I imagined, that's what I want on screen."
The film is screening at The Glendale International Film Festival on Oct. 15, 2017.
Pictured: Demetris Hartman and Michael Faulkner.

Inspired by this post? Check out our Los Angeles audition listings!