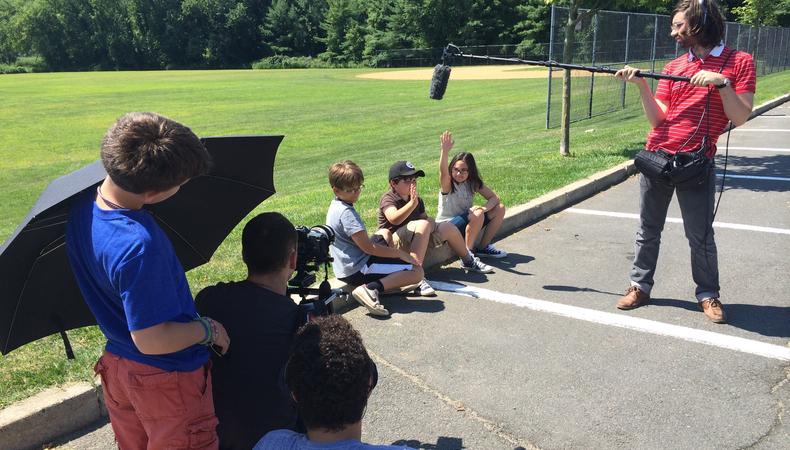 "Pact," the first offering from UCB digital Web series team Brinkman, tackles a heavy topic in a darkly comedic way. The series, starring Chet Siegel (who also produces) and Dru Johnston, revolves around the repercussions of a suicide pact three friends made as children. Through UCB, producer Jake Kalos had a plethora of adult actors to call upon. "We've got our core three and then we build and grow from there and pull people from all sorts of places for the other parts," he says. Despite the wide pool of adult actors, they didn't have the same wealth of young actors and they didn't have much time to find them.
None of the team had really worked with children before, so it was a new experience navigating all the labor laws and making sure the experience was fun for the children. The biggest challenge in casting was finding children with a maturity to deal with the sensitive material. "It wasn't the type of thing where we just wanted to cast any kid without letting the parents know exactly what it was. So it was just as much [finding] talented kids as it was [finding] parents who were comfortable with their kids talking about that sort of material."
Since the child actors would have adult counterparts, looks also played a role in the casting process as they wanted believable younger versions of the actors. For the main characters Andie (Siegel) and Greg (Johnston), Kalos found child counterparts based on the adult actors. "For the unfortunate character who…killed [himself], we actually cast the kid and then found an adult that matched who looked like the child," says Kalos.
"Backstage became an awesome resource for us because we were trying to cast four children in the series," Kalos says. They were able to find two through people they knew, but it was only a few days before the shoot started when they found the final two. After posting, they immediately found Hayden Gelman through Backstage. "She was perfect and for those of us on the team who were doing casting and just emailing everyone we knew, calling everyone we knew trying to find it, it was a huge boon for us."
While "Pact" was always intended to be a limited series, the team is leaving their options open on their latest series "Last Two People on Earth." Focusing on Peter and Dana, the sole survivors of a biological attack who are trapped in a bunker, the dark comedy makes you wonder why these two people were the lucky ones to survive. "Last Two People on Earth" airs its third episode Nov. 18 on the Brinkman YouTube Channel and will return for more episodes in the new year.
Inspired by this post? Check out our audition listings!