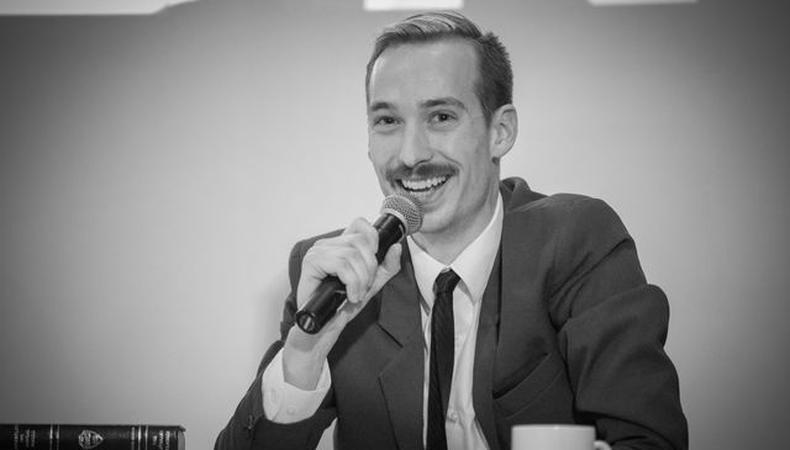 The simple question "Why are we friends?" provided the inspiration for the bizarre web series "Homebody" about two roommates – one human and one sock puppet.
After starting his career in photography, director Jonathan Frey has been filming for nearly six years, but in January he decided it was time to use his skills and creativity for a personal project. The six episode series focuses on the two roommates "battling it out to why they are even friends," Frey explains. The characters don't really acknowledge that one is a puppet.
Frey plays the human roommate, and asked one of his friends to play the puppet, but he still needed someone to play the puppet's human girlfriend, Samantha. Typically, Frey works with producers or the agency or a casting director for casting his projects, but in order to stay low-budget, he decided to cast the role of Samantha himself using Backstage. "I had heard great things about it and the responses we got were pretty incredible and the talent pool was amazing and it was like oh my god I can't wait to use this again." After only two days of accepting submissions, Frey closed the role because he had so many actors interested.
Because of the overwhelming interest in the role, Frey's challenge was narrowing down the applicants. He focused on actors who made it clear they'd really read the synopsis by including a cover letter showing their interest. "I just wanted to find someone who was interested in it and wasn't just blindly applying," Frey says. From there he narrowed down the prospects from the actors' reels.
Because he was casting only about a week prior to shooting, there wasn't time for in-person auditions so Frey interviewed the actors on the phone to get a feel for who they were and had them send in audition videos.
Frey knew pretty quickly that Mitzi Akaha was the right fit for Samantha. "She was essentially able to execute the notes I had for her for the character. She just kind of nailed it. She was just able to bring that character alive."
Frey suggests actors approach their submissions the way they would applying for any job and not just blindly apply. "If you write a decent cover letter, or if you say 'this is what I can bring to your character,' or whatever, you've at least got my interest." He also advises actors to keep their reels up-to-date.
Inspired by this post? Check out our Los Angeles audition listings!