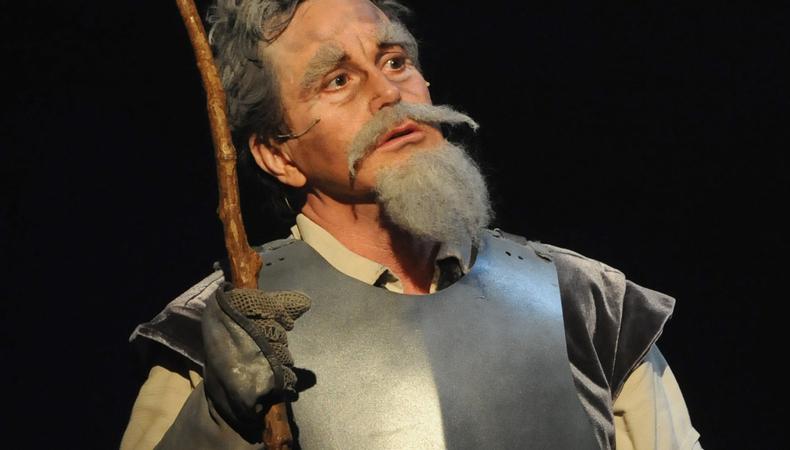 "My actors have the opportunity to really hit the ground running and then take a break and let it marinate," casting director Julia Flores says of the collaboration between Valley Performing Arts Center (VPAC) and La Mirada Theatre for the Performing Arts. The third full-scale joint musical production is "Man of La Mancha" directed by Glenn Casale.
Flores says Casale adds layers to whatever production he directs. "Glenn's vision for the show is so timely and so heartbreaking," Flores says. "It's just a sign of the times where we are where you look around the world and you see what's not going right and yet Quixote has the heart and the spirit to search for more and to believe in more…He puts that all out there." And so does the show's star, Davis Gaines. When Flores started casting, Gaines was the first person that came to mind. So, she says, he set the bar for Quixote - a challenging role, not only vocally, but also because the character is on stage so much. "He is the show," says Flores, "It's very rare that you come across somebody that can completely stand alone as an actor and as a vocal artist. He is phenomenal in both categories. He's a unicorn."
Having worked with Casale frequently, Flores knows what type of actor he is drawn to. "It's nice, because I agree with [him]," she says. So if she likes an actor, she knows he will too. "I get really excited about being able to introduce [directors] to new actors that they don't know." What does Flores like? Fearless actors who aren't afraid to make choices and not hold anything back. "They just give everything 150 percent and so those are the actors that I like to hire."
Flores and Casale prepare for auditions and expect the same from actors. What does that mean? It means not just throwing something together the night before the audition (though Flores notes she rarely sees that). She suggests actors research until they can be "completely in the moment and just let your emotion and your heart take over." The actors auditioning for the role of Aldonza exemplified that quality. "These women just bared their souls…They weren't thinking about 'am I hitting the notes?' or 'should I be standing here?'… They were completely committed to what they were doing," Flores says. The challenge was choosing just one of the talented actors she saw for the role. Ultimately, Flores says Nikki Crawford was just brilliant and "really fit every aspect of what we were looking for."
Flores' approach is to find the heart of a character; she shies away from more cartoony characterizations. For Sancho, Flores was looking for an endearing, loyal quality and a clear, pristine voice. Flores was overjoyed that Roland Rusinek was available since she'd been trying to work with him for years. "When I start a show, the first thing I do is make a list and every time I write someone's name down they audition in my head, and when Roland was auditioning in my head he was brilliant." Happily, Flores was just as pleased with his actual audition.
Flores was excited to be able to cast some actors she hadn't worked with before, including Greg Butler (the Governor/Innkeeper) and Rich Herbert (Padre). One surprise was Michael Stumpfig, who had just moved to L.A. from Seattle and wasn't on Flores' radar at all, but showed up at the ECC open call. Flores encourages actors to come to ECCs and EPAs because she believes that some actors are stronger than their resume reflects. "They have a natural ability and a natural talent and sometimes their resume doesn't always reflect their artistry and what they're capable of." She notes that a few people she cast in "The Little Mermaid," which is now on tour, were actors she'd discovered at an EPA years ago.
"Man of La Mancha" runs May 5-7 at VPAC and June 2-25 at La Mirada.
Inspired by this post? Check out our Los Angeles audition listings!