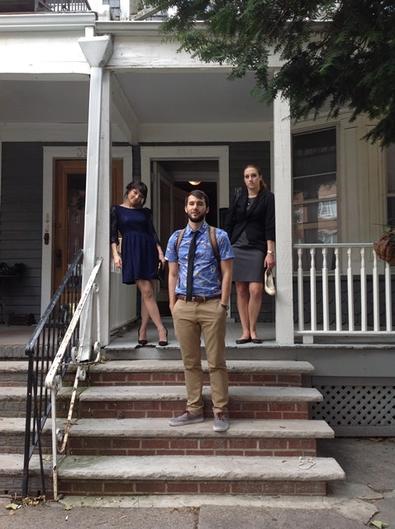 Jennifer Treuting got involved with UCB Comedy after taking some sketch writing workshops from the Upright Citizens Brigade and is currently part of Circuit, a UCB team which focuses exclusively on creating web series for UCB Comedy. The team was assembled by Todd Bieber, who paired "writers, directors, producers, cinematographers, and editors together, creating groups that could act as a self-sufficient production unit," says Treuting.
After brainstorming ideas as a team, they settled on the concept for "Good Grief," a comedy in which three individuals form a friendship at a funeral for someone none of them actually knew. The team liked the idea of creating awkward situations for the characters to explore. "Watching the series kind of makes you squirm as you realize how wildly inappropriate and self-involved, yet at the same time, well-intentioned, these three people can be," Treuting says.
Two of the writers, Zach Broussard and Cirocco Dunlap, star in "Good Grief," and the third lead [Morgan Miller] was also heavily involved in the writing process. "It was a super collaborative process," says Treuting, which made directing easier. "They had such a firm idea of who the characters were and what the intent was within scenes that we were able to concentrate more on variations in performance and small blocking changes."
While most of the cast was made up of members of the UCB community, the role of Susan was cast through Backstage. "Beth [Heider] was recommended by one of the Backstage casting directors who helped us with the casting process and the website," explains Treuting. Because they had some great options, Treuting says it came down to how the actor would fit in and where they wanted to go with the character. "[Heider] brought a lot to the role and was great having on set. Because of her prior comedy experience with The Onion, she fit right in," Treuting says.
Many of the mourners were also cast from Backstage, including Joseph Caintic, Jeremy Dalton, Michael Durso, Chelsea Parron, and Emily Rellis. The mourners were cast directly from their headshots due to the extremely tight timeline for the project. Treuting adds, "I also looked closely to see how people responded via email and if they followed the directions from our casting call."
For auditions, Treuting starts with a conversation with the actor about "what they think of the script itself: the tone; what it inspires in them; whether they have any ideas about the story or character; and especially what's not on the page itself." She wants to see that the actor has done some research and thought about the material. "This kind of critical thinking is more important to me than coming in off-book. I like the collaboration you can have in discovering a character together." She'll also sometimes give actors notes or adjustments to see how well they take direction. "An initial read from someone might be great, but if they're not able to give me some variation in subsequent performances, I'm less likely to cast them."
Pictured from left: Cirocco Dunlap, Zach Broussard, Morgan Miller