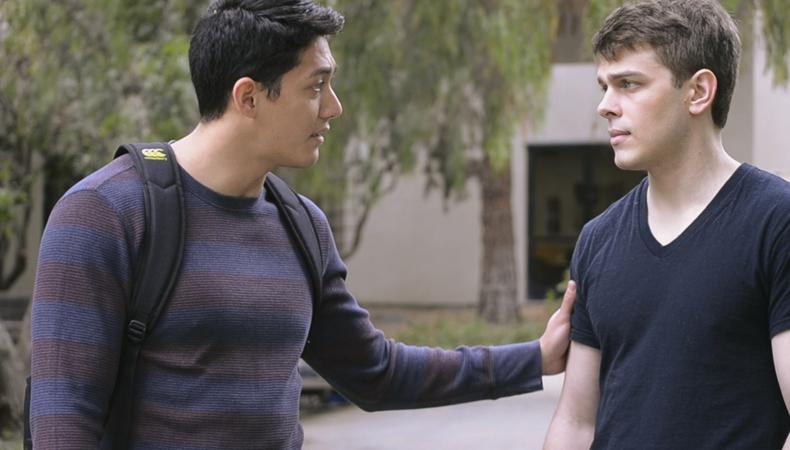 Deonica Panlilio wrote, directed, and cast "Behind the Wall," a student video project about an undergrad student who is trapped in a psychologically abusive relationship with his long-term girlfriend. The film was based on a short story she'd written while studying abroad. After discussing it with her professor, Panlilio decided to swap the gender of the leading character and tell the story from the perspective of a male instead. "[The story] challenges gender expectations…it's rarely told through a male being abused," says Panlilio.
The aspiring director had cast actor-friends in previous projects, but wanted to get more diversity for "Behind the Wall," so she posted a notice on Backstage. Panlilio looked at the applicants' résumés and reels. "The actors with reels really helped how I saw them and if I was interested in getting an audition from them." She asked the actors she was interested in to send in an online audition with a monologue she provided. She also held in-person auditions for acting students at University of California, Irvine, but didn't end up casting anyone at the in-person auditions.
For the leading role of Vincent, Panlilio cast Backstage actor Austin Lauer. "What I really liked about his [video audition] was that he was able to communicate with his eyes. For film, that's a really big focus 'cause this project is really going to try to get into their inner thoughts and emotions and I think he was able to tell that in his audition." Panlilio also cast Backstage actor Andres Marques as Brent, Vincent's supportive friend. "In his audition, he had a very strong aura. I don't know how to describe it, but he just seemed really good for the role. He looked dependable."
Although she didn't cast her at the in-person auditions, Panlilio did cast UCI student Olivia Allen as the leading female role, Kayla. "Her role was the more complex role to play. It's like being the villain, but I didn't want them to necessarily hate the character. So it was very hard to cast." Panlilio had worked with Allen before on another film and knew she could prepare herself for the role.
Panlilio was surprised with all the submissions she got for the roles. "I honestly wasn't expecting to reach that many people. It also surprised me how difficult it is to cast and narrow down who can play the roles."
Panlilio urges actors to continue asking questions even after they book the role. "I think a lot of actors don't ask enough questions. It really helps when they're confused, because sometimes as a director you're not able to tell if they're struggling with the thought process." To get the best performances, Panlilio believes in creating an open environment on set where actors are comfortable having a dialogue with the director "where they don't necessarily feel they have to always listen to the director. It's as much of their input as it is mine."
Pictured: Andres Marques as Brent and Austin Lauer as Vincent
Inspired by this post? Check out our Los Angeles audition listings!