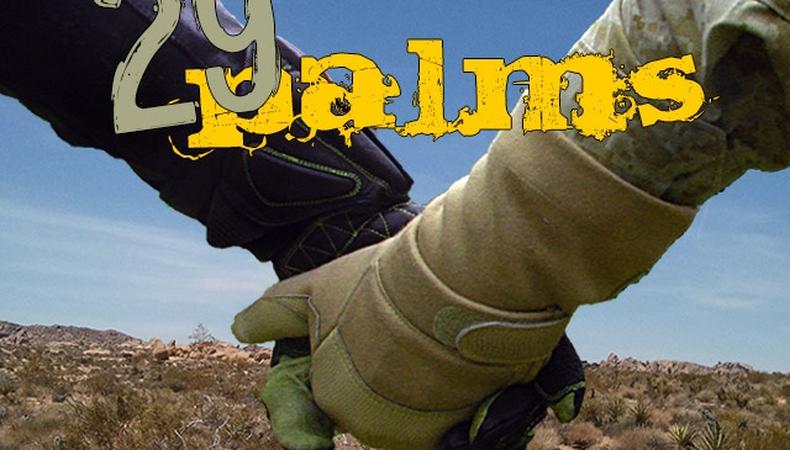 Inspiration can strike anywhere—even on an interstate. For writer and visual designer Steve Hess, a roadside sign reading "29 Palms" provided inspiration for his action adventure film of the same name. Hess wanted to tell a story featuring two gay characters without the characters coming out. The story revolves around Shane Hamill, a government hit man, and Kyle Mathews, a former Marine, who must figure out how to survive after a hit goes wrong.
"I have a story that I really want to tell and, I think, people want to see it," says Hess, who was pleased with the initial feedback he received at a reading of the script. Last May, Hess gathered feedback from a diverse audience of young and old. "Even the younger kids were saying they would actually go to a movie theatre and see it." Currently Hess is working on the trailer to get some more exposure and funding for the film.
Although Hess doesn't have funding lined up, the film was accepted into a fiscal sponsorship program offered by Three Dollar Bill Cinema. The program allows Hess to raise funds as a non-profit which he finds preferable to Kickstarter or other similar campaigns. Contributors are then able to claim their support as a tax deduction which Hess believes is more valuable than a T-shirt. Hess says the partnership with Three Dollar Bill is a great fit, because they are known for their association with the Seattle LGBT film festival.
When the original filming date for the trailer had to be canceled because an actor backed out, Hess shifted the lead roles around, but needed to quickly find a new actor to play the role of Kyle, a former Marine. It was important that the actor had the look of a former Marine, but specifics didn't matter much to Hess. He did want to make sure that the actor was comfortable playing a gay character as there are some intimate scenes in the trailer.
Because there wasn't the time or the budget to fly to LA to meet actors in person, Hess did the auditions via Skype. Hess gave the actors two scenes to read. "I didn't give a lot of direction…I wanted to see what they would do in the reading; how they took the character and what they did with it." Hess cast Backstage actor Stephan Singh: "He didn't go overboard with it, he kept it controlled, and that was kind of what I felt the character would do. He just did a wonderful job of having the tone that I was looking for for that character."
Hess found Backstage through the suggestion of a friend. Through his experience with the casting process he has some tips for actors using Backstage: Add a cover letter that's focused on the project. "I think that just goes for any kind of job that you're hunting for…make it a little more personal [by] acknowledging that you know what the project is and that you want to be involved."
Inspired by this post? Check out our film audition listings!