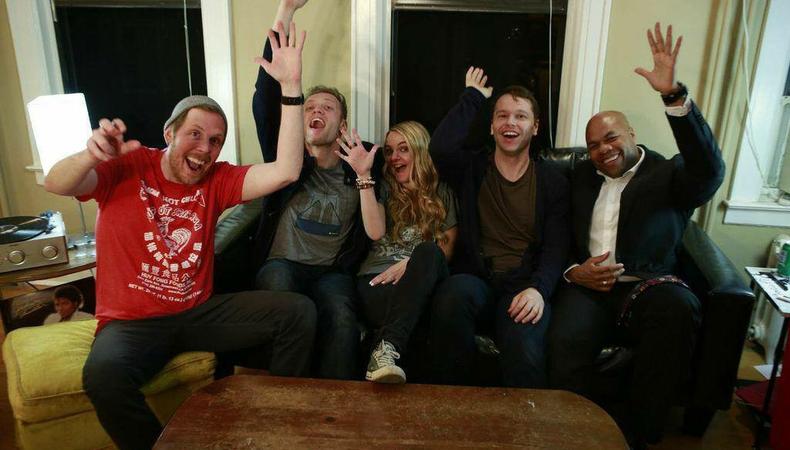 The Web series "We Are Stars" started when writer-creator Stephen Belcamino saw how much trouble his actor friends were having getting copy for their reels: "The audio was bad. And for a lot of actors, they had a hard time just getting the reel itself." Belcamino said "We Are Stars" is great for actors because "people have seen the actual footage so they know they're going to get a really nice reel and IMDB credits." The comedy series focuses on a group of background actors, providing a humorous inside look at the struggles and challenges they face.
After receiving hundreds of submissions to his Backstage.com casting call, Belcamino narrowed the audition pool down to 50 or so actors who were called in to audition. "I don't know if we're just really lucky or if there's just that much talent out there, but I just feel like the people that we have come in just blow us away," he says. Besides looking for a pleasing headshot, Belcamino paid special attention to the notes that actors included with their submissions. "It's really important for me as a casting person to see somebody that is excited about it. I always look for people that write something about the Web series. Someone that went the extra step to watch it and to comment on it. To say something about what they liked about the episode or what they could bring." While improv skills were an integral part of the casting process, Belcamino also wanted actors who were invested in the project. "It's rewarding to see the characters grow and evolve as we go from episode to episode and how much our actors love to be a part of this, and how everybody wants to keep on coming back to reprise their roles."
The series takes brief looks at the experiences of background actors like Ethan (who's also a musician), Lindsay (who's working on a student film), and Koko (the "successful" actor) and his groupies, the Kokettes.
Belcamino says setting up improv scenarios for the auditions helps them "get a good idea of what the actor is capable of bringing to the series." How the cast worked together was also important for the roles of Ethan's and Lindsay's girlfriends and the Kokettes (Allison Kelly and Catie Taaffe). "We were looking for chemistry—how they bounce off our characters." For Lindsay's girlfriend [Annie McCoy], Belcamino wanted someone sweet and innocent, but who could also turn on the anger. "Something as simple as that, some people wouldn't yell as loud," he says. For Ethan's girlfriend [Emily Nash], it was important to find someone with many odd talents. "[Nash] can juggle and she can do all these odd little tricks which kind of made sense for the part."
One surprise that came from the casting process was the discovery of actors Kristina Conophy and Natalie Pavelek. Belcamino admits, "I didn't really see them as girlfriends or the Kokettes, but they were both so good that I didn't want to let them go." So he wrote the parts of the sublet girls specifically to include them in the series. "They were so good and so talented that they forced me to write something [to] include them. Now it's one of my favorite things in the whole thing." So, Belcamino tells actors, "Just because you may not get the role that you came in for…anything can happen."