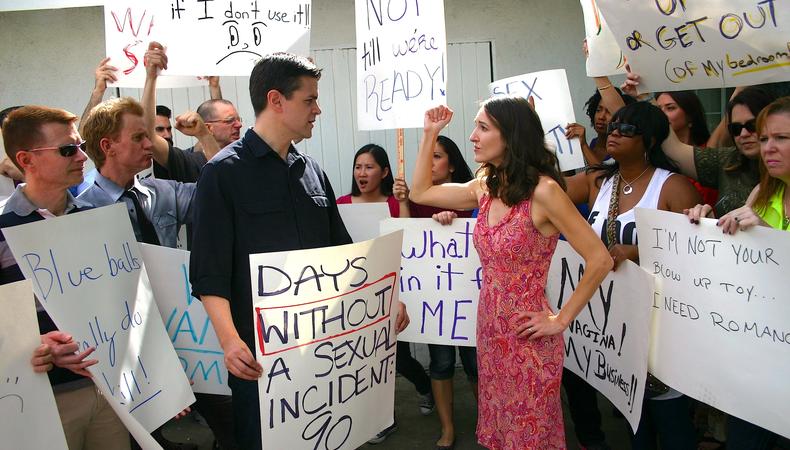 When filmmaker Tamir Mostafa set about casting his short "We Want Some," about a marital dispute between husband and wife that escalates into a neighborhood protest, his biggest concern was finding a diverse cast. "This is supposed to symbolize community, not just a few people, but a whole community and the types of people who would come into the community," says Mostafa.
The story centers on Rob (Rich Finley), a guy who goes on strike to convince his wife Elle (Melissa Nearman) to be intimate with him, which leads to a stand-off. Mostafa was specific with what he was looking for in the leading roles, but the rest of the roles were left very open to ensure that people of all types were represented. "We were looking for a diverse group of male and female actors with strong comic chops as well as improv skills." Although casting took over two months, Mostafa is proud of the cast he assembled.
Although the supporting cast is a large group, Mostafa did not see them as "extra" roles. They had lines and Mostafa specifically looked at actors' improv ability. "If we had several actors coming, we would pair them up with each other so they could play off of each other." If the actor was alone, Mostafa or one of the producers would read with them. "We would just throw lines at them to see how they would respond." Mostafa says it was easy to quickly determine who was or wasn't comfortable with the ad-libbing, improvisational style of acting.
Finding a variety of ages to cast was challenging. He didn't want everyone to be in their 20s and 30s, but "finding older actors, whether they're SAG or non-SAG, that were ethnically diverse and that didn't play a stereotype was a challenge," he says. Especially since many older actors were working in the theater and couldn't commit to the shooting schedule.
Mostafa was especially proud of casting the difficult roles of Ken (Christopher Michael Everett) and Barbie (Jennifer Kelsey). Against stereotype "Barbie was on the 'mainly guy side,' and Ken was on the 'mainly woman side.'" The non-stereotypical foul-mouthed, sexually aggressive character of Barbie was a challenge to cast and it took Mostafa up until only days before shooting to find Kelsey.
Casting Ken was equally challenging, but Mostafa found his actor in Everett who had come in for the leading role of Rob. "He was phenomenal, and actually my biggest note about him was, 'Can somebody be too funny?'" Another hard to find role was the gay Larry (Destin Bass), who's on women's side. "We weren't looking for a stereotypical, cliché type gay character; we were looking for someone who didn't want to be used as a sex object and would be on the women's side."
Mostafa offers actors some advice: Be honest so you don't waste anyone's time. "If you're comfortable with improvisation come down to the audition, but if that's something you're not comfortable with, then it's probably not going to be a productive audition for either one of us."
Inspired by this post? Check out our audition listings!