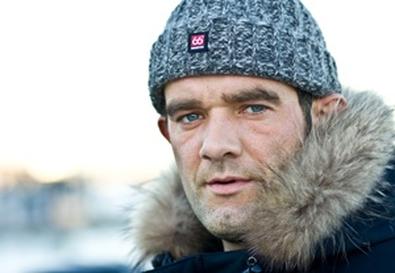 In hindsight, I was very naive to think that I had a chance of getting work in the U.S. I moved to Los Angeles from my native Iceland in 2005, along with my wife and our two daughters. I had just finished shooting the first season of Nickelodeon's "Lazy Town," in which I starred as the villain Robbie Rotten, and the show was kicking off here in the U.S. I thought it was only logical that I should move out here and try my luck. Well, little did I know.
In Iceland I had made a name for myself as an actor, but out here I was nobody—and rightfully so. There was, frankly, less than no demand in Hollywood for an Icelandic actor—without a green card and with an accent, to boot.
I got to meet with some of Hollywood's biggest agents, but they were, needless to say, completely unimpressed and even confused by my visit. But they kindly encouraged me to work on my accent and adjust my immigration status. Which I did. Until I got my green card, I worked solely in Iceland, going back and forth, shooting more seasons of "Lazy Town" and taking occasional movie roles back home.
Iceland has changed dramatically during these years since I left. I remember coming home in 2007 and seeing significant changes. Iceland now had a group of nouveau riche elite, who were flaunting their status by hiring celebrity talents like Elton John and Tina Turner to entertain at their parties. Now, two years later, these same people can't afford to hire my grandmother—who, by the way, is quite a guitar player.
In 2007 my daughter Julia was born, and I remember holding her in my arms and making her a promise that I would get work in the U.S. that year. We were broke, and I was tempted to give up, but I had just signed up with a big Broadway agent, Nancy Carson, who encouraged me to seek work in theater. In late 2007 I got a phone call notifying me that U.S. Immigration had granted me a green card. I was out driving with my wife, and I stopped the car and screamed for joy.
Nancy sent me to auditions for major Broadway musicals, and in one of those I got to meet the creative team behind the production of "Dr. Seuss' How the Grinch Stole Christmas! The Musical," who consequently hired me to star as the Grinch in the national tour of the show in Boston and Baltimore. This was a fantastic break for me: an Icelandic actor starring in an all-American classic, under the direction of Matt August and the fabulous creative team that leads this production.
As I flew to New York for rehearsals, I had just learned that the Icelandic banks had been taken over by the government and that my country was on the brink of bankruptcy. The combined debt of the three largest banks in Iceland before the crash exceeded just about six times the nation's gross domestic product of $19 billion. Keep in mind, the population of Iceland is just around 300,000—the size of a neighborhood in Los Angeles.
But Icelanders are tough people. I believe that through patience and willpower, Iceland will yet again rise up, not through international banking, for sure, but through utilizing opportunities that are within our reach and capabilities.
When I was hired to replace Christopher Lloyd as the Grinch at the Pantages Theatre in Los Angeles, I was both honored and terrified, a bizarre mixture of emotion. I am a longtime fan of the legendary actor, whom I got to know briefly. (He told me he had visited Iceland in the early '80s and loved it.) Mr. Lloyd is undoubtedly one of the best comedians of our time, so I have big shoes to fill.
I am thrilled to get to work alongside John Larroquette, who plays old Max; he has been incredibly generous toward me in my Los Angeles debut. We are going to have a blast at the Pantages this Christmas, the company is fabulous, and I promise a fun holiday show.
Maybe moving out here wasn't such a stupid idea after all. I am living in L.A., and I am working. And for that I am grateful.
Best known for his portrayal of Robbie Rotten on Nickelodeon's "Lazy Town," currently aired in more than 120 countries, Stefan Karl is a veteran stage actor. His credits include lead roles at the National Theatre of Iceland and at the Reykjavik City Theatre. He stars in the film "Polite People," coming out in 2010.

"Dr. Seuss' How the Grinch Stole Christmas! The Musical" runs through Jan. 3 at the Pantages Theatre in Los Angeles. Tickets: (800) 982-2787 or www.broadwayla.org.