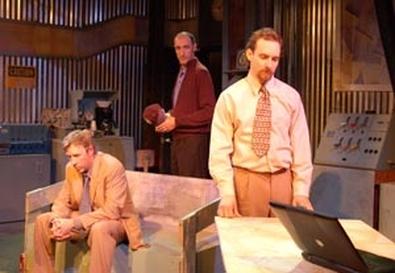 Kevin King captures the tension of socioeconomic and hierarchical battles in the world of his play, set around a tool-and-die company. Machinist and union foreman Al (James Pippi) is noted for putting his foot in his mouth. But when he suggests a new way to make the machines more productive, corporate honcho Jim (David Franco) asks engineering designer Frank (Robert Foster) to adapt the idea without making Al aware it will potentially save the company millions of dollars and advance Jim's and Frank's careers, while netting Al $100 and a plaque.
Al and Frank's machinations are challenged by their wives (a wonderfully tart Kerry Carney and smooth Megan Dolan), and King cleverly keeps shifting the ground under the three men, who stand to gain or lose mightily from the technological breakthrough. King's blue-collar, crass dialogue is particularly funny and feels authentic, even when Al says of Frank's wife, "She's got class leaking out of her." When Al promises to fix something at home, his wife ripostes, "Yeah, and I'm going to be in Penthouse magazine." Cast members throw away a couple of lines or speak too fast—admittedly a rarity in the theater—but, otherwise, David Fofi directs with a solid hand on the rudder of the production.
The eventual connection between Al and Frank, despite the disparity in their characters, is ultimately touching, especially when seeing a common thread in each of their fathers. King tosses in a delightful yet tense standoff with a gun during a card game and, at the end, refuses to sell out his righteous condemnation of the power of upper management to cheat and ruin the lives of laborers. Like the impressive industrial set, King's dramaturgical machine moves with assuredness and power.
Presented by and at the Elephant Theatre, 6322 Santa Monica Blvd., Hollywood.
May 8–June 13. Thu.–Sat., 8 p.m.
(323) 960-4410 or
www.plays411.com/ideaman
.