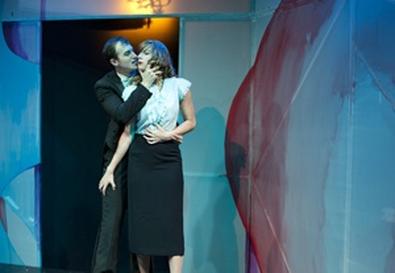 There's a reason
Ayn Rand's
1934 play "Ideal" is just now receiving its New York premiere. The intellectual firebrand's combination murder mystery and philosophical tract is repetitive, heavy with symbolism, and lacking in drama. A game cast, composed mostly of recent NYU grads, does its level best to breathe life into this ponderous work, in a production for the Americas Off Broadway festival at
59E59 Theaters
, but the actors are finally defeated by Rand's heavy-handed style.
The premise is potentially intriguing. Film goddess Kay Gonda is the prime suspect in the murder of millionaire Granton Sayers. Gonda's secretary reports to the studio that the charismatic star fled her home after the fatal shooting, taking six fan letters. The rest of the play is composed of achingly predictable scenes, with Gonda visiting the abodes of each fan and pleading to be protected from the law. One by one, her worshippers betray her, until the encounter with the sixth letter writer ends in tragedy. Like Howard Roarke, the hero of Rand's "The Fountainhead," Gonda represents the author's ideal of artistic integrity, and her would-be rescuers are afflicted with the spirit-crushing conformity Rand saw as poisoning America. (Rand seems to have approved committing murder as long as the culprit is a superior person.) A middle-class wage slave is trapped by small-minded morality. Two revolutionaries give in to economic necessity. A titled European exile succumbs to his baser sexual desires. The variations on this theme are slight. By the time we get to the third visit, all surprise is lost.
Jenny Beth Snyder directs her young cast too loudly and broadly—not such a hot idea in a closet-size theater—and they wind up seeming like imitations of stock players in a generic Hollywood flick of the period. There are glimmers of veracity here and there.
Jessie Barr
, as Gonda, is given the impossible task of playing a symbol of perfection, yet she finds the humanity in this obvious device. Kim Rosen provides much-needed levity as a slick evangelist and has the play's best moment when describing the character's flashy revival show with sly subtlety. "The Service Station of the Spirit! There's a lesson for you, brother," she exhorts.
Seeing a previously unproduced Ayn Rand play satisfies one's intellectual curiosity, but "Ideal" is far from ideal as a drama of real people in real conflict.
Presented by Karina Martins in association with FGP NYC and Drew Vanderburg as part of Americas Off Broadway at 59E59 Theaters, 59 E. 59th St., NYC. June 23–July 3. Tue.–Sat., 7:30 p.m.; Sun., 3:30 p.m. (212) 279-4200 or www.ticketcentral.com.