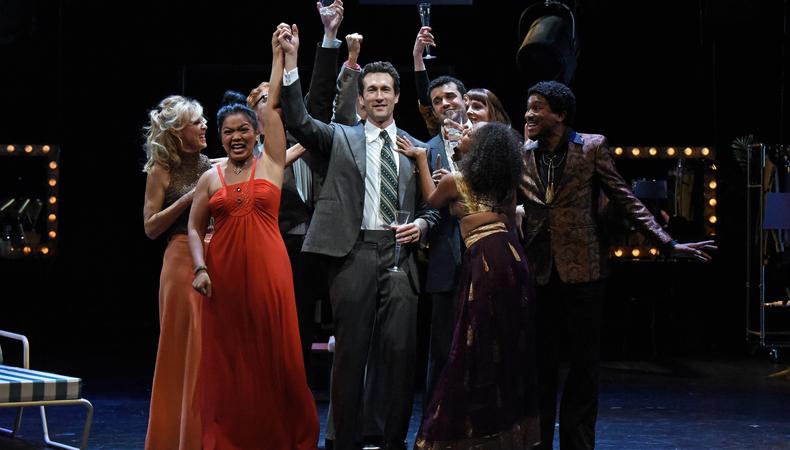 Michael Arden, the popular Broadway actor, singer, and sitcom star, received a Tony nomination for directing last season's acclaimed revival of "Spring Awakening," co-produced with Los Angeles' Deaf West Theatre. Arden had played leading roles in Deaf West's previous productions of "Big River" and "Pippin," but was this time around at the helm as director. In fact, the endeavor began in a workshop produced by Arden and his husband, actor Andy Mientus. They raised the initial investment on Kickstarter, further reinforcing the show's implicit credo: Yes, we can.
Arden has followed suit with a blazing new production of Stephen Sondheim's "Merrily We Roll Along," playing to sold-out houses at the Wallis Annenberg Center for the Performing Arts in Beverly Hills through Dec. 18. Arden feels that his experience as an actor is key to his process as a director. "I think all my favorite directors have acted," he tells Backstage. "They understand how an actor thinks. The choices and decisions that the cast arrive at are better than the ones I dictate to them."
READ: "The Vision for 1 New L.A. Theater Venue"
This is key to Arden's intuitive understanding of the musical. "Merrily" was a legendary flop on Broadway in 1981, but its tender yet infectiously brassy score has caused its characters to resonate for generations of theater people. Original cast member Lonny Price—like Arden, an admired stage actor eluded by commercial success until he became a director—had the hit of this fall's New York Film Festival with his documentary "Best Worst Thing That Ever Could Have Happened." A look back at the show's young, idealistic original cast (thanks to extensive footage from an aborted ABC doc on the first production) and how they got to where they are today, the film is sure to resonate with actors at all career levels.
For the cast this production's "Merrily," Price's story proves all too poignant. Many see the compromises in its narrative reflected in their own lives. Arden's leading lady, Donna Vivino, explains, "As an actor or artist we are constantly trying to juggle our integrity as an artist with our business sensibility."
Amir Talai, who stops the show in the featured role originated by Jason Alexander, notes that "juggling theater and TV or film is basically impossible. I'm in a weird middle spot when it comes to doing theater. For some people, doing a LORT show is a pay bump, while for celebrities, doing a LORT show is a no-big-deal artistic vacation where they get paid some pocket change. I'm in the middle—it's a pay cut from my film and TV work, and not one I could afford to do 12 months of the year. But I couldn't resist this opportunity."
Co-star Saycon Sengbloh agrees. " 'Merrily' has taught me to be able to receive surprises," she says. "Things can change at the spur of the moment—not just because of the script. During my time here in L.A. [working on "Scandal" and "The Night Of"], I've done a lot of things at the spur of the moment that were not in my plans."
Perhaps 21st-century economic realities are even harsher than those faced by the characters in "Merrily." One of the most striking moments in this production is "Bobby and Jackie and Jack," a set piece about the Kennedys and the hopeful early 1960s. Watching this song now, at the end of President Obama's administration, evokes a yearning pain more powerful than mere nostalgia; the number hits painful nerves about where we are headed as a society.
For Arden, it's a cautionary tale. "You can't ever go back; life is incredibly short and fragile." He describes coming into rehearsal the day after the Nov. 8 election. "We committed to how important being an artist is, now more than ever, and to try—not only to show different points of view, but to listen to other points of view because it's very easy to write people off. If you've never heard a piece of Mozart, then Mozart could sound scary or confusing, so it's all about learning. Every decision you make has a consequence.... That's just what it is. Life keeps rolling along."
Are you a triple threat looking to take the stage? Check out our musicals audition listings!
And for advice from industry professionals, Backstage's YouTube channel!