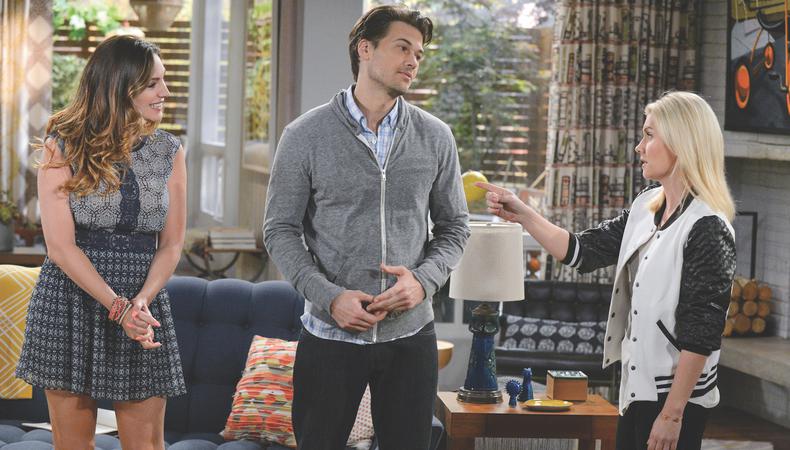 Comedy writer Liz Feldman is bringing a lesbian character and a bit of herself to NBC this March.
Starring Elisha Cuthbert, Nick Zano, and Kelly Brook, "One Big Happy" finds Lizzy (Cuthbert) and her best friend Luke (Zano) at a crossroads: The roommates have decided to have a baby, but when Luke falls in love with Prudence (Brook), the three must decide if they want to aim for the titular family and raise the child together.
Inspired by her own friendship with a guy best friend who she had to learn to share after he experienced "something like love at first sight," Feldman upped the show's ante with a pregnancy and what she thought was an overstated version of herself.
"I kept having to go back in and make [Lizzy] more flawed and accentuate her eccentricities: how uptight she is, and her discomfort and controlling nature," says Feldman. "I thought I was making a very exaggerated version of myself, and when my sister saw it I was explaining how over-the-top I had to make her and she was like, 'No, that's you!' I was like...thanks."
Feldman anchors the comedy in her own life but designs it for wide appeal. "One Big Happy" delves into nontraditional family dynamics and friendship, and offsets it with laughs from Lizzy's idiosyncrasies, Luke's endearing cluelessness, and Prudence's British-American interactions.
"Prudence was our hardest character to cast," says Feldman of the Englishwoman. "She's made up from my imagination completely. She was the most fun to write because I didn't feel confined to any specifics of a real person; but because of that, I created this unusual character, like a unicorn almost. I like to think of her like a sexy Charles Dickens character. She had to be gorgeous and hilarious and you had to love her even though she's the outsider coming in."
Feldman says she had a huge hand in casting, and along with casting director Julie Ashton, pilot director Scott Ellis, and network executives, saw hundreds of women in the U.S., U.K., and Australia to find one who had all the physical criteria of the "unicorn," as well as the ability to land the particular brand of humor.
Writing comedy since she was practically prepubescent, Feldman has been going on auditions since she was old enough to ride the train and take herself to them. At 13 she found a casting notice for an "Off-Off-Off-Off-Off"–Broadway production calling for kids able to write their own material, and got cast. At 15, she saw a Backstage notice seeking young people who could do standup for a showcase at Carolines on Broadway.
Someone at Nickelodeon saw her standup and hired her as a writer for the popular '90s skit series "All That." From there, it was on to writing for talk show host and fellow outspoken lesbian Ellen DeGeneres, "2 Broke Girls," and now "One Big Happy," executive produced by DeGeneres.
For Feldman, the key to writing good comedy is pinpointing entertaining stories and tweaking them to be shared. "Being a writer is a really tough road—I can't make it glossy," she says. "But recently, there was a great quote that resonated with me: 'Writers hate writing but we love having written.' A blank page can be intimidating, but what I recommend is asking, What are the stories I tell in my daily conversations? What is your story that nobody else can tell?"
Inspired by this post? Check out our television audition listings!