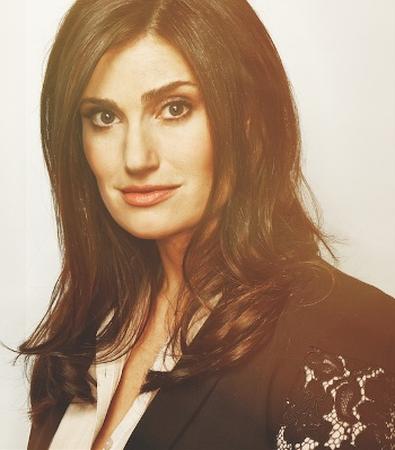 Idina Menzel is trying to enjoy her moment.
"I'm always afraid to hope for something because I don't want to be disappointed," she says in her dressing room at the Richard Rodgers Theatre, home of her current Broadway musical "If/Then." "And my mom said something once: 'Instead of worrying, why not enjoy the idea of the positive outcome, and if it doesn't happen, you get over it.' That's what I'm trying to live by. I'm always afraid to feel foolish, just put it out there. But right now, it feels good…."
Menzel is referring to her first return to Broadway since winning a Tony for "Wicked," in a role that was specifically written for her and exploits her acting and vocal talents. It's clear, however, she's also referring to the reality that, after nearly 20 years in the spotlight that began with her star turn as Maureen in "Rent," it's her part as Disney "princess" Elsa in "Frozen"—and the Oscar-winning power ballad "Let It Go"—that's exposed her to the worldwide fame she's always coveted.
When we finally meet, after weeks of failed attempts to find a bit of time in her very busy schedule, Menzel is sitting on a cozy sofa in her dressing room, one she had painted gray to reflect her character Elizabeth's sophistication as an urban planner, a far cry from the flaming red of its former tenant, Orlando Bloom. "It was all red for Romeo and romance," she says. "It was a different vibe."
She's just left a strenuous day of rehearsal in which they continued to tinker with a pesky second-act scene involving an airplane crash that wasn't quite landing emotionally—not your typical Broadway blockbuster.
"If/Then" is a strange musical, but maybe that's to be expected from the creative team—director Michael Greif, librettist Brian Yorkey, and composer Tom Kitt—whose last outing together on Broadway was the Pulitzer Prize–winning mental illness musical "Next to Normal." The show centers on salty-tongued Elizabeth, a 39-year-old single lady looking for a fresh start when she moves to New York. After she bumps into her old college pal, bisexual Lucas (Anthony Rapp), and has the potential for making friends with her lesbian neighbor Kate (LaChanze), she has to make a choice of whom she will follow.
This seemingly minor decision makes all the difference in what her life will become, and from that point, the show splits into two overlapping fulfillment narratives: On one path, "Liz" finds love with an Army doctor returning from a tour of duty, while on the other, the more pragmatic "Beth" finds career success in big city government.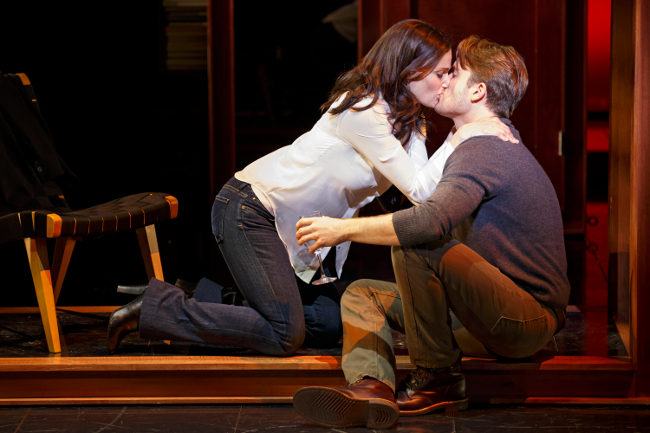 It's easy to start thinking that this mirrors Menzel's own career path—how she's progressed from Maureen to Elphaba to Elsa—and her triumphant return to Broadway. Then again, it's the same existential quandary all people face: Is there a better life I should be living right now?
"I'm not a particularly cosmic, spiritual person," Menzel explains. "The projects that I've loved the most have also been huge teaching moments for me. With 'Wicked,' and then, with 'Frozen,' it's a reminder in my 40s to reiterate: Embrace your power and your strength as a woman, and celebrate what makes you different and extraordinary, and don't be afraid of your power. It's kind of the thing I have to wrestle with a lot."
That strength certainly comes across in her second-act showstopper, "Always Starting Over." During a preview performance, audience members gasped as she belted out the notes and sustained effusive applause for several gushy minutes. That ballad, which encapsulates the pain of losing a loved one, came late in the process, according to Yorkey, but when they heard Menzel sing it, they knew they had a hit.
"At this point in the show, Elizabeth figures out what this loss means to her and, without turning away from the pain of it, she figures out how to move on with her life," he explains. "I don't know if anyone can sing determination and anger and sadness and optimism and boldness, all in the same song, the way Idina can. The first time we heard her sing it, we all sort of looked at each other and had tears in our eyes. That's why you work with Idina Menzel—because that happens. I'll never forget it."
Anthony Rapp, who is being reunited with Menzel after "Rent," agrees that she's always had the chops. "We knew how fantastic she was," he says. "Now the rest of the world has caught up. She's as successful as she's always deserved to be." In this show, however, people will see more than a belting diva. "She's always been so authentic in her work," Rapp says. "She can bring truth of the moment out. Sure, she has this voice that can blast the roof off of a theater. And that's what needs to happen for those moments. But in this show, she has a tremendous amount of nuance and different colors than what people are expecting."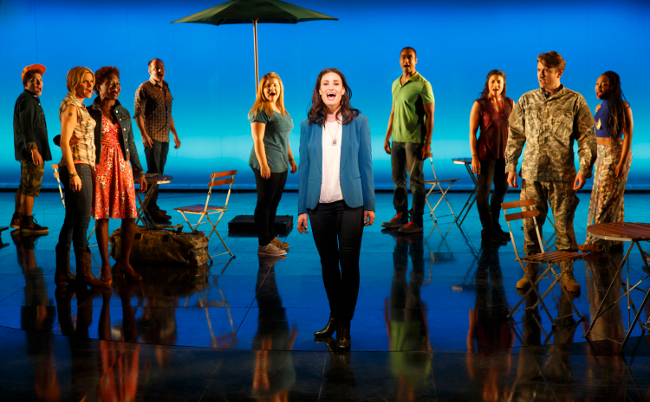 With all the praise and accolades heaped on her, it may be refreshing for outsiders to know that Menzel is not always in tune with the superconfident exterior that she projects. "I'm so different from day to day, depending on the people surrounding me," she admits. "Sometimes I'm more shy, introverted. Depending on my comfort with other people, I can be louder, very confident. Then others, I roll up into a ball of insecurity. It's all part of me."
So, with the potential for gut-wrenching doubt, how did Menzel deal with that Oscar gaffe heard round the world, when her name was butchered by a clueless John Travolta at the Academy Awards seconds before she took the stage to sing the Oscar-winning "Let It Go"?
She explains that she flew out to L.A. for the awards while "If/Then" was in final tech rehearsal, preparing for the first preview audience that following Tuesday. She brought her younger sister to the awards show ("she's very calming"), and while backstage, she began going through her process to prepare to sing "Let It Go." Then she heard it. "I had taken myself through so many meditations, mantras for myself. Not even true. Not mantras. Some tricks I came up with before I performed; certain things I wanted to do to center myself when I got out there and not feel rushed by the moment," she says. "I wanted to breathe. I wanted to sing the song to my son, picture his face. Then it happened. I heard that. I quickly said, 'Get out of your ego and do your thing.' I only took eight beats, that's all it took me off my focus, and then I got back on track. I did a good job that night. That was all that mattered to me. I did my thing. I didn't let my nerves get to me so much. It wasn't, to me, 100 percent perfect. But I gave the song that I wanted."
Afterward, when the flub snowballed into a worldwide sensation, Menzel avoided the limelight. Travolta sent flowers and an email apology; "He's really sweet," she says. But although it might have been the biggest, most unexpected boon for her career and for the show, she doesn't want people to buy tickets to "If/Then" for the wrong reasons.
"I just really hope that some of this attention that's being paid to me, because of 'Frozen' and the Oscars, doesn't detract from my complete love and admiration for this project and how good I think it is," she says. "I know it can help with ticket sales, but I want people to really—I don't know, there are naysayers out there who will assume we're filling seats for a certain thing and, you know, it's worthy of being successful for what it is."
But there's a hint of what she might really be thinking in another great song in the first act of "If/Then"—which Yorkey describes as "a bit profane and a little bit clever." After she wakes up with a man in her bed and begins to sing "What the Fuck?," it may be the one thing Idina Menzel could never say but may really feel. Thankfully, she gets to sing it eight times a week.
Inspired by this post? Check out our theater audition listings!