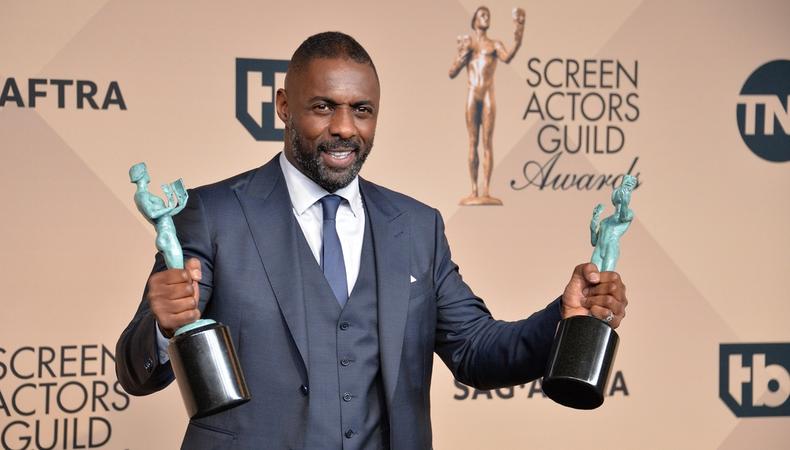 Hello and welcome back to our roundup of news from across the industry. From stage to screens big and small, we've got you covered. It's everything you need to know and all you can't afford to miss.

Idris Elba is among the Brits headlining Sundance 2018.
Idris Elba's directorial debut "Yardie" will headline the next Sundance Film Festival. The actor plays a supporting role in his first feature, a 1970s gangster story based on the cult novel by Victor Headley. Shot in Jamaica and the UK, it stars British actor Aml Ameen as D, a young man whose past catches up with him when he moves to London, and showcases Jamaican actors Shantol Jackson, Sheldon Shepherd and Everaldo Creary.
British director Wash Westmoreland ("Still Alice") is also headlining. His upcoming film "Colette" stars Keira Knightley as the titular French writer and follows her early life as she fights to overcome an abusive husband to become a celebrated nominated novelist.
BBC's "Taboo" team reunites for "A Christmas Carol".
The team behind BBC series "Taboo" is getting back together for a new adaptation of "A Christmas Carol". "Peaky Blinders" creator Steven Knight, actor Tom Hardy and director Ridley Scott are turning the often retold story into one part of a Dickens series for the BBC. The festive classic will arrive in three parts on BBC1 in 2019. This will form the first of a 'box set' of dramas based on Charles Dicken's iconic novels.
Although perhaps best known for being adapted by The Muppets, "A Christmas Carol" hasn't had a straightforward TV adaptation since the BBC's last effort in 1977, with Michael Hordern playing Ebenezer Scrooge. Although the BBC has yet to confirm which other Dickens will follow, it's likely that the BBC will want to revisit Nicholas Nickleby after their contemporary adaptation fell flat with viewers in 2012, despite a positive critical response. Where that was a daytime programme, Knight's creation will feature Hardy in a main role, be given top billing over the Christmas period and are likely to sit at the upper-lavish end of drama budgets.
New boss announces the first season for the National Theatre of Scotland.
The National Theatre of Scotland has announced a season showing "the brilliance of Scottish work" from artistic director Jackie Wylie, who took up the role last spring. Including contributions from David Greig and Zinnie Harris, the launch was also an opportunity to announce that Mark Stevenson will be joining as the NTS's "futurist in residence", guiding the company into the future.
There'll be new plays which visit the traverse and tron, headlined by Zinnie Harris' production of "Gut" by Frances Poet and Martin McCormick's "Ma, Pa and the Little Mouths" directed by Andy Arnold. David Greig and Gordon McIntyre's romantic comedy about a divorce lawyer "Midsummer", is being revived and reimagined as an immersive part-play, part-musical. Another immersive show will play for families, called "Eddie and The Slumber Sisters" it explores how children process the death of a grandparent and is co-produced with children's theatre company Catherine Wheels.
The second half of the season will feature the culmination of the NTS's three-year collaboration with WW1 commemorative arts group 14-18 NOW with the final part of the 306 trilogy. "Dusk" will tell the story of soldiers shot for cowardice and is to be directed by Wils Wilson. Excellent news for those who know what a bam is: Glasgow's Citizens and Edinburgh's Lyceum will stage a new production of Edwin Morgan's Scots language version of Cyrano de Bergerac, directed by Dominic Hill.
Screen Production Roundup
Earlier in the year, Channel 4 commissioned a six-part adaptation of Rosie Bretécher's cult novel "Pure". The story follows Marnie, a young girl who leaves Scotland after a troubled time at university. She arrives in London in crisis and is forced to explore and reconcile her sexuality as well as her condition. Created by Kirstie Swain ("Clique"), the series films next year and has got casting director Jane Ripley attached.
Another C4 drama commission this year was "Jerusalem" from "Boardwalk Empire" creator Bash Doran. It is shooting at the end of February next year and Dixie Chassay is confirmed to be casting.
Sky Atlantic's commission of a historical drama about the Chernobyl disaster is gearing up to film next year with director Johan Renck ("Vikings") at the helm. Nina Gold and Robert Sterne are attached in the casting department.
Theatre Roundup
Although Tarell Alvin McCraney became internationally famous for "Moonlight", ten years before the writer made his Academy Award-winning film the Young Vic produced his play "The Brothers Size". The theatre is pairing up with Actors Touring Company to revive the drama with a cast that includes Sope Dirisu, Jonathan Ajayi and Anthony Welsh reprising his role as Elegba in the original production."The Brothers Size" is directed by Bijan Sheibani and will open in the main house in January.
The cast has been announced for The Old Vic's stage adaptation of "Fanny & Alexander", directed by Max Webster. Esteemed actors Penelope Wilton, Jonathan Slinger and Michael Pennington bring their names to the production and the two groups of four actors taking on the title roles and alternating performances are; Zaris Angel Hator, Amy Jayne Leigh, Molly Shenker and Katie Simons (Fanny) and Guillermo Bedward, Kit Connor, Jack Falk and Misha Handley (Alexander). Opening in May next year, BAFTA-winning writer Stephen Beresford has brought the Swedish drama by legendary filmmaker Ingmar Bergman to the theatre.
Daniel Evan's Chichester Festival Theatre production of "Quiz" is coming to the West End. This will mean that writer James Graham will have three plays in the West End at once in 2018. The reworking of the "Who Wants To Be A Millionaire" cheating incident comes to the Noel Coward Theatre in Spring.
The Stage reported that local arts funding has fallen dramatically since 2016. Meanwhile, Whatsonstage gave a summary of statistics for the past few years in theatre that includes the headline that musical productions take more money, plays are catching up and the stage industry has been growing well since 2013.
Check out Backstage's London audition listings!