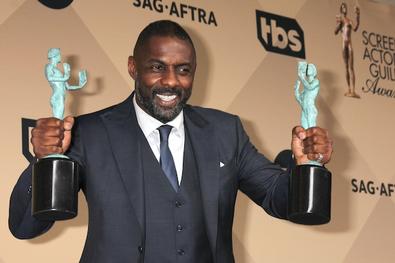 The SAG Awards were anything but #SoWhite after honoring several actors of color at its 22nd annual ceremony on Saturday, Jan. 30.
SAG-AFTRA separated itself from the Academy, which has come under scrutiny in recent weeks for only nominating white actors for a second year in a row.
Oscar-snubbed Idris Elba took home two individual awards making him one of the night's biggest winners. Elba won for his television work on "Luther" and again for his supporting performance in the Netflix original feature "Beasts of No Nation."
Elba's film win makes him the only SAG winner without a corresponding Oscar nomination (Alicia Vikander, Brie Larson, and Leonardo DiCaprio are all up for Academy Awards.)
Uzo Aduba ("Orange Is the New Black"), Viola Davis ("How to Get Away With Murder"), and Queen Latifah ("Bessie") also accepted trophies.
"I hope that anyone out there who does not come in the package that people say you should; keep fighting for it," Latifah said while accepting her award. "You build your own boxes."
Laura Prepon echoed that sentiment in her acceptance speech on behalf of the "Orange Is the New Black" ensemble. The cast won Outstanding Performance by an Ensemble in a Comedy Series for the second time.
"Look at this stage—I mean, this is what we talk about when we talk about diversity," Prepon said. "Different race, color, creed, sexual orientation."
"Spotlight" shined bright winning the SAG Award for Outstanding Performance by a Cast in a Motion Picture.
Mark Ruffalo and Michael Keaton spoke for the ensemble, while fellow cast mates Rachel McAdams, Liev Schreiber, John Slattery, Brian d'Arcy James, and Billy Crudup accompanied them on stage.
This win for "Spotlight" revives the film's Oscar chances after losing the PGA Award to "The Big Short" last week.
DiCaprio continued his march toward Oscar gold with his first SAG victory for "The Revenant," after five previous nominations. The actor paid tribute to actors he watched as a child, including James Cagney and Robert De Niro.
"For any young actors out there, I encourage you to watch the history of cinema," he said. "You'll realize we all stand on the shoulders of giants."
Rising star Vikander ("The Danish Girl") and Backstage cover star Larson ("Room") won the other two film acting prizes of the night.
Tina Fey and Amy Poehler touchingly and humorously presented Backstage cover star Carol Burnett the SAG Lifetime Achievement Award.
"Carol is better than all of us," Poehler joked. "We are going to give her a prize for it."
Burnett's career spans more than 50 years covering all areas of entertainment, including stage ("Once Upon a Mattress"), television ("The Carol Burnett Show"), and film ("Pete 'n' Tillie," "Annie"). She has won five Golden Globes, six Emmys, a Mark Twain Prize, the Presidential Medal of Freedom, and a host of other honors throughout her storied career.
Burnett spent much of her acceptance speech thanking the cast and crew of her variety series. "The Carol Burnett Show" ran for 11 seasons, and Burnett broke ground as one of the first women headliners of a weekly variety show.
She acknowledged renowned costume designer Bob Mackie, as well as her co-stars Harvey Korman, Vicki Lawrence, and Tim Conway. Burnett fittingly concluded with her signature bow.
"I'm so glad we had this time together," she said before winking and tugging on her ear.
Below is a complete list of award winners from this weekend's SAG Awards.
---
TV
Female Actor TV Movie or Miniseries
Nicole Kidman - Grace of Monaco

WINNER: Queen Latifah - Bessie

Christina Ricci - The Lizzie Borden Chronicles

Susan Sarandon - The Secret Life of Marilyn Monroe

Kristen Wiig - The Spoils Before Dying
Male Actor TV Movie or Miniseries
WINNER: Idris Elba - Luther

Ben Kingsley - Tut

Ray Liotta - Texas Rising

Bill Murray - A Very Murray Christmas

Mark Ryalnce - Wolf Hall
Outstanding Female in Comedy Series
WINNER: Uzo Aduba - Orange is the New Black

Edie Falco - Nurse Jackie

Ellie Kemper - Unbreakable Kimmy Schmidt

Julia Louis-Dreyfus - Veep

Amy Poehler - Parks and Recreation
Outstanding Male Comedy Series
Ty Burrell - Modern Family

Louis C.K. - Louie

William H Macy - Shameless

Jim Parsons - Big Bang Theory

WINNER: Jeffrey Tambor - Transparent
Ensemble Comedy Series
Big Bang Theory

Key & Peele

Modern Family

WINNER: Orange is the New Black

Transparent

Veep
Outstanding Male Actor Drama
Peter Dinklage - Game of Thrones

Jon Hamm - Mad Men

Rami Malek - Mr. Robot

Bob Odenkirk - Better Call Saul

WINNER: Kevin Spacey - House of Cards
Outstanding Female Actor Drama
Claire Danes - Homeland

WINNER: Viola Davis - How to Get Away With Murder

Julianna Margulies - The Good Wife

Maggie Smith - Downton Abbey

Robin Wright - House of Cards
Ensemble Drama
WINNER: Downton Abbey

Game of Thrones

Homeland

House of Cards

Mad Men
MOVIES
Outstanding Female Actor Supporting
Rooney Mara - Carol

Rachel McAdams - Spotlight

Helen Mirren - Trumbo

WINNER: Alicia Vikander - The Danish Girl

Kate Winslet - Steve Jobs
Outstanding Male Actor Supporting
Christian Bale - The Big Short

WINNER: Idris Elba - Beasts of No Nation

Mark Rylance - Bridge of Spies

Michael Shannon - 99 Homes

Jacob Tremblay - Room
Female Leading Role
Cate Blanchett - Carol

WINNER: Brie Larson - Room

Helen Mirren - Woman in Gold

Saoirse Ronan - Brooklyn

Sarah Silverman - I Smile Back
Male Leading Role
Bryan Cranston - Trumbo

Johnny Depp - Black Mass

WINNER: Leonardo DiCaprio - The Revenant

Michael Fassbender - Steve Jobs

Eddie Redmayne - The Danish Girl
Cast in a Movie
Beasts of No Nation

The Big Short

WINNER: Spotlight

Straight Outta Compton

Trumbo