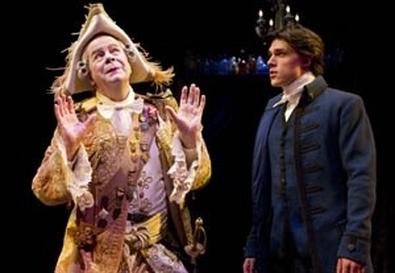 Signature Theatre Company is capping its highly rewarding Tony Kushner season with one of his earliest works, "The Illusion," a free adaptation of Pierre Corneille's 1636 Romanesque comedy. It was originally commissioned by New York Theatre Workshop, where it premiered in 1988. Full of magic and mayhem, Corneille's fanciful original is entertainingly amusing (at least as read in what Kushner says is not a very good English translation) if somewhat straightforward. Kushner has expanded and enriched it, resulting in a penetrating and poetic consideration of human desire told with a shimmering theatricality. Produced with the intelligence and meticulous care we have come to expect from this indispensable theater company and graced with Michael Mayer's inspired direction, the two-and-a-half-hour show is a joy from start to finish.
An elderly lawyer has undertaken a dangerous journey to the cave of a mysterious wizard, who he has been told can help him find his long-banished only son. The wizard, aided by a deaf and mute servant, conjures scenes from the lad's picaresque life in the 15 years since his stern father drove him away. These scenes contain classic archetypal characters: the dashingly romantic commoner hero (the son), the noble lass who returns his love, the haughty highborn suitor she is being forced to wed, the icy father who is forcing her, an aging comic fop obsessed with her, and the heroine's feisty serving girl. Will the lovers overcome all obstacles to their happiness? The crafty wizard manipulates as the anxious father watches with rapt hope.
Kushner's intoxicating command of language is on dazzling display in a script mixing blank verse, rhyming couplets, and prose dialogue, all of it handled with elan by the faultless company. David Margulies' dry, self-obsessed lawyer is dominated by a hunger for resolution and has a wonderfully prickly chemistry with Lois Smith's wily and cantankerous wizard, notable for the caustic light Smith sets dancing in what seem to be ancient eyes. Henry Stram brings his patented stylized strangeness into brilliant play as both the wizard's deeply unhappy servant and the heroine's coldly ferocious father. As if that weren't enough, he also plays Nico Muhly's supple score with sensitivity and restraint on the wizard's battered but bewitched grand piano.
The handsome Finn Wittrock impeccably charts our hero's journey from wildly impetuous youth to passionate but calculating suitor to self-serving husband. Amanda Quaid's heroine is no conventional damsel, with the actor giving her a steely, forbidding core entirely appropriate to this rebellious daughter. Nevertheless, Quaid doesn't neglect the character's lighter side, on delightful display in an early scene shared with her serving maid, in which Merritt Wever's controlling domestic and her mistress indulge in chatty girl talk about whether or not our hero is worth adoration. Wever makes good use of her "Nurse Jackie" impishness while confidently navigating an emotional range that includes hot anger and tearful heartbreak. Sean Dugan is a condescendingly poised, to-the-manner-born romantic rival.
As that fop, the ever-reliable Peter Bartlett is working at top form. He is, of course, a riot whenever the character makes his outlandish claims of physical derring-do intended to terrify listeners. But what makes Bartlett's work so special is the bruised wonder at the heart of his creation, a touching inability to believe the harshness of this world, something Kushner and Mayer take full advantage of in the play's heart-catching final image.
Christine Jones' imaginative, spare set makes good use of concentric rings of globes and lanterns (particularly in evoking a prison cell) and potion bottles on little wall shelves. Susan Hilferty's rich costumes somehow also sport an everyday practicality. Kevin Adams' lighting is an essential tool in creating the magical atmosphere, which Bray Poor's sound design enhances. Rick Sordelet stages a corking sword fight.
The final show in Signature's Peter Norton Space (the company moves to new digs next season), "The Illusion" serves as a hauntingly beautiful, elegantly elegiac farewell.
Presented by and at Signature Theatre Company, 555 W. 42nd St., NYC. June 5–July 17. Tue.–Sat., 8 p.m.; Wed., Sat., and Sun., 2 p.m. (212) 244-7529 or www.signaturetheatre.org. Casting by Telsey + Company.