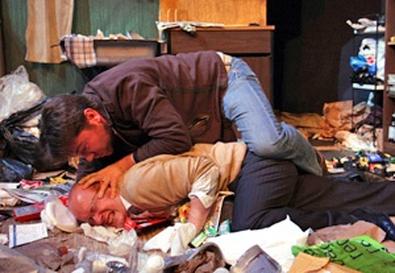 Actor-playwright Rob Benson's three-hander, about two brothers clearing the rubbish-strewn flat of their long-estranged, recently deceased father, feels awfully insular. Benson's program note suggests that he has a drama of suddenly revealed secrets and a rumination on the definition of fatherhood in mind, but this 80-minute play never satisfactorily coalesces.
As the lights come up, prim, repressed Warren stands in the apartment entryway surveying the chaos with deep dismay. His initially manic attempts to tidy suggest the obsessive-compulsive disorder with which we later learn he is afflicted. Just as he forces himself to regain control, a man appears in the doorway. It's Chris, Warren's older brother, who walked out on his wife more than a year ago and hasn't been seen since. The two brothers edgily reconnect and discuss the effect their father's desertion had upon them as children. Warren is too young to remember his dad; Chris has some happy memories but was left holding the bag, becoming the caretaker for both his younger brother and their unhappy mother. He was forced to work dead-end jobs to support them, while Warren, cleverer than Chris, got to attend the "local polytechnic." Mixed in with the endless empty liquor bottles, mounds of crumpled paper, and food-encrusted takeout dispensers are numerous disposable cameras. Warren wants to develop the film in the hope of understanding his father; Chris wants them destroyed.
Dynamics shift subtly between the brothers under Deborah Wolfson's muddy direction, but it's often unclear why. Highly idiosyncratic specifics—Warren was deaf until age 5 due to undetected fluid in his ears; Chris saved and nurtured a hedgehog only to brutally kill it with a garden spade—seem applied rather than organic. Benson and Roger Clark play Warren and Chris, and while each inhabits his character with authority, their brotherly bond isn't particularly convincing, despite all the childhood stories the brothers engage in. As their father, John Michalski offers a vivid snapshot of the ruined shell of a man who was once the life of the party down at the local pub.
Scenic designer Kacie Hultgren turns the tiny black-box Theater C at 59E59 Theaters into an oppressive, smothering mess (my sympathies to properties coordinator Suad Marr), but the unavoidable rearrangement of it by the stage crew during intermission telegraphs Benson's second-act surprise. If ever a play needed a curtain, this one does.
Clark and Benson's thick regional accents are a more-than-occasional impediment to clarity, but ultimately it's Benson the playwright who doesn't seem to know what he's after in this effortful, overly studied work.
Presented by On the Square Productions at 59E59 Theaters, 59 E. 59th St., NYC. Feb. 15–27. Tue. and Wed., 7:30 p.m.; Thu.–Sat., 8:30 p.m.; Sun., 3:30 p.m. (212) 279-4200 or www.ticketcentral.com.