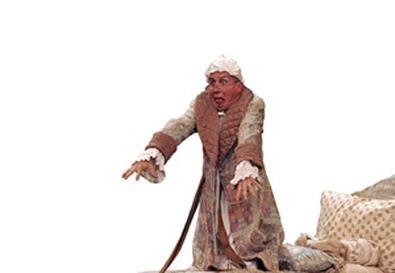 You might call this Parson's Nose production Molière-light, as the three-hour original is delivered in slightly over an hour, the work skillfully condensed until it retains only the substantive essence that captures the plot and the character of the work.
M. Argan (Lance Davis) is a hypochondriac whose every moment is spent consulting doctors. He devises a plan to marry his daughter, Angelique (Amanda Pajer), to the physician son (James Calvert) of his own physician (Michael Manuel), thus saving on the exorbitant bills he believes he is charged. Unfortunately, Angelique is in love with Cleante (Michael Faulkner) and is threatened with being sent to a convent if she denies her father's match. Her saving grace is the family maid, Toinette (Jill Rogosheske), who sets about fixing the problem.
Molière's underlying political and social commentary made his plays popular in his time, and his sharp wit ensures they will continue to be performed. Director Mary Chalon allows Davis and his cast to adopt the grand flourishes that make the play lively, including breaking the fourth wall and drawing the audience into the story.
Davis is perfect as the self-absorbed hypochondriac who is a patsy for his unfaithful wife, Béline (Marisa Chandler); both doctors; and Béline's accomplice (Mark McCracken). Faulkner and Pajer are delightful as the lovers, particularly when they improvise a silly song for Argan. It is Rogosheske, though, who gives Davis a run for his money in her characterization as the clever maid. Both add the comic touch that elevates this production. Holly Victoria's silly beards and effective costumes are a plus.
Davis' adaptation retains the French character and some of the original's vocabulary as it streamlines the tale. The production is a cheerful diversion and accomplishes with flair and good humor its stated goal of bringing classics to a general audience—including school-age children.
Presented by Parson's Nose at Pacific Asia Museum, 46 N. Los Robles Ave., Pasadena. Jan. 15–Feb. 5. Fri.–Sun., 7 p.m. (Dark Jan. 31 and Feb. 4.) (626) 403-7667. www.parsonsnose.com.