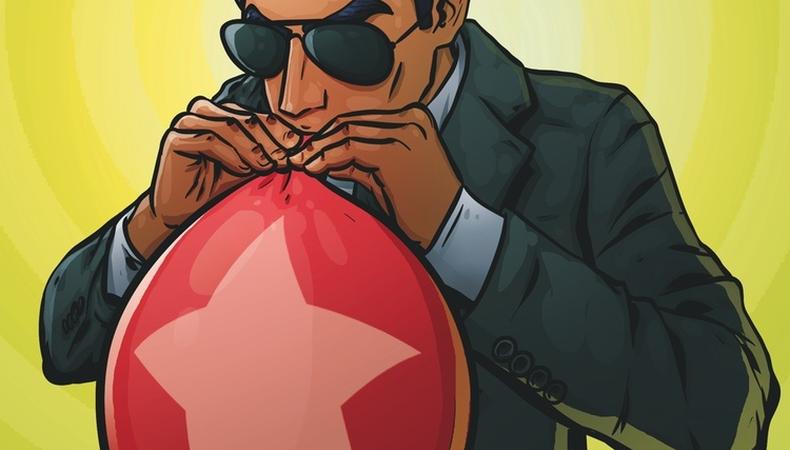 My experience has been that actors spend way too much time worrying about things that don't really matter.
For example, why are actors always checking their STARmeter ranking on IMDb? Do you really think that number means anything? It's just a rating based on Internet searches by the website's users. In theory, the rankings are supposed to graph your popularity in the entertainment industry—but trust me: No one cares except for narcissistic movie stars and their publicists.
To prove my point, a 35-year-old actor named Shannon Guess recently held the number one position for more than a week. This dubious accomplishment had nothing to do with her acting career; Miss Guess was at the top because she was arrested for allegedly sending envelopes laced with poison to President Obama and New York City Mayor Michael Bloomberg. The notes inside read, "You will have to kill me and my family before you get my guns. Anyone who wants to come to my house will get shot in the face. The right to bear arms is my constitutional right and I will exercise that right till the day I die."
Wow! That's the ultimate cover letter, isn't it? I bet agents all over town were scrambling to get a meeting with this future star.
Sadly, there are companies out there you can pay to help raise your ranking. I know that sounds absurd but these places do exist, so some of you must be handing over your credit card number. I guess the hope is that no one will notice the lack of training and credits on your résumé when you're that popular on IMDb. And maybe that's why so many actors mention their ranking when they're submitting to my agency.
Here's the bottom line: Even if these companies deliver on their promises, none of you are getting a deal or an audition or representation because of a spike in your STARmeter ranking.
There are no shortcuts in this business.
Here are a few more examples of actors burning way too many calories on activities that don't really matter.
I have an editor friend who works on a lot of demo reels. He recently told me that an actor wasted 10 minutes in his studio trying to figure out which font to use for his name.
When I attend a workshop, actors often hand me elaborate portfolios stuffed with more information than anyone could possibly want. I always feel bad when I throw them away. What a waste of time and money. If I'm meeting you at a workshop, all I really need is your headshot and résumé. Save the rest for your AFI career retrospective.
I've been told that actors spend hours and hours working on their Facebook fan pages, just in case someone like me wants to learn more about them. I hate to burst everyone's bubble, but I've never done this, and I doubt I ever will. Why would I? There are only so many hours in the day.
That applies to you too. It's like Gordon Gekko said, "The most valuable commodity is time." So use it wisely. Learn some basic marketing skills. Get in great mental and physical shape. Put yourself in social settings that create contacts. Focus on your craft. Become the best actor you can possibly be. Doing this will serve you better than focusing on all that other nonsense that adds up to nothing more than wasted energy.
And that's it for this week, gang. I have to go submit on some breakdowns. It seems like everyone is looking for a Shannon Guess type