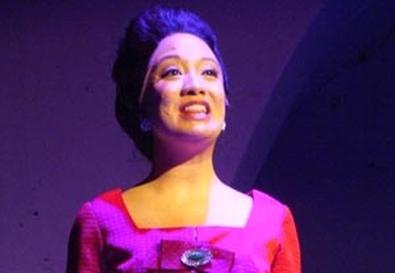 Happily, the whole of "Imelda," an affecting new musical based on the life of Imelda Marcos, former first lady of the Philippines, is greater than the sum of its largely undistinguished parts. Mechanically directed by Tim Dang and overflowing with hackneyed choreography by Reggie Lee, it's played on a plain white set designed by Kaori Akazawa that does nothing to suggest the mid-20th century or the South Pacific. While Ivy Chou's evocative costumes are full of glamorous surprises, every song in "Imelda" (composed by Nathan Wang, with lyrics by Aaron Coleman) is reminiscent of a familiar number from some other musical. And the acting, singing, and dancing of the 12-member cast range only from fair to pretty good.
Nonetheless, one comes away feeling pleasantly entertained and genuinely invested in the political and human dramas of the historical narrative. The biggest mistake made by the creators of this "Evita" wannabe (including book writer Sachi Oyama) was probably choosing Marcos over Corazon Aquino as their central character. Lacking the gravity of Eva Peron, the superficial Marcos—whose fame derives mainly from her abundant shoe collection—pales in contrast to the truly heroic Aquino (Liz Casasola), who was elected president after her husband was assassinated. When Casasola displays Aquino's strength of spirit and character in an inspiring 11 o'clock anthem, it becomes apparent that the real story—an important tale of feminine courage—has just begun.
Under the musical direction of Devin Klaw, the show's derivative yet lively, tuneful score makes for enjoyable listening. Jaygee Macapugay is adequate in the title role, and Mel Sagrado Maghuyop and Brian Jose proffer believable interpretations of Ferdinand Marcos and Ninoy Aquino, respectively. But most enchanting are Loresa Lanceta, Alan Ariano, and Leanne Cabrera as a lovable peasant family whose opinions are cleverly used to reflect the Filipino people's changing views of their colorful Imelda.
Presented by Pan Asian Repertory Theatre in association with East West Players at the Julia Miles Theater, 424 W. 55th St., NYC. Sept. 30–Oct. 18. Tue.–Sat., 7:30 p.m.; Sun., 3 p.m. (212) 239-6200 or www.panasianrep.org.