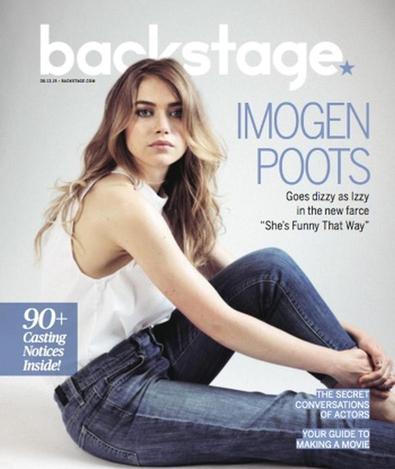 Imogen Poots is effortlessly herself. That may seem like the easiest thing in the world to accomplish, but it is a rarity for young female actors, most of whom have modeled themselves after the person they wish to become—the cool girl, the It girl, the goofball. Poots is somewhere on that spectrum, but she is wholly her own person: friendly, chatty, smart, and funny.
"I actually really love auditioning," she says at the NoMad Hotel's Library bar over coffee. "That doesn't mean I'm any good at it. Most things I love don't work out in terms of life. I really like sunsets, but they don't happen more than once a day. If that."
That's the way a conversation with her swoops and dives, leaving one pleasantly destabilized. She's discussing her new/old movie "She's Funny That Way," in which she stars as Izzy, a Brooklyn prostitute who is cast in a Broadway play despite her previous sexual relationship with the director (Owen Wilson), unbeknown to the play's star, his wife (Kathryn Hahn). Coming to theaters Aug. 21 and originally filmed two years ago, the comedy is director Peter Bogdanovich's first movie since 2001's "The Cat's Meow."
The British Poots—best known stateside for "That Awkward Moment" or "28 Weeks Later"—never had to actually audition for the film; she simply met Bogdanovich at the Plaza Hotel's Palm Court at the director's request. "The Plaza Hotel was nice because it's such a classy way to meet someone," she says, laughing at the image of Bogdanovich elsewhere. "Can you imagine if Peter Bogdanovich had said, 'Let's go to Starbucks?' "
Poots' point about auditions is that she relishes the chance to work with someone, regardless of the outcome. "I really like going into a room and getting a chance to see what they're going to throw at you," she says. "That's what I love to do. Obviously it's nerve-wracking, but going into the room and going there."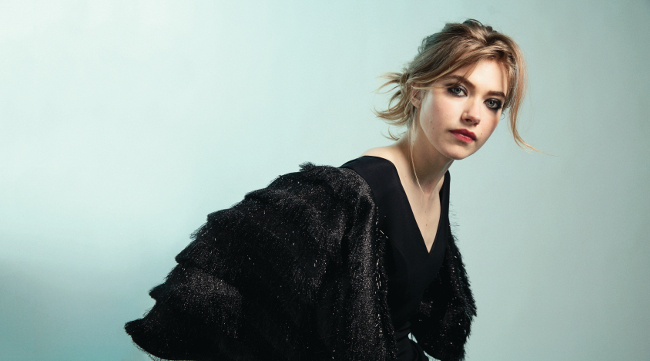 Bogdanovich, in many ways the cultured high priest of cinephiles thanks to both his prodigious output of iconic films—"The Last Picture Show," "Paper Moon," "What's Up Doc?"—and his work as a film historian, didn't stoop to anything as demeaning as asking Poots to audition for the role of Izzy. Instead, they simply spoke about films.
"We had a pretty honest conversation about how we both felt about stuff," Poots says. "And cultural things and about the character. He really wanted somebody to be knowledgeable of his work, because I imagine there have been horror stories."
For Bogdanovich, there was something so captivating about Poots that he offered her the role on the spot.
"Within 10 minutes I was sort of sure she was the girl," he says. "There was something about her that was very quirky and unusual. She just had an odd way of behaving that didn't seem to me to be an affectation but rather to be her. And that combined with the talent and [that] she was attractive and pretty—all that contributed to me thinking she could do this role."
Hahn was just as captivated by Poots during filming. "She's the real deal," Hahn says. "She's just been sprinkled with stardust. I learned a ton from watching her. She upped everyone's game. And that face! I'm very, very excited for the next few chapters of her life. She's a superstar."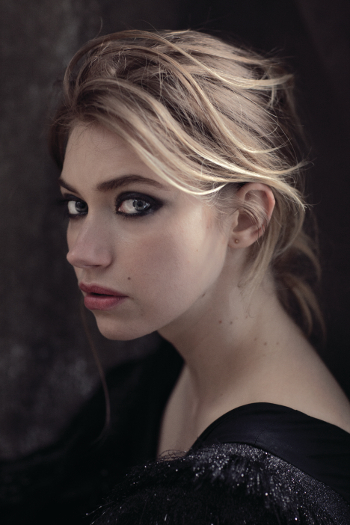 The role itself is a flimsy one, saddled with an outrageously over-the-top Brooklyn accent ("It's a lot. It's intense," she says, then diplomatically adds, "I think there's something about that accent that was a fucking hoot to do"), in a movie that is built on convenient coincidences and inexplicable behavior. The cast—which includes Will Forte as a playwright and Jennifer Aniston as his therapist girlfriend—are all committed, and none more so than Poots, who is obviously having a ball throwing realism to the wind.
"I had a waltz making that movie, that's for sure," she says. "I loved working with Owen and Kathryn and Will. You can see how it's a Peter Bogdanovich movie, and that itself should be left as sort of an exotic creature. I'd never done anything that big before. It was knowing that you were going to be committing to that director's vision, and then you commit to the velocity of the moment. Which was fun, and then it was very rewarding to go do something that is very natural and quiet."
That's the sort of project Poots is most often drawn to, from Jeremy Saulnier's upcoming "Green Room" to 2013's "The Look of Love," opposite Steve Coogan. And she's prepared to wait for as long as it takes for those opportunities to come around.
"I've waited six months until I found something I really, really wanted to do," she says. "You just have to be very patient. Because your taste develops, and then develops rapidly. I was really lucky last year because I was absolutely crazy about everything I was making. There's something thrilling about getting involved in something and saying, 'I would want to see this film.' There are good roles out there, you sometimes just have to grit your teeth and wait."
Want to read more? Check out our Backstage covers here!