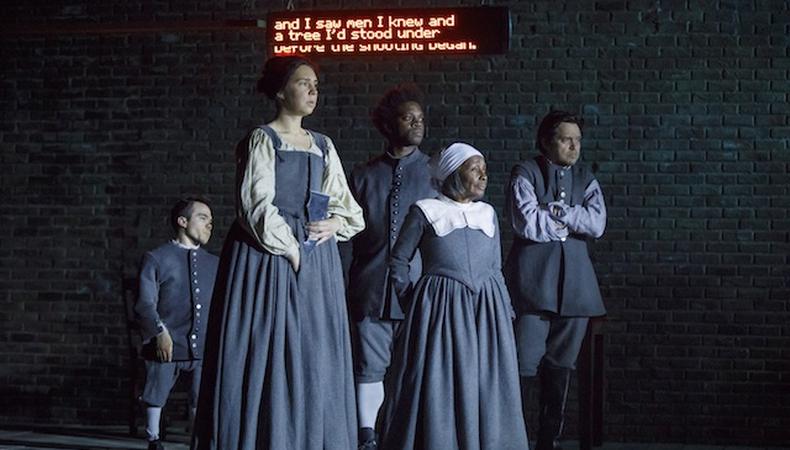 New York theater veteran Vinie Burrows has never shied from raising her voice on political issues. Whether it be serving as a representative to the United Nations or joining the "Granny Peace Brigade" in protest towards the Iraq War, the 94-year-old actor is interested in global goings on—and more importantly, how "citizens of the world [can] affect what happens in the world." It's fitting, then, that Burrows is appearing Off-Broadway in "Light Shining in Buckinghamshire," Caryl Churchill's 1640s-set drama about the English Civil War. Directed by Rachel Chavkin ("Natasha, Pierre & The Great Comet of 1812," "Hadestown"), "Buckinghamshire" touches on themes that Burrows has long valued. "Light Shining in Buckinghamshire" plays at New York Theatre Workshop through May 27.
What has your role in "Light Shining in Buckinghamshire" added to your acting skills?
I always say whatever I am doing at the time seems to me the most important thing that I am doing. That's one thing. I was very fortunate, I think, that in my early years, I worked with some remarkable technicians. You know, my very first [shows were] with Helen Hayes, and Claude Rains, and Mary Martin, and even George Abbott. I learned a lot from them about technique.
What advice do you have in terms of career longevity?
Good health. It's important to protect the body and not destroy it with drugs, with alcohol, with addictions. And then try to remember that the most important role we play is the role that we play in life. In life with our family, in life with the society that we live in. An actor is not isolated from society. An actor is a part of the fabric of life, of the tapestry of life. Theater is not the be all and end all of life.
As a woman of color who has been in this industry for so long, what has it been like to see the small steps of progress that we're making towards diversity in the media?
It's been rewarding, and there's still a lot more to be done. ['Rewarding'] doesn't really convey the depth of emotion when you see or hear someone like Viola Davis receive an award and what she has to say, because she speaks from the depths of her heart. She made it very clear that she was stepping on the shoulders of those who came before her. She is an example to set for younger actors of color.
What role does your activism play alongside your art?
It infuses it with a passion. I don't see how an artist is ever separated from life. I think Paul Robeson said it so beautifully: that we are part of life, and we are challenged to make decisions to improve the quality of life—not only for ourselves and for our families, but for all. Our responsibility is great, and we have the energy and the strength and the passion to move ahead. [It's] certainly the responsibility of the artist to illuminate, and that's what Caryl Churchill is doing so magnificently in this play, and Rachel [Chavkin] is making that very visible. The challenge that we face, and our ability to handle it, because we're strong. We really are strong.
Do you have an audition horror story that sticks out in your mind?
No, nothing really. You always hope for the best. But the director has an idea, and if you can, you have to trust the director to know what he or she wants. Maybe in the beginning I was fearful, but now I just do the best that I can, and hope for a good result.
That's all you can do, right?
Yeah, that's all you can do. And then [go] on to the next thing without losing faith in your own ability. It's important, I think, the mental health of a performing artist. To not let the disappointments of life, and producers, or directors, or the industry itself make you bitter. You have to believe in yourself, believe that you have a talent and achieve for yourself a level of excellence from which you never fall. I can say for myself today on stage is better than what I did 10 years ago, and it will be better five years into the future. And of course, the ultimate reward is knowing that you have connected with the audience. That you have illuminated for them some aspect of the human condition. You have made it very clear how another human being works, and why.
Want to perform onstage? Check out Backstage's theater audition listings!