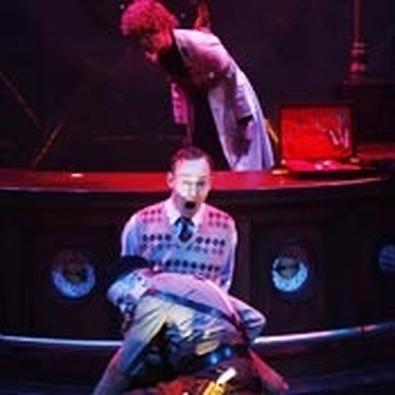 Like a cross between Monty Python and The 39 Steps, with a soupรงon of The Threepenny Opera and a dash of Dr. Strangelove, Improbable Frequency is absolute entertainment. Although it's nominally about code cracking in neutral Ireland in 1941, it's a silly theatrical romp. How delicious, in these days of multimedia amazements and monologue rants, to feel needed in the audience. Ahhhh. This holiday gift to theatregoers offers an original music hall-style, Weimaresque score by the duo Bell Helicopter; a set by Alan Farquharson featuring a semicircular bar doubling as a cabaret stage; bold, campy costumes by Kathy Strachan; and a bubbly six-person cast.
Ireland's Rough Magic Theatre Company, zippily directed by co-founder and artistic director Lynne Parker, employs a heightened, arch style. Real figures — novelist Myles na gCopaleen (aka Flann O'Brien), John Betjeman, Erwin Schrรถdinger — mix with fictional. The program includes a helpful glossary to help you parse the jokes. The plot features an everyman turned spy, in the best tradition of '30s movies: Narrator-protagonist Tristram Faraday (Peter Hanly, the only actor not double cast or in whiteface) is drafted after winning a crossword puzzle competition. Sent to Ireland to decode suspicious song titles on a radio show that could be broadcasting weather reports to German bombers, he encounters sex-crazed, lederhosen-wearing physicist Schrรถdinger (Marty Rea); punning, sneaky na gCopaleen (Darragh Kelly); and a lovely but possibly dangerous Irish lassie (even her shoes are green), Philomena O'Shea (Sarah-Jane Drummey), among others.
Arthur Riordan's lyrics and much of the spoken book dazzle in rhyme: "Be careful not to patronize the Irish/Though they don't object to patronizing you/Is it smugness or insurgency/That makes them say emergency/I feel it lacks the urgency of World War II," advises the British office staff. IRA agent Muldoon (Kelly) leads the crowd at the Red Bank Bar: "With a song and a smile and a sig and a heil/And a tooral aye ay for the IRA/The Brits are at war so we'll give them what for...."
All of the cast are versatile — better at acting than singing, but it's in keeping with the style — but Louis Lovett's jolly panache as Betjeman is a knockout, and Drummey's saucy sweetness is particularly adorable.
Rough Magic Theatre Company
at 59E59 Theaters, 59 E. 59th St., NYC.
Dec. 4-Jan. 4. Tue., 7 p.m.; Wed.-Sat., 8 p.m.; Wed. and Sat., 2 p.m.; Sun., 3 p.m. (No performance Wed., Dec. 24, 8 p.m., and Thu., Dec. 25.)
(212) 279-4200 or www.ticketcentral.com.