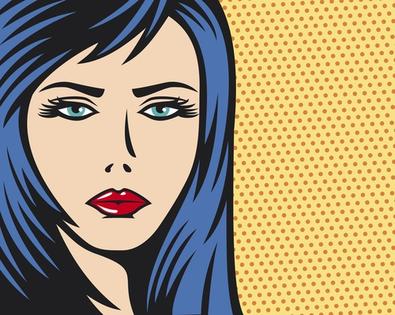 The indie circuit has heard our pleas, and is attempting to push the boundaries regarding women in film. Though its attempts are both thoughtful and necessary, this journey is just beginning.
Today marks the IFC release of indie flick "Raze," starring stuntwoman-turned-actor Zoë Bell and a slew of other women, including Tracie Thoms ("Looper"), Rachel Nichols, Sherilyn Fenn, and a brief appearance from Rosario Dawson. Bell's character Sabrina leads a group of women made to fight to the death at the hands of an elite society. What would make them do such a horrible thing? If they lose a fight, their loved ones die. If they win a fight, their opponent dies at their hands, but their loved ones live. There can only be one winner.
"Raze," which stars and was produced by Bell, features a cast of 23 women.
Looking at the state of the industry when it comes to casting females as leads, "Raze" is an animal all its own, not only bringing a bunch of women to the screen, but throwing them into a vicious situation that calls for blood and guts to boot. Director Josh C. Waller says he purposefully left out the sex and innuendo so often laid on women fighters.
The indie circuit seems to be doing right by the ladies with releases like "In a World," about a voice coach trying to make her mark on the voice-over industry (Lake Bell is a triple threat in the film doing the actor/writer/director combo), the monochrome coming-of-age story "Frances Ha," starring Greta Gerwig, about the haphazard life of a 27-year-old dancer living in New York City, and the critically acclaimed "Her," co-starring Scarlett Johansson as the voice of the computer operating system that Joaquin Phoenix falls in love with, which also drops on wide release today.
Then there are newcomer directors like Gillian Robespierre and her feature film "Obvious Child," premiering at the Sundance Film Festival and starring comedian Jenny Slate. The film follows Donna Stern (Slate) as her life slowly unravels after a series of unfortunate events that include an unplanned pregnancy. What makes "Obvious Child" different from other "Oh shit, I'm pregnant" movies like "Knocked-Up" and "Juno," that pretty much always end in childbirth? SPOILER ALERT: Donna decides to terminate her pregnancy. Did we mention this movie's a romcom?
Just to be clear, it's neither a comedy about abortion or a sappy romantic film about a chick falling in love with a smart and sensitive hipster from Williamsburg who gets her pregnant. "Obvious Child" is a little more real (despite the fact that the main character is indeed an artistic type from Brooklyn).
"What's unconventional is that the film portrays this woman's life—which does involve having an abortion—as a life and not just a situation," says Slate. "I think that is what we haven't seen yet." Slate's character is not defined by her choice, but rather her ability to face her situations with humor (she's a stand-up comedian in the film).
"It's interesting to deconstruct how a leading woman in a romantic comedy is supposed to look and sound, and hopefully we have shed some light into that character, but stayed true to the drama of romantic comedy so it's still very enjoyable and funny and charming, but doesn't have the typical Hollywood perfect, blonde hair, tiny little nose," said Robespierre about Donna, a character she co-wrote with her friends and first introduced in the short film that inspired the feature of the same name.
"Most of the stories about women who have an unplanned pregnancy that I've seen in the mainstream have either been written and directed by men, or directed by men," says Slate. "There is a large group of women that feel that those portrayals are pretty one-sided and unreal and I think we reached a breaking point."
In 2013, the New York Film Academy released an infographic demonstrating gender inequality with cold hard facts. In the top 500 films between 2007 and 2012, 31 percent of women on screen had speaking roles, most of whom were sexualized with revealing clothing in the process (29 percent). There is a five to one ratio of men to women working behind the scenes in film, and in 2013 the highest paid female actor—Angelina Jolie, who made $33 million last year—made about the same as the two lowest paid male actors, Liam Neeson and Denzel Washington. Age also seems to be a factor when considering the monetary "value" of women actors, with the median age for women sitting at 34.8 compared to 46.5 for men.
At the National Board of Review gala Meryl Streep and Emma Thompson shared with their audience a real look into the challenges of being a female actor, let alone one over 50 who's still very much in the youth-obsessed game of Hollywood. Streep delivered a nine-minute speech that included a tribute poem for Emma Thompson—co-starring in "Saving Mr. Banks" alongside Tom Hanks—before she launched into some real talk about Walt Disney's "gender bigotry" and anti-Semitic ways.
Streep's feminist critique about Hollywood is nothing new as she's always voiced her opinion about inequality in her industry. She identified Thompson as a fellow "rabid, man-eating feminist, like I am," before Thompson declared her removal of her heels as a "feminist statement."
It's clear the film industry could use more outspoken people like Streep and Thompson, because as grateful as we are for the indie films, the truth is they're still not widely accessible. Many parts of the country don't have access to independent productions. Country-wide, "Frances Ha" was only released in 233 theaters, according to Box Office Mojo; compare that to the testosterone-driven "G.I. Joe: Retaliation," which opened in 3,719 theaters. "The Heat," starring Sandra Bullock and Melissa McCarthy was released in 3,184 theaters and grossed $159,582,188 ranking it in the top 15 for 2013, so it doesn't seem like people don't want to see more women in leading roles, studios just aren't making as many.
"For filmmakers, producers, directors, if we want to see a change with the casting of women and people of different ethnicities as the leads in films, the only way you're going to do it is by just doing it," said Waller. "Take any good script that you've read where there's male leads and just for the hell of it, switch it. See what it does when you make the lead role a woman. See what it does if you make that white guy a black man, or a Puerto Rican woman. Just see what it does."
Now there's an idea.