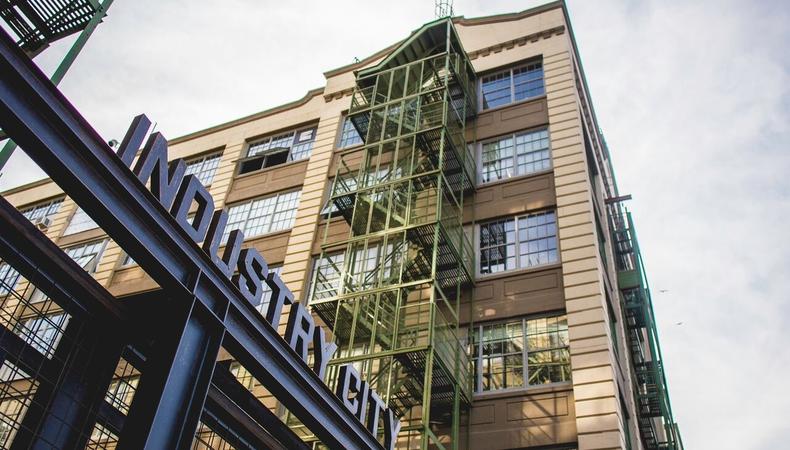 This article is supported by Industry City.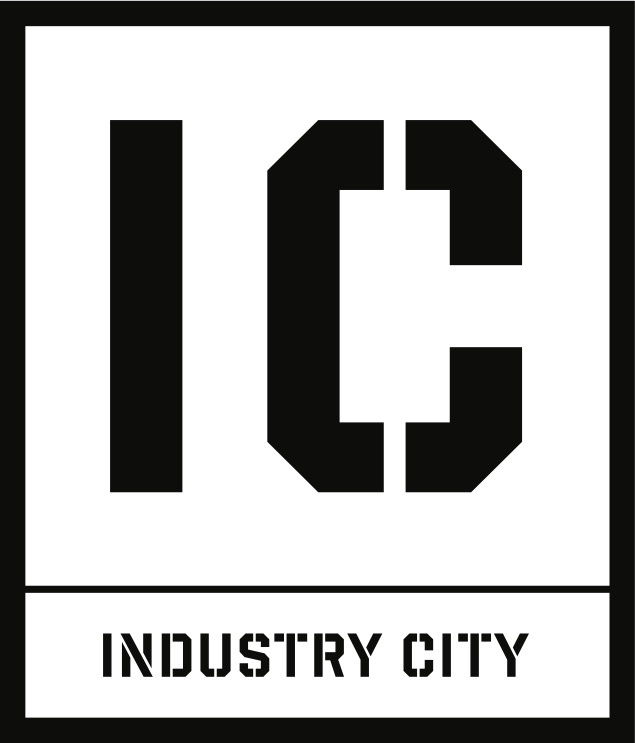 On any given day in New York City, the TV, film, theater, and production industries are at work—crews and casts flock to Times Square theaters to prepare for their curtain times; casting directors are searching for their leads; streets are closed for shoots. While all that's happening, one corner of Brooklyn is working diligently in nearly every other space imaginable—from commercials and social advertising to virtual reality productions and more. As a production hub, Industry City has worked quietly, grown exponentially, and gone unnoticed by many...until now.
Creating the "Hub Mentality"
Located in Brooklyn's Sunset Park neighborhood, Industry City houses over 7,500 people across 500 companies. The hard-earned accomplishment is the product of a very specific and intended approach: With six million square-feet spread across 35 acres, plus ample outdoor space, developers aimed to grow New York's creative industry in an untapped region of the market. The result is a sprawling collection of buildings composed of restaurants, shops, office spaces, factories, and studios.
"We thought, this should be a real hub of creative companies that would all get to know each other, leverage off of each other, and expand their businesses because of the ecosystem that is here," says Industry City Director of Leasing Kathe Chase. "We wanted to allow these companies to have a synergy, to get to know each other, communicate with each other, learn from each other, and grow because of each other."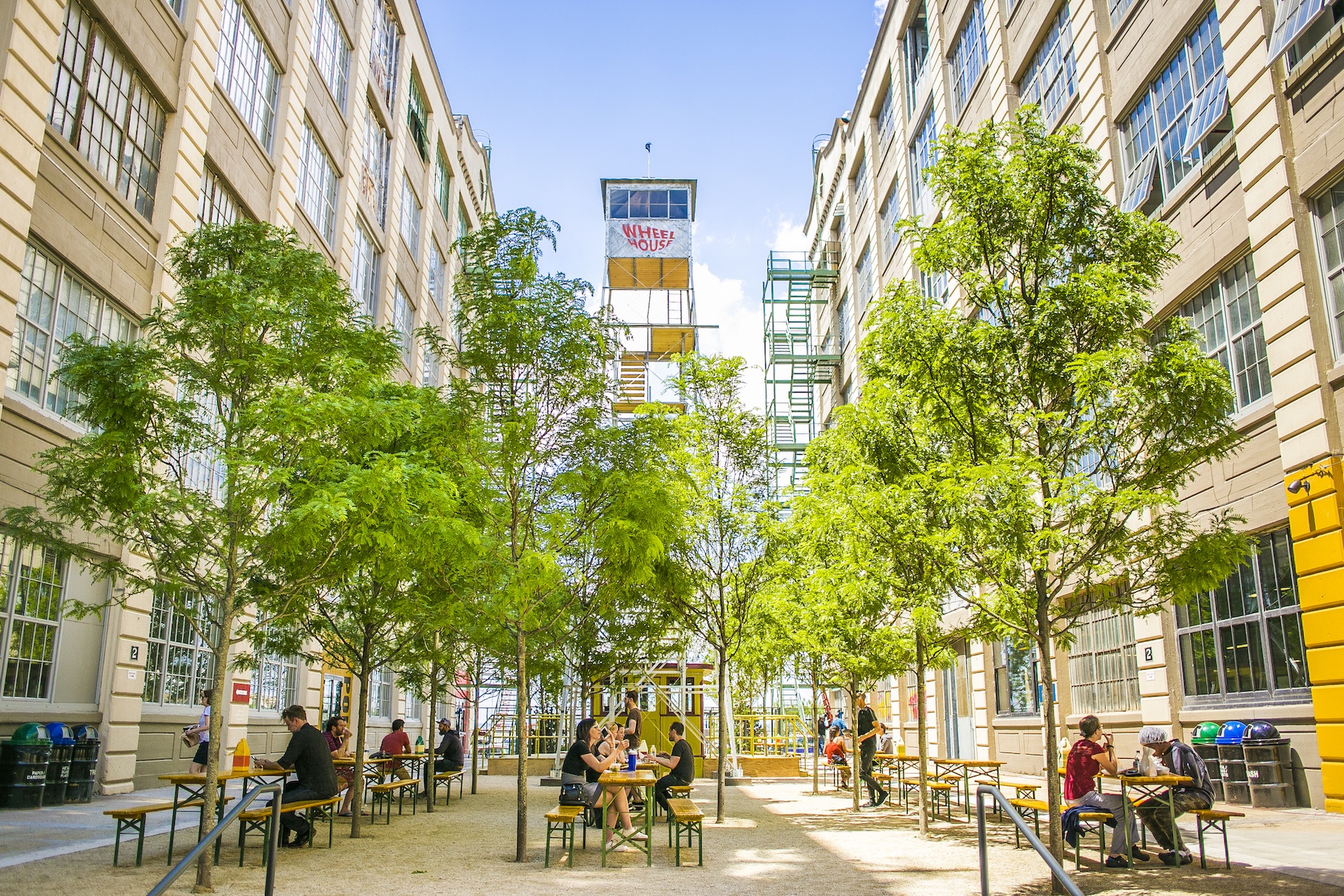 One of the first steps in making that happen was bringing in "anchor tenants," like production gear giant AbelCine, who would attract smaller companies to the space. "They saw a company like us, who serves the general professional film industry, as a tenant who could help them create the components of this infrastructure and ecosystem." As a 30-year-old institution that started in Staten Island, New York before moving to the West Village, Abel says this camaraderie was extremely attractive to their business.
"It creates this campus feel [amongst the companies]," he says. "It creates this cross-pollination between artists and creators. [And] all of these different types kind of make up a similar energy, you know? A vibe, if you will. [It has] a very workman-like, maker-like culture. And that's really what we sensed would happen. It just happened a little quicker than we expected."
With just a few industry players in place, more quickly followed. A trip to Industry City today could result in a feature film—well, at least meetings with everyone you'd need to make one. In addition to AbelCine, companies like LiteGear, a rental house for film and TV LED lighting solutions, B Live, a live streaming provider, and digital entertainment producer 30 Ninjas, and 50 other media or production related businesses all call IC home. And while they all love having each other as neighbors, it's just one reason they moved to Sunset Park.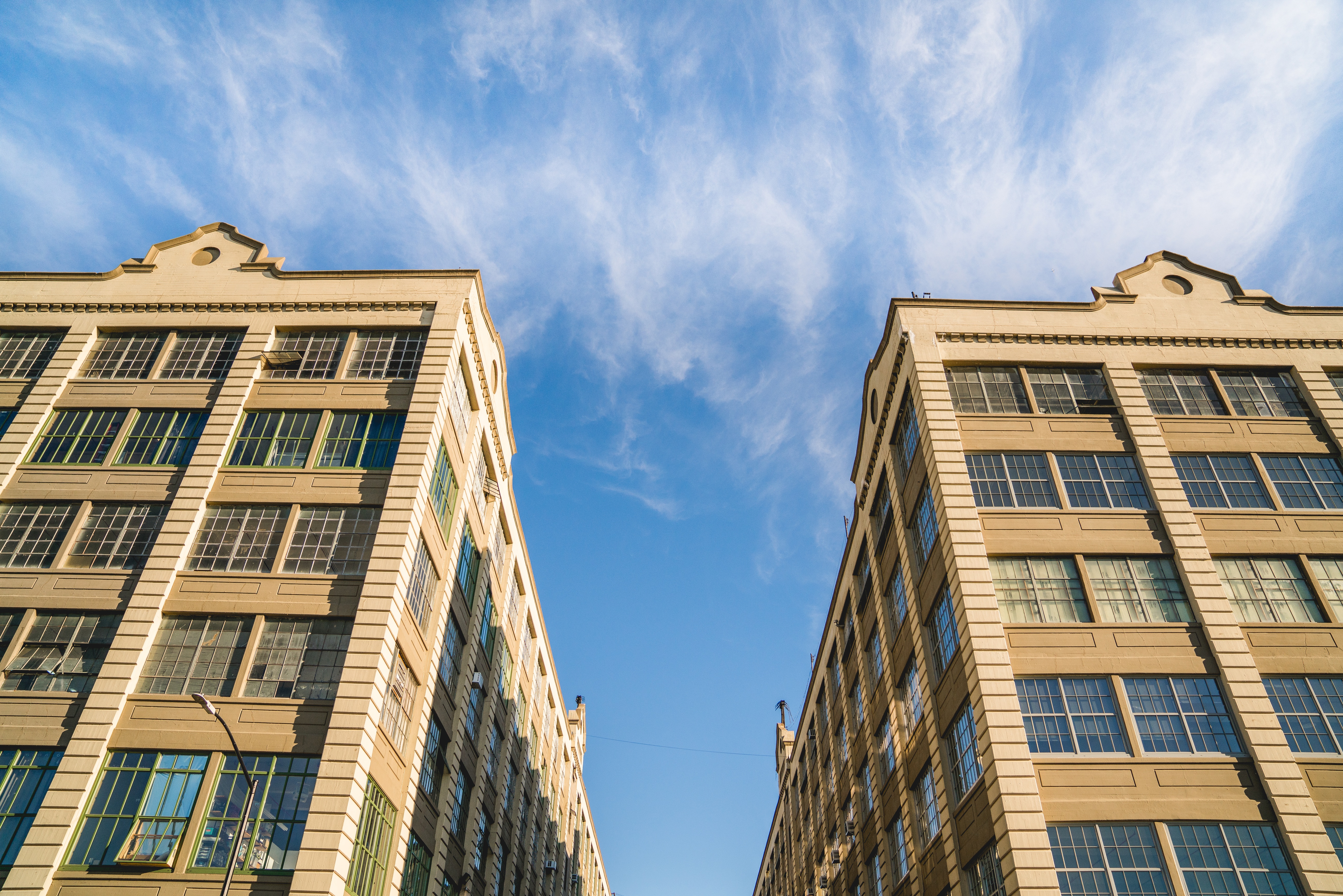 Convenience Is King
When a space is made specifically for creatives, it should be tailored to fit their needs. It's thoughtful adjustments that have completely changed the way both 30 Ninjas and AbelCine do business. The digital entertainment company, started by director Doug Liman ("The Bourne Identity"), produces VR, multi-platform, and interactive content—large-scale productions that often require added crew and gear.
"When we had an office in Manhattan, coordinating getting in and out of it was a nightmare," says Lewis Smithingham, 30 Ninjas' president of VR. "Plus you're in these expensive elevators [not made for production crews], but we're bringing tons of equipment back and forth on a monthly basis." Luckily for Smithingham, Industry City's buildings have multiple commercial freight elevators that go directly to loading docks. In addition, the schedule is flexible, so you can come and go in the off hours as opposed to having to stick to the 9–5 working window that so rarely accommodates the filmmaking process.
"Easy access for trucks and production crews to come in and out is really important to us," says Abel, "and that simply doesn't exist in a lot of properties." When you add all these factors up, it means your production assistant can actually help on set, instead of looking for parking in Midtown Manhattan for an hour. It means your not double parking a huge van right on Broadway. And it means major time and money savings on each and every production.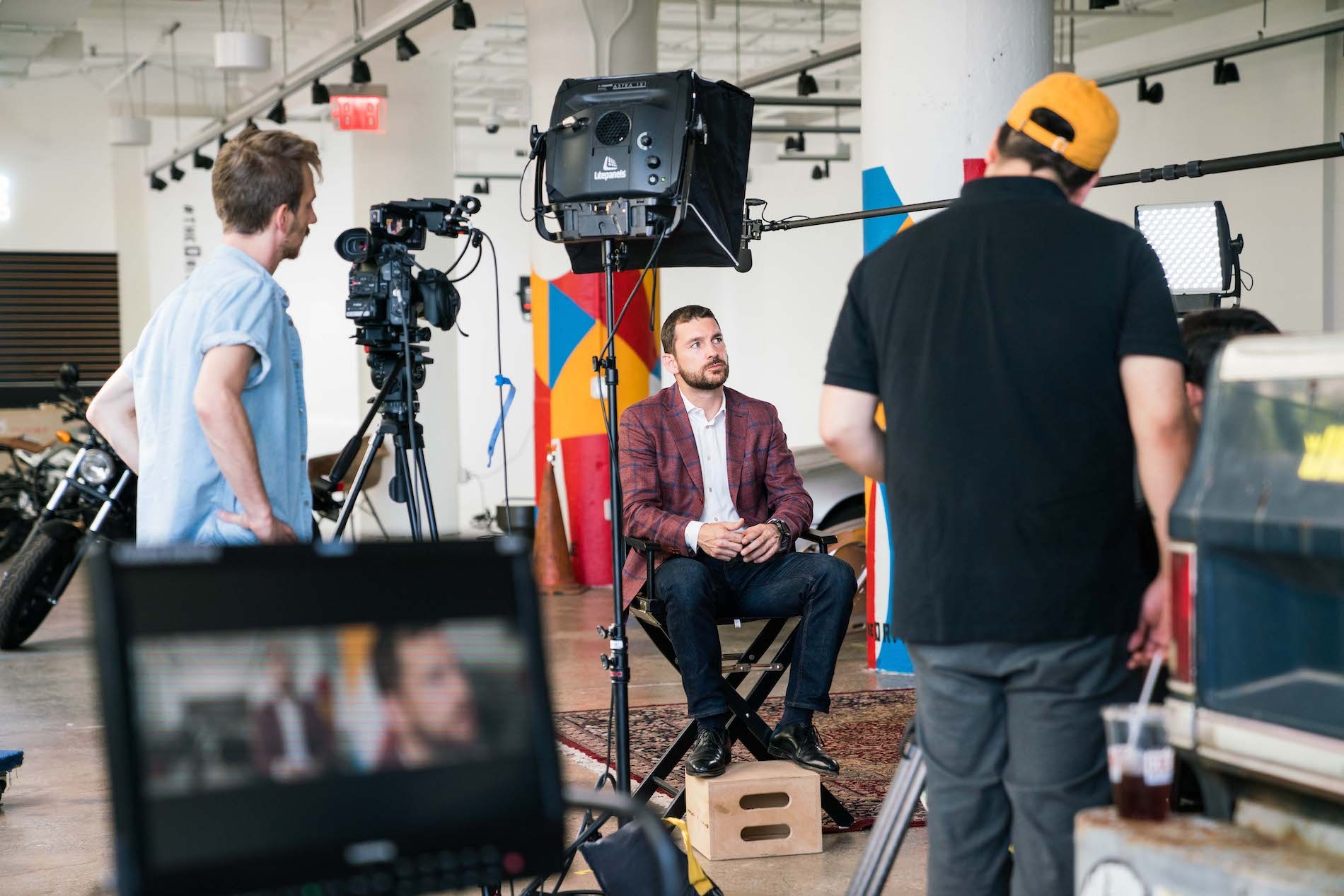 Of course, some might say moving your entire production company to Brooklyn is a sacrifice—that it's not worth the commute for ample parking, 12-and-a-half-foot ceilings, customizable studio space, and a food hall of restaurants like Maglia Rosa, Avocaderia, Ends Meat, Ejen, and Colson Patisserie. Of course, Chase, Abel, Smithingham, but Industry City's tenants would say, "What commute?"
"I had originally thought, Well, Industry City is really far," admits Smithingham. "But when I timed my trip door-to-door it was, like, 22 minutes...which is just too convenient."
Abel agrees. In fact, he says AbelCine wouldn't have moved to Industry City if it were difficult to get to. "Proximity to public transportation was very important to us, and we purposely located as close to it as possible, in Building 4," he says. Industry City is two blocks from an express station: The D, N, and R lines at 36th Street will get you into Manhattan in less than 20 minutes—quicker than getting crosstown.
Other aspects of the campus present additional convenience for the production industry. For one, there's permit-free filming opportunities on the side streets between the buildings, as the streets are privately-owned by Industry City. There's also a wide range of raw and built spaces available to rent for shoots throughout the campus. For set decorators, furniture shopping could not be easier: Mitchell Gold + Bob Williams, abc carpet & home, Design Within Reach, and RH Outlet all call the property home.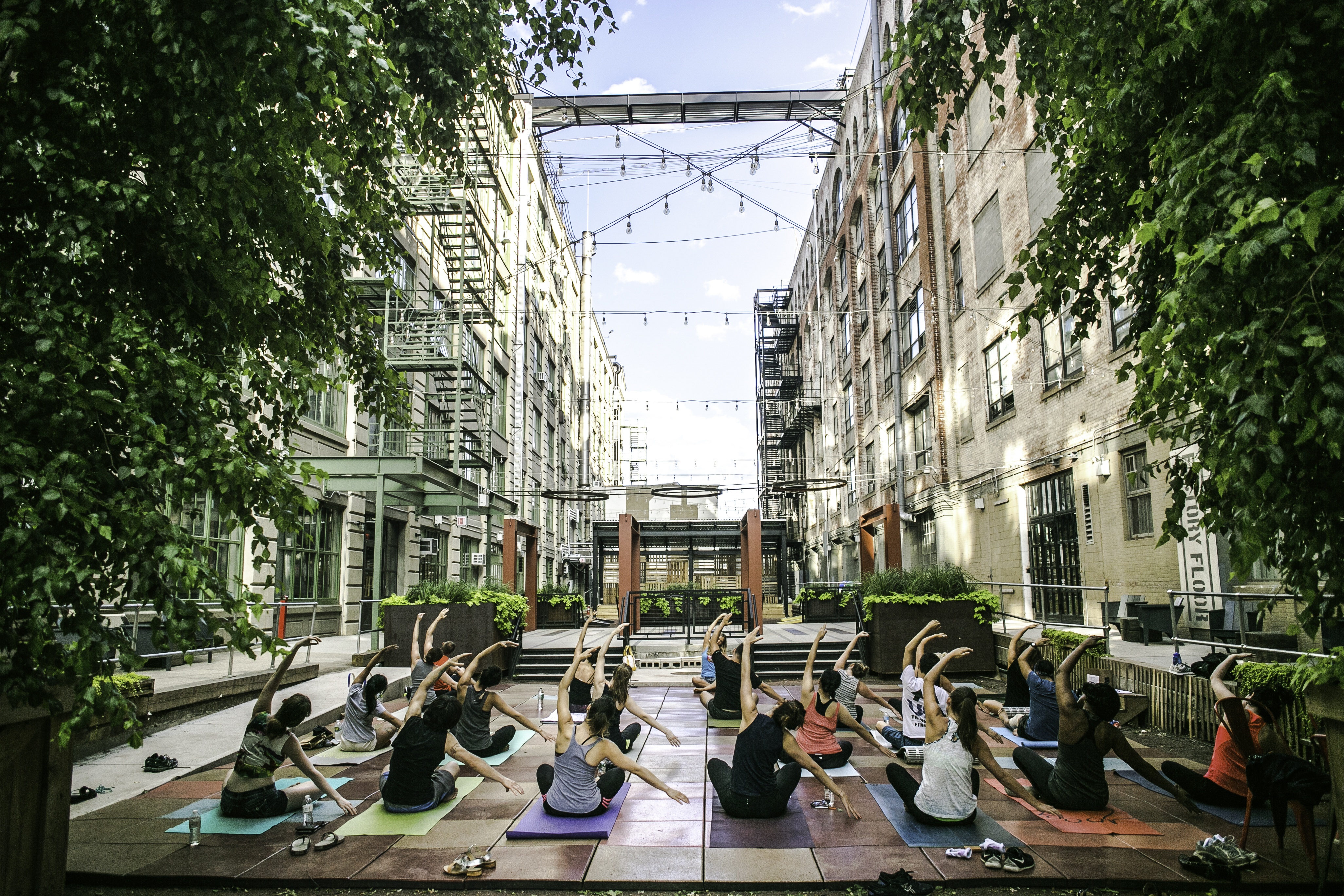 It's the Brooklyn Way
For the production industry, Brooklyn has become a no-brainer. Proximity to Manhattan allows for the conveniences (and a one-of-a-kind backdrop), while distance offers space and prices the island no longer can.
Steiner Studios took a gamble on Brooklyn over a decade ago when Doug Steiner built a complex of 30 sound stages at the abandoned Brooklyn Navy Yard. Today, it's the largest studio in New York, responsible for films including "The Greatest Showman" and "Bridge of Spies." And just recently Netflix joined in. The streaming platform leased a reported 161,000 square feet in the Bushwick neighborhood of Brooklyn, which will be used for brand new sound stages and will create "thousands of production crew jobs" for the industry.
"Production needs space," Smithingham says. "You need physical space that can be private, that can be your own. And Brooklyn offers that."
More of that space is already planned right in Industry City's backyard. The $136 million-dollar EDC funded Made in NY Campus, just a few blocks away, will open in 2021 with a new 100,000 SF state-of-the-art film and television production facility.
But you can't just plop a production hub anywhere and expect it to succeed. There needs to be a need for it—and AbelCine found that these days, the need is in Brooklyn. When considering their move to Industry City, they conducted a "geographic heat map" to learn where their customers were located. The answer: You guessed it.
"I think the younger demographic sees Brooklyn as the creative hub of New York more and more than traditional, as they call them, legacy creatives," says Abel. "Brooklyn now has that creative culture that used to be what the Village stood for, right?"
Industry City knew that. They found an abandoned corner of the city and turned it into a playground for creatives. Chase says it's hard to speak to what exactly is going on at Industry City, but there's "a vitality, an energy," that's palpable. Just 20 minutes outside of Manhattan, huh? Maybe it's time you go feel it.
For branded content inquiries, contact Kasey Howe at [email protected]