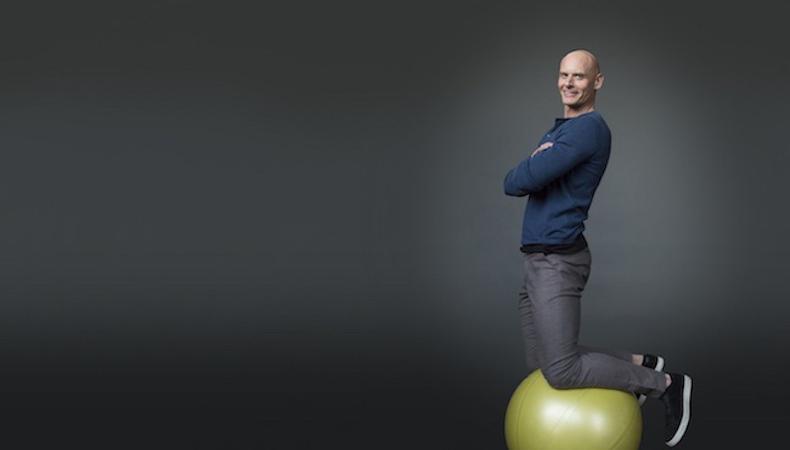 Chris and Paul Vincent, former athletes (and brothers!), have established a reputation as the go-to team to get everyone from Olympic athletes to the cast of "Star Wars" into tip-top shape.
Fitness is much more than looks.
Paul Vincent: "A lot of actors, they're only concerned with the look of their body, so they're only training one way. Once the body is strong with integrity, you can do whatever you need. We get a lot of actors who've been trained for a role and they're sort of muscle on top of a bad structure, and it's crushing the joints. What is so important, especially for young actors, is to get a really solid and well-rounded structure so they can load it in any way they need."
READ: 5 Exercise Tips for the Healthy Actor
Acting demands unexpected physical fitness.
Chris Vincent:"Actors often don't get credit for what they actually do physically, because when you see the movie, you see three seconds of the stunt and you don't realize it took three weeks of 12-hour days for them to actually shoot it. Where an athlete has a 90-minute game and then they rest for two days, an actor has that same intensity, but they do it for 20 minutes every hour for 12 hours, and then they have to do it again the next day."
They train actors for on-set endurance.
Chris: "On a movie set, the last few weeks of filming, people are dropping. People's backs are going out, people are getting sick, the motivation is really low. The producers who have worked with us know the actors they have sent to us are the ones who are showing up first to the set. Their energy is high, they're good to go, and they can make it through this long shoot. So they will start to work into their budgets where we can have the cast six months before shooting even starts."
Training can also help with character development.
Paul: "[Actors are] developing the character when they're training, so if there's a certain style of training we can do that the character would do, we do that. If they move a certain way or they carry a weapon, [we incorporate it]. If they have a sword on their back, they have to do a lot of exercises where they reach behind their back with a weight. We try and train actors with as much consistency as we can with their character."
Slow and steady is often best—don't rush to meet your goals.
Chris: "The producers we've worked with over the years know us and know that they can count on us. We recently had an actor who had completed the whole main part of the shoot, and then he'd been off for three months, and then they had to do reshoots. The producer said to us, 'He has four weeks to lose 20 pounds and get back to looking like he did during principal photography.' We can pull it together and rush it—but we will educate the producers that if we had more time, we could have really done it [so they] don't just look the part, but they can do more of their own stunts and have more longevity."
An actor's project is like an athlete's season.
Paul: "When we look at a movie, we look at it the same way we look at an athlete's season. We've got to build up the body and get them ready for their activity, and then when they start filming, that's like the 'competition' phase. It's more recovery and maintenance. And then when they're done shooting, it's like the off-season and we do a very extensive rehab for them. We're always preparing. We reserve sometimes three months or longer [for preparation], and we have to make sure they can withstand that whole time period."
Looking for a gig? Check out Backstage's casting calls!