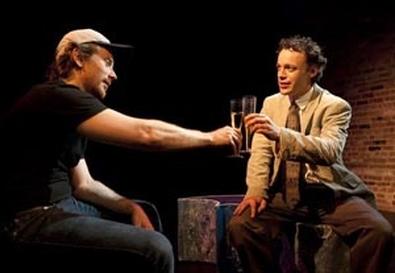 It's dispiriting to watch the talent and professionalism of Nosedive Productions' artists put to use in the service of something as shallow and glibly cynical as James Comtois' "Infectious Opportunity."
This would-be black comedy follows the adventures of aspiring screenwriter Wes Farley, who seems to tell a potential bedmate that he's HIV-positive just to get the guy in the sack, though it's possible that he's really doing it to research a script. Wes then perpetuates the lie across 10 years, eventually writing "A Shoulder for the World to Cry On," about two star-crossed heterosexual lovers with AIDS, for which he is nominated for an Oscar. As his success compounds, though, he is haunted by the caustic Josie, the leading lady of his opus, who is based on one of his romantic conquests. Josie constantly hectors the writer about his hypocrisy. Will Wes perpetuate the lie to launch a brilliant career or come clean to save his soul? The answer, I'm afraid, is never in doubt.
Comtois is plagued by plausibility issues, which include Wes always discussing AIDS as a death sentence for himself and others in a world of antiretroviral drugs and the fact that he could never fake the monumental health-care costs that would give him away to even the most casual investigator. David Ian Lee and Jessi Gotta display welcome chemistry as Wes and his muse, and director Pete Boisvert knows the tone and speed he wants and gets them.
The rapturous reception of a packed house of fans (the show was a hit for Nosedive in 2009) proves Comtois and Boisvert know their audience. It's the kind of smug, nihilistic laughter that I find deeply sad. And as someone who was there from the start of this plague, I also have to say that I found the exploitation of the AIDS epidemic for such smartass purposes extremely distasteful.
Presented by Nosedive Productions as part of the New York International Fringe Festival at the Living Theatre, 21 Clinton St., NYC. Aug. 1–27. Remaining performances: Thu., Aug. 18, 2 p.m.; Fri., Aug. 19, 9 p.m.; Fri., Aug. 26, 2 p.m.; Sat., Aug. 27, 10:15 p.m. (866) 468-7619 or www.fringenyc.org.