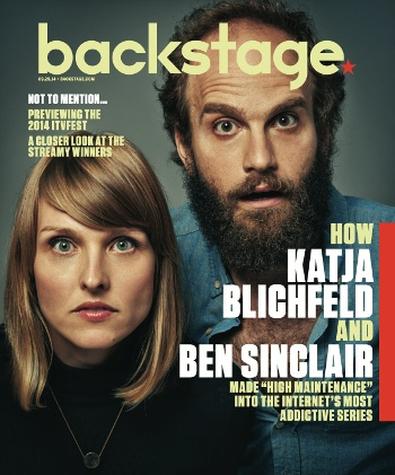 There are times we all try to impress someone, and then there are times we subtly convey how little we think of another person. Most people probably don't make an effort to tidy up, put on clean clothes, or prepare appetizers when having a $20 bag of weed delivered to their apartment door; your weed guy is a certain type of relationship from which so little is expected that it allows us to see people in a different light. That's the circumstance at the core of the hit Web series "High Maintenance," 13 episodes pegged to one pot delivery man's interactions with his various clients.
Just to clarify, "High Maintenance" is not about weed. Yes, marijuana is bought and sold at some point in each episode, but preconceived notions about stoner comedy ("Harold and Kumar Go to White Castle," anyone?) go up in a figurative puff of smoke.
"We started a very real effort to normalize it and portray it as something that's commonplace," says co-creator Katja Blichfeld about the substance that's now medically legal in 23 states and recreationally legal in two. "We have our opinions, but we never wanted to be some sort of crusader for one or another [side]. We don't really want to be the conversation about this, we want to contribute to it in an entertaining way."
The brainchild of Emmy-winning "30 Rock" casting director Blichfeld and her husband, actor-editor Ben Sinclair, "High Maintenance" offers candid glimpses into the lives of the very different customers summoning delivery from the unnamed biker–weed peddler, known as the Guy. Played by Sinclair, the character is our way in—via that little plastic baggie—to the various apartments and minds of NYC.
READ: The Second Annual Backstage 30
Whether it's a cross-dressing father played by former "Downton Abbey" star Dan Stevens or "Girls" actor Greta Lee playing "Homeless Heidi," a girl who dates guys so she can perma-crash in their homes, the characters (cast from Blichfeld's contacts and NYC's improv, theater, and actor circles) are what have won "High Maintenance" fans everywhere from Filmmaker Magazine to the New Yorker.
"We try to make our show feel like you can drop in at any episode—you don't have to watch them in order," says Blichfeld over kimchi with Sinclair and their manager–executive producer, Russell Gregory, at Hanbat Restaurant in Midtown.
She and Sinclair, who were married on New Year's Eve in 2010, were inspired by the opening scenes of episodes of "Six Feet Under," where the soon-to-be deceased's life is presented in vivid, succinct detail. "High Maintenance" is the less morbid version.
"We usually write for people," says Sinclair, who shares the writing and directing with his wife but takes over in the editing room, a skill he picked up while learning to edit his own reel. "We encourage [our actors] to be themselves more than anything. We're not asking them to transform into someone else; we don't have enough rehearsal time or money!"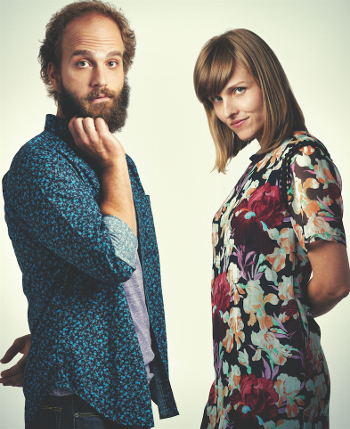 The 13 episodes on Vimeo range from three to 15 minutes; for its third, tentatively priced cycle, the online multichannel network has named "High Maintenance" its first original series, funding the production while remaining hands-off when it comes to the content. "They haven't read a word of any of our scripts," says Sinclair.
Aside from total creative freedom and being able to pay their friends, the biggest perk of working with Vimeo? Having a space for meetings that comes equipped with snacks. "Because that shit gets expensive!" Sinclair says. "Going out to lunch and dinner every time we want to make a decision!"
"Not only that," adds Blichfeld, "but [Ben and I] spend a lot of time together and it's hard to do your work in your home space and then try to have a home life as well. It was a good thing that we could have a place to take our work and reclaim our home as, 'This is where we relax and have a nice time.' "
But the two are so enamored with their show that they admit that, at times, it's hard to switch gears. The ideas are constantly flowing and they keep a waterproof notepad in the shower in case one strikes. "I wrote on it today," says Sinclair about a story he later told in the car while tech-scouting locations in Westchester County with Gregory and Blichfeld for an upcoming episode.
The three spend so much time together that "he's really kind of the third person in our marriage in a lot of ways," Sinclair says. They've developed such a close relationship with their manager and friend that Gregory and his partner of 20 years asked Sinclair to marry them (Sinclair has been ordained twice through the Universal Life Church).
The couple also partakes in unofficial table reads for the scripts, giving Sinclair and Blichfeld a better idea of what's hitting and missing in the dialogue. "Their [scripts] are always surprising and touching and strange," says Gregory, who also runs his own management company. "There's always something that surprises me, and you just don't get that from every script."
It's an essential symbiotic relationship.
"Anyone who does independent filmmaking of any kind knows this: You really are at the mercy of the kindness and talents of your friends if you don't have a lot of money to spend," says Blichfeld. "You have to rely on people who like you and respect you and want to help you, so the advice is be a good person so that you have some friends!" she says jokingly. "No, just ask for help and have a clear vision so that you're not wasting people's time. I think a lot of people make that mistake in their first outing—not being 100 percent cognizant, especially when people are working for free."
The couple is very protective of their "vibe" on set; it was the No. 1 lesson Sinclair took away from acting on a short film that he calls "the shittiest experience." "The vibe [on that set], I've never seen such a mutiny," he says, in mock awe.
Their conscientious approach has kept people coming back—sometimes as characters and other times as crew, as actor Max Jenkins from the popular "Olivia" episode did, later coming back as a production assistant. But that's nothing compared to the rabid fan base the show has cultivated.
"It's intense," the immediately recognizable Sinclair admits. "I think I forget that people are looking at us on the subway. I know it happens but I haven't fully adjusted my behavior to knowing people are watching or might be watching."
Despite no longer feeling free to exchange words on a subway platform, the couple understands people's attraction to Sinclair's persona. "We created a character that you want to hang out with," says Blichfeld about the Guy.
On the other hand, "I could shave this beard and it would all be over," Sinclair says, laughing. "But we're having a fun time right now."
---
Maintaining the High in the Audition Room
Before there was "High Maintenance," Ben Sinclair remembers walking around his alma mater, Oberlin College, when he returned for the school's summer theater festival, and his future wife, Katja Blichfeld, was visiting.
"I was talking with her about how she wanted to position herself as a person who kind of was a tastemaker," he says. "I don't know if you said it at the time—tastemaker."
"I don't think I would've used that word ever," she says, laughing.
"Fine, that's my word. I just saw that Katja had a very good eye for coolness," he says.
Blichfeld, in addition to starting the popular series "High Maintenance" with Sinclair, has been teaching audition classes in Manhattan for several years and fine-tuning her eye for spotting quality actors in the room.
"It's so much about self-confidence and self-acceptance," she says about the audition process, "which I know sounds very Oprah, but I feel like actors who know what their type is—as in not who they feel they are, but who a casting director sees them as—which is sometimes a little bit at odds… Just having that self-awareness to know that 'I come like this, I read like this, this is the type that people see me as,' and then having a self-acceptance of it so that when you walk in the room, you're just really owning the space and owning your voice."
Score a job on the next "High Maintenance" by checking out our audition listings! And watch the video below for more great acting advice!