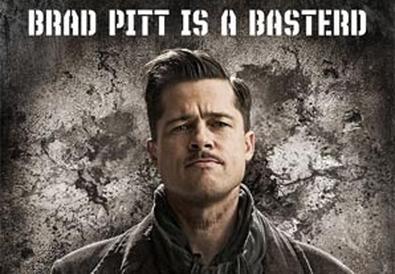 Time to take a ride on the Q.T. train again. This Quentin Tarantino long-in-gestation World War II epic is easily his best—and most audacious—work since "Pulp Fiction," as hilarious, exciting, and suspenseful as it is brilliantly directed and acted. Its often graphically violent, in-your-face re-imagining of events is presented almost like a fairy tale, a swift story split into five distinct parts.
The film opens in the first year of the German occupation of France, where a family is executed by evil, cunning Nazi Col. Hans Landa (Christoph Waltz), except for the daughter Shosanna (Melanie Laurent), who escapes and later re-emerges bent on revenge in her new life and identity as the owner of a movie house. Meanwhile, Lt. Aldo Raine (Brad Pitt) has created the "Basterds," an organized group of Jewish-American soldiers who kick Nazi butt—and then some. This squad later joins forces with German actor and double agent Bridget von Hammersmark (Diane Kruger) in a high-stakes mission to destroy the leaders of the Third Reich, including Adolf Hitler.
As with most Tarantino entertainments, a suspension of logic and belief along with a strong stomach is required here, but if you are a fan of classic World War II flicks like "The Dirty Dozen" or "Where Eagles Dare," this Quentinized tribute to kick-ass classics of that ilk mixed with spaghetti Western sauce and loads of cinematic references may just be the movie we have been waiting for all summer.
Long and strong on drawn-out dialogue scenes—a Tarantino specialty—"Basterds" provides glorious moments for its superbly chosen ensemble cast, led by Pitt, who is complete with Kentucky twang and John Wayne attitude. He knocks it out of the park with a hugely amusing turn as a take-no-prisoners Nazi hunter. As a baseball bat–wielding killer, Eli Roth makes for one fearsome member of Pitt's crew. Others, including B.J. Novak ("The Office"), also make a strong impression. The women's roles are especially meaty; Laurent and the wonderful Kruger make the most of rich parts. As a war hero–movie star, Daniel Bruhl is effectively slimy. The large cast also finds room for a cameo from none other than Mike Myers as an old British general in a remarkably loopy scene that also features standout work from Michael Fassbender as a British cinema expert who reluctantly takes on an assignment in which he must pass as a German officer. Towering above this impressive group, though, is Waltz as the craftiest Nazi the screen has seen in a long time. Playing his multilingual talents to the max, this actor deserves an Oscar—and might even get one—for waltzing away with the picture.
"Inglourious Basterds" may not be to everyone's taste, but it's vibrantly alive, never boring, and just may be Tarantino's masterpiece.
Genre: War Drama. Written and directed by: Quentin Tarantino. Starring: Brad Pitt, Diane Kruger, Melanie Laurent, Christoph Waltz, Daniel Bruhl, Eli Roth, B.J. Novak, Mike Myers, Rod Taylor, Michael Fassbender.