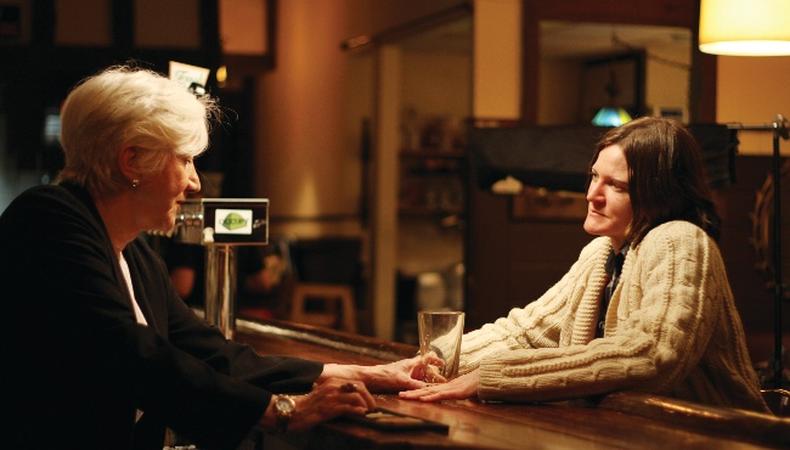 For Ingrid Jungermann, "F to 7th" is not just a fun project or an excuse to land the kind of role she's always wanted. For Jungermann the Web series has been a cathartic experience because the stories she's telling are her own, the secrets she's exposing are her own, and the character she's playing is herself.
"F to 7th: A Homoneurotic Web Series" is currently in its second season, and tells stories of Jungermann's struggle to find herself while facing challenges brought on by her sexuality. She co-created hit Web series "The Slope," and in 2012 she was named one of Out Magazine's top 100 and included in Filmmaker Magazine's 25 New Faces of Independent Film.
The title of "F to 7th" references the F train and its Seventh Avenue stop in Park Slope, Brooklyn—though Jungermann admits she now lives in Lefferts Gardens, Brooklyn. "I feel like I'm a fraud," she jokes. "Like, I should be writing 'Q to Prospect Park.' "
Location aside, this Web series speaks volumes to Jungermann's real-life experiences. The first season, which she wrote separately, like shorts, "was more about self-exploration and gender and sexuality, and finding my place within a community that I feel outside of," she says, explaining that her feelings of being an outcast are not community-imposed, but rather brought on by herself.
In the second season, which premiered May 5, Jungermann explores her experiences with her family's feelings about her sexuality. "I had to come out to my mother about three times. She's a great woman, and I respect and love her, but she doesn't agree with me being gay.
"I kind of dug sort of deep as far as my sexuality and how I developed based on how I was raised, and sometimes those issues can be difficult to share." For these episodes, Jungermann says she experimented with making them less self-contained and more about the character arc.
Though "F to 7th" is a comedy, Jungermann notes, "The comedy I'm drawn to very much [deals with] my way of not communicating with the world—my problems with not being able to connect to people and not being able to voice my response to the world."
The series features notable guest stars including Amy Sedaris and Michael Showalter, and the second season was funded by the Spike Lee Production Award. As an MFA candidate at NYU, Jungermann submitted her script for the grant and Lee himself chose the series as one of the recipients.
Despite starring in it, the writing of the series is what Jungermann most connected with. "I certainly don't want to explore an acting career," she says. "Filmmaking is very collaborative and you have to trust everyone else to make this vision happen, but with writing you can really dig deep inside yourself and sort of have this conversation with yourself.
"I feel that everyone at some point in time—or throughout their entire lives—feels like outcasts and no matter what community you're in, I do feel like everybody has experienced being outside of humanity."
But "F to 7th" has allowed her to be more in touch; it's been her way of connecting with an audience and—she hopes—their way of connecting with her.
Like this story? See more of our Now Streaming articles here!