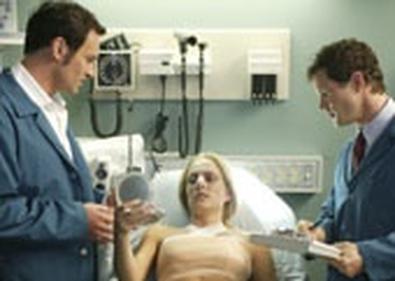 In the world of Nip/Tuck, beauty is definitely more than skin deep. Although gorgeous guys and girls abound, physical attractiveness isn't the only thing on display in FX's slick and steamy drama about a yin/yang pair of plastic surgeons searching for both personal and professional fulfillment in Miami. Watch just one episode, and you'll find what really makes this show sizzle is not so much what's seen as it is what's felt. In other words, what is on the surface may be pretty to look at, but it's what lies under the skin -- literally, spiritually and metaphorically -- that really ignites the fireworks.
Nip/Tuck made one of the strongest showings ever for a basic cable show when it debuted in July 2003. On April 28th, 2004, a Behind the Scenes panel discussion with the producers and casts of FX headliners The Shield and Nip/Tuck took place at the Academy of Television Arts & Sciences, in North Hollywood, CA. Nip/Tuck creator and executive producer, Ryan Murphy, discussed his long-time fascination with plastic surgery, which stemmed from the 1973 film Ash Wednesday, starring Elizabeth Taylor as a woman who transformed her life with plastic surgery. For Murphy, who was about seven years old at the time, it was a seminal event.
"It was promoted as, 'Watch Liz Taylor get a facelift!'" he recalled. "I remember being glued to the screen. And the images of that were always very haunting to me, about somebody who thought they could be happier by changing their face."
"Haunting" is right. The images stayed with him for years, augmented later in life by a journalism career and research for an undercover story about calf implants in which he interviewed past patients of a plastic surgeon. "I went into this thinking I was going to write a very snarky, sarcastic story about plastic surgery," he said, "but I was so moved by these people and why they wanted to change their lives, and how they thought they would find love or better jobs or things like that, so my antennae went up."
At a subsequent meeting, the plastic surgeon observed that one of Murphy's ears was a millimeter higher than the other one. (A line in the pilot -- "Beauty is symmetry" -- came from this consultation.) Then he listed all Murphy's other physical imperfections. "I left that office thinking, 'Well, maybe I can be happier if I get my ears pinned,'" he commented. "The things he said really resonated with me."
The story never did get written, and a career crisis eventually led Murphy out of journalism and into television production. "Things just weren't going right. Before I got the idea for Nip/Tuck, what kept resonating in my head was, 'You need to do something with your life; transform it. You need to take a risk yourself.' So it was something I was going through personally, wanting to shake things up. And I remembered this experience."
But when Murphy tried to explain his concept for the show, most people thought he meant a sitcom. "And I was like, "No, it's not called Nipperson and Tuckerman. It's deeper than that.' It's about something that I really felt was going on culturally at the time, which was huge amounts of self-loathing, and people trying to transform their lives, as I was, by doing the wrong things, by fixing their lives externally instead of internally."
Eventually, Murphy approached Greer Shepard and Michael Robin, both of whom he has worked with on the WB's short-lived Popular. They were intrigued by the story of three friends -- Christian Troy, Sean McNamara, and Sean's wife, Julia -- who had gone to college together, and supported each other as they experienced the transformations of young adulthood into middle age.
"The plastic surgery stuff I always thought was a great metaphor," Murphy explained. "It was a way to express the inner lives of these characters. I thought it was really interesting to have a show about two plastic surgeons who want to transform themselves as much as their patients do."
While Los Angeles may have been the most obvious locale for such a show, Murphy wanted to skip the onus of starlets and models and big money and concentrate, he said, on "ordinary people who had saved up their pennies to get plastic surgery. But I wanted a city that was about flesh, because the show is about skin and exposure on every level. I had lived in Miami for many months, and had never been more scared. The night I arrived there was a gang fight in front of me in a cafĂŠ, and my adrenaline got up. I never forgot the vibrancy of that place. So Miami had a culture of violence, a culture of sex, and a culture of transformation. It's really, truly a city of immigrants who are there to find the American dream. And I was really interested in all those things."
And so, it turned out, was high-impact cabler FX, who eventually took on the show that has not only become a flagship program for them, but also became the only freshman drama to garner a Golden Globe nomination. The 13-episode first season is currently in repeats on Wednesday nights at 10pm. The second season, which has been expanded to 16 episodes, premieres Tuesday, June 22nd, at 10pm. And thanks to sponsor XM Satellite Radio, that first episode will air commercial-free, and be the first basic cable series ever to do so.
In the past, Nip/Tuck has raised eyebrows, so to speak, with its graphic depictions of plastic surgery and explicit sexual situations. The current glut of beauty-oriented reality shows on network television, such as FOX's The Swan, ABC's Extreme Makeover, and MTV's I Want a Famous Face, take the fairy godmother approach: the person is first seen in all his/her original unattractiveness, and then poof! Through the miracle of plastic surgery, the new and improved version emerges looking more beautiful than anyone thought possible, and is greeted with tears and cheers from adoring family and friends and an amazed audience. In-between, these people may be seen with bandages and some residual bruising and swelling to indicate their ordeal, but the real reality of such procedures is far more brutal than ever could -- or would -- be shown on advertiser-supported networks famous for kowtowing to pressure from those who hold the purse strings, plus queasy audience advocacy groups.
Dylan Walsh, who plays conflicted family man Sean McNamara, prefers the far more honest "reality" of the fictional Nip/Tuck. "Those programs are just showing what they want you to see," he said, referring to such network reality shows. "But we're a drama, pure fiction, and we're allowed to put more challenging depictions on the air. We can give you the ambiguity of a case. Those shows are almost like slanted journalism. Right from the beginning, there's a built-in optimism -- let's show you how wonderful the power of plastic surgery is! Those shows are just horrifying.
"But Nip/Tuck is horrifying in a much more responsible way. Plastic surgery is violent. To change your face, your body, requires a certain violence, and we show it. As long as we're doing a show about vanity and appearances, about how appearance is important in our society and how we're obsessed about it, then we'd be remiss not to show you how horrifying it is when you actually go under the knife."
"I do think you look at our show and go, Ewww!" agreed Roma Maffia, who plays lesbian anesthesiologist Liz Cruz. "The thing with Extreme Makeover is that you don't see the gore, you don't see the blood; you see them when they're a little bruised up and can't talk and have to drink through a straw. But on our show, people can't even look at the screen when it's happening. Plastic surgery is a beautiful science and it does a beautiful deed. But like anything, when it goes to the extreme or the unnecessary, it can become a travesty."
Murphy, who is also the show's head writer and director of many of its episodes, talked during the panel discussion about the full facelift in the pilot episode. "That was very controversial because I was adamant about showing it from start to finish. A plastic surgeon had said to me, 'Getting a facelift is like surviving a car wreck where you were propelled through the windshield at 90 miles an hour and you live.' I had no idea. So it was important to me to show the lengths to which people will go to transform their lives, or what they think will be a transformation. Because the truth of the matter is, I think, if you get plastic surgery, you don't really look better; you look different. So I felt very strongly about showing those surgeries. These other plastic surgery reality shows don't really show the pain that people go through to recuperate, or, psychically, the pain that one puts themselves through on those operating tables."
It's the question that's posed in every episode: What don't you like about yourself? That plain and simple query really represents the heart and soul of Nip/Tuck. It's asked of every prospective client. It's the internal struggle faced by all of these characters in every episode. And it's the responses by both that result in such extreme emotional drama that the only small screen outlet Nip/Tuck could possible call home is cable.
Noted Julian McMahon, who inhabits the role of the moralistically-challenged Christian Troy, "Cable has allowed us to put what independent filmmakers have had to do in the past into a different medium. It's really about exploring your creative side, and trying to put the kinds of scenes you'd like to on the screen -- and that's as a creator, an actor, a writer, a producer, etc. We're constantly bound by limitations, and as an artist, you're always trying to break those limitations to some extent. It's not out of bravado or ego or whatever; it's because you're trying to create. And that's what cable TV has allowed us to do. It's really opened up the medium in an extraordinary way.
"We have the ability here to do a lot of things we can't do on regular television in regards to sexuality, language, content, how far we can push characters in their envelopes," he continued. "The way that I see it, cable is an evolution of something that's occurring at this point in time, whereas network television has been around for such a long time that it's had its restrictions constantly reiterated. It's one of those things that's very difficult to evolve out of. Cable is just trying to find new ground."
Casting director Eric Dawson, who was also part of the Popular team, has been with the show since its inception. "The only mandate we got was that they didn't want the show to look like a network show," he said. "They wanted it to feel like an HBO show. They didn't want our leads to be actors we'd seen on six other NBC shows. Kevin Reilly, the head of FX at the time, was very particular about that. So that led us away from the usual suspects. Otherwise, it was wide open to us."
Originally, the role of Christian Troy had been envisioned as Latino, partly because it was appropriate for Miami and partly because FX has a large Latino following. But Dawson was allowed to bring other actors in as well, and he waited for McMahon to finish up his commitment to the WB's Charmed.
"Julian finally made it in at the last moment, and sort of re-defined the role," Dawson recalled. "When we went to network, we took Julian and we took a Latin actor as well, but it was one of those roles he was just born to play, and it was pretty evident pretty quickly."
On the other hand, casting the role of McNamara was more upfront. Walsh, said Dawson, was "a slam dunk from the beginning. He incorporated all the values; he wore that suit well."
One of the great things for actors who have proven their mettle has been the willingness of the creative team to go the distance with them. Casting for the role of Julia McNamara came down to Joely Richardson and Valerie Cruz. Richardson won the role, but Cruz made such an impression that the role of Dr. Grace Santiago, a psychiatrist brought in to help with emotional evaluations of clients, was created for her. Maffia, who was recurring in the first season, has been promoted to series regular. Even roles that were meant to be one-shot only deals became recurring thanks to remarkable performances. Ruth Williamson (wealthy, provocative Mrs. Grubman), Joey Slotnick (former classmate and rival plastic surgeon Dr. Merril Bobolit), Kelly Carlson (Troy's model ex-girlfriend, Kimber), Jessalyn Gilsig (sex addict Gina Russo) and Robert La Sardo (sleazy tattooed drug dealer Escobar Gallardo) all ended up with return appearances -- and to date Williamson, Carlson and Gilsig are all slated to appear in season two as well. In addition to those actors returning, Oscar-Emmy-and Golden Globe-winning actress Vanessa Redgrave is also slated to appear in three episodes as Dr. McNamara's mother-in-law, who comes to Miami for a face-lift. Redgrave also happens to be the real-life mother of series star Joely Richardson. Richardson's character will also get a "life coach" this season, when Famke Janssen (X-Men) joins the cast as Ava Moore for 12 of the 16 episodes.
"That's probably the most rewarding part," Dawson smiled. "It's not just casting these roles, but seeing them go beyond what they were intended to be. We try to be original, with people you don't see all the time. The neat thing is that our guest roles are so humanly-driven; they have such great emotion. It's very truthful acting. But we also deal with different challenges. We had an episode about a man with alopecia (the inability to grow hair), and we hired a man who actually had alopecia. So we have those challenges in finding these sorts of sub-pools of people. Sometimes it works out; sometimes not. At the end of the day, you still go with the best actor."
For McMahon, the humanness that Dawson refers to in the guest roles is one of the things he feels defines the show in its entirety. "We are delving into humanity, relationships, characters, life, people, sex, drugs, and so many different types of things that occur in society and life that can't be done on a network show. Everyone you come in contact with, you have a distinct, profound relationship with, and in some way they will either change you or they will be changed by the characters around them. And I just don't think you can do that anywhere else."
Such is the inner beauty of Nip/Tuck and the cable format that allows it to be what it is, both on and under the skin.