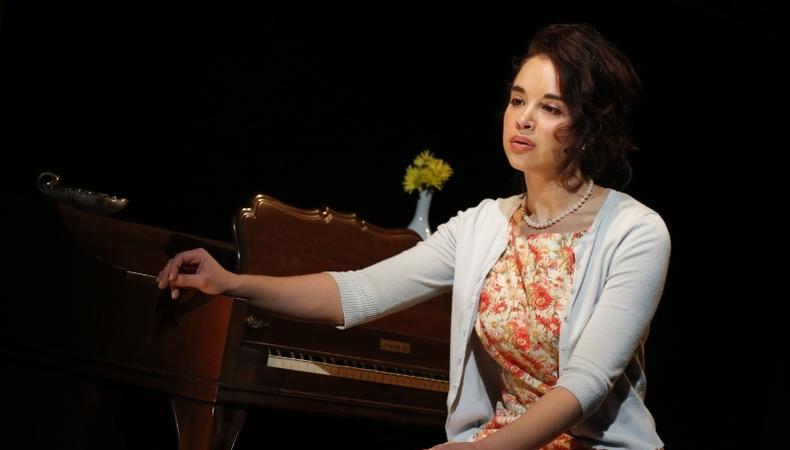 If there was ever any doubt that Hunter Foster, Alexandra Silber, and Arielle Jacobs are Broadway stars, "Inner Voices," a trilogy of one-person chamber musicals, squelches all doubts. The dimly lit, quaint theater on 30th Street can't contain their impressive talents; all three sing and act as if their lives depend on it. Each tuner boasts its own director, writer, and band, and the creative teams rightly don't dress up the actors with anything other than music and words. The three stories are beautifully heartbreaking, complemented by raw performances.
Foster is up first with "Borrowed Dust," about a man returning home to New York City after his brother died in a hiking accident. Joseph Thalken's music is somber, while book writer and lyricist Martin Moran infuses some welcome humor at the beginning. Director Jonathan Butterell keeps Foster fairly stationary, centered on an armchair, but then again, all of the actors are kept stationary in their separate pieces on different sides of the stage. It's a nice effect that streamlines the piece well.
Up next is operatic beauty Silber, as a lonely housewife longing for her soldier husband to come home in "Arlington." Silber begins perky and positive, but as the character transitions from white wine to bourbon, Silber shows her losing the control that other people in her life have forced her to keep. Silber is a master of comic and dramatic timing, and director Jack Cummings III separates Victor Lodato and Polly Pen's musical into concise thirds, allowing it to gracefully arc in just 45 minutes.
In "Farhad or the Secret of Being," Jacobs ends the show on a heartbreaking note. She plays a young Middle Eastern girl who has been dressed up as a boy her whole life to avoid social exile, but now she must assume her womanhood to be married off to a man she does not love and wear a garment she does not want to wear. Jacobs' songbirdlike ability permeates Nilo Cruz and Jim Bauer's sweet score, while director Saheem Ali does tiny wonders with the small stage space used.
While the show is about the dramatization of inner turmoil, we're lucky that these extraordinary talents don't keep anything inside and are vulnerable and open to share their gifts.
Presented by Premieres at the 30th Street Theatre, 359 W. 30th St., NYC. Nov. 18-Dec. 2. (212) 868-4444 or www.smarttix.com.
Critic's Score: B+