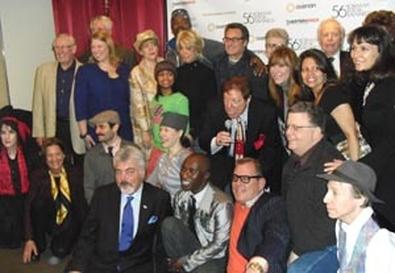 Another New York theater awards show is heading to national television. On Wednesday, Robert R. Blume, executive producer of the Drama Desk Awards, announced the telecast and several other changes to the annual ceremony.
This year's Drama Desk Awards will be broadcast on the Ovation cable channel—the first time in their history that the awards will be seen on national television. At a press conference, Blume said it was his "dream" to have "a national footprint on the stage for New York theater."
Founded in 1996, Ovation airs arts and cultural programming. According to its website, the channel is distributed to nearly 40 million homes nationwide on several carriers, including Verizon, Comcast, and Time Warner Cable. However, Cablevision—which has roughly 3 million subscribers, most of them in New York, New Jersey, and Pennsylvania—does not carry the channel.
Ovation will air the ceremony six times, twice in prime time, between June 2 and June 15. It will take place May 23 at Manhattan Center's Hammerstein Ballroom, hosted by actor-playwright Harvey Fierstein. This will be Fierstein's fifth time hosting the ceremony.
Mark Stroman, senior vice president at McGee Entertainment, negotiated the deal between Ovation and the Drama Desk Awards over the last "six or eight months," he said. "I'm very excited" about the upcoming ceremony, he added. "The Ovation television network is so excited…they want to dive into this and really make this part of the fabric of their network." He also emphasized that the partnership is likely to grow: "They want to build this thing from the ground up with us…[and] give the Drama Desk the recognition it deserves."
In an effort to reach a larger, more digitally oriented audience, the Drama Desk will utilize other media platforms, teaming with organizations such as Theatermania.com, the Broadway Channel, and Pitbull Interactive for promotions and ticket sales.
Though the room buzzed with excitement Wednesday, how successful these innovations will be remains to be seen. According to Nielsen, the better-known Tony Awards averaged 7 million viewers when they aired on CBS in 2010. But the speakers and the audience at the press conference seemed very optimistic. Dancer Kelli Gautreau believed that a television airing will "take the Drama Desk Awards to the next level" and allow "this hidden gem of the city [to] gain notoriety." Heather Jane Rolff, star of the upcoming Broadway production of "Fat Pig," called this an opportunity for "the world to see all the great theater that's being done."
Other changes announced included moving the ceremony from its usual Sunday-night home to Monday, a night when most Broadway and Off-Broadway theaters are dark. Also, in an effort to give the ceremony a more "party" atmosphere, musical performances from nominated shows will be presented and a dinner will be served by celebrity chefs.