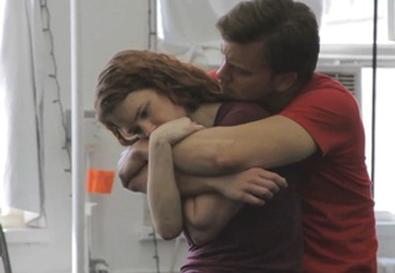 Most aspiring actors are thrilled when they land a role on film or television. But most would also admit that such roles can be limiting, even oppressive. Bound by a script and by the will of directors, writers, and producers, creative freedom is a rare luxury for actors once they get in front of the camera.
"I've had directors jokingly call their actors meat puppets," says Mélisa Breiner-Sanders, a young, redheaded actress based in New York City. "It's literally like, 'Stand there, look this way, just say the lines as simply as you can, and we're moving on to the next shot.' You don't always get the opportunity to explore your character like you do with theater."
Last year, Breiner-Sanders and two other actors, Elliot Joseph and Amanda Long, decided to flip this system upside down, to create a project that would allow actors to take back the creative reins by combining theater and film. Instead of writing a script and then casting the roles, they would do it backwards. They would put ten actors in a room for one week and, guided by a theater director, have them do improvisational exercises and develop individual characters. A film director and a team of writers would observe and, after the week ended, would draft a script based on the characters that the actors created.
"I did a film production last year, and it just got me thinking of what actors can do, and also what directors and a creative team can do in an ensemble," says Joseph, a blue-eyed Brit who moved from London in 2001 to attend the American Academy of Dramatic Arts.
"The whole project to begin with was process over product," adds Long, an alum of the Lee Strasberg Theatre & Film Institute. "We really just wanted to invest in the process of creating it."
After countless meetings and late-night discussions, Joseph, Long, and Breiner-Sanders turned the idea into a reality and assembled a team. The result, a web series titled "My Secret Friend," will premiere online in the beginning of July, followed by a screening at the end of August.
"Usually when you sit and write, you have your characters in your own head, and slowly they develop," says Elin Grönblom, a young film director from Finland who, in addition to directing the series, is one of the project's three writers. "Here, you have them walking and talking right in front of you. The scripts weren't that hard to actually come up with once we had the characters, because they were so three-dimensional."
As a jumping-off point for the actors, each character was given a different medical condition, ranging from adult ADD to diabetes to schizophrenia. The ten actors, including Joseph, Long, and Breiner-Sanders, rooted their characters in these various conditions, exploring how they might affect different aspects of someone's life.
"Actors spend a lot of time talking about humanity and looking for that in roles," says Amy Northup, one of the actors on the project. "Everybody has something — chronic migraines, anxiety disorder, or some fatal disease — everybody is dealing with something, and to root someone's humanity in that was a huge part of this process."
The title of the series, "My Secret Friend," is a nod to these psychological and physical conditions — to each character's private affliction. But the show will not be "a medical documentary," asserts Francesco Campari, a theater director from Italy who guided the actors during the week of character development. "My Secret Friend" will instead focus on the characters themselves.
"We're trying to stay away from identifying the person with the disease, because it's a very common thing we do in everyday life — we put people in boxes," says Campari. "If you lift the condition and you just bring the person into focus, then the person becomes the main theme of the series. Then slowly, slowly, we learn about the condition through the eyes of this human being."
The week spent working with Campari was, for the actors, like being let loose on a playground. After receiving their various conditions, they explored and developed their characters through improvisation. Campari would gently lead them, suggesting that they try something new with a character to see what would happen.
"I don't know where he's going or where he's leading me, so it's truly just investigating something without having an end in sight," says Northup. "You get to do stuff like this in acting school, but once you leave, you don't get to create like this. It was the process that, as an actor, you're like, 'Give me that right now!'"
But such creative freedom, while liberating, was also intimidating. Developing characters first and a script second made "My Secret Friend" something of an experiment, with no one person in charge and no definite vision of how, exactly, the final product would look.
"We actually said to people, 'We don't know if this is going to work,'" says Long. "Because usually there's a bit of a structure, but in a way, we didn't know where we were going. We don't always know the next step."
Another obstacle was the team's budget. They began "My Secret Friend" with no money at all and since then, they posted their project on the fundraising website
IndieGoGo
. As of June 14, they are just a few hundred dollars short of their $5,000 goal. Joseph says everything has gone "beautifully" so far.
After the web series is launched, the group hopes to use their footage to create a documentary about the making of "My Secret Friend" and show how, by developing the series backwards and forcing directors, writers, and producers to relinquish control, they were able to create strong, three-dimensional characters.
"As a director, you usually have a certain amount of control," says Campari. "But it's not about me anymore. It's about them finding a way through. We're basically giving acting back to actors."