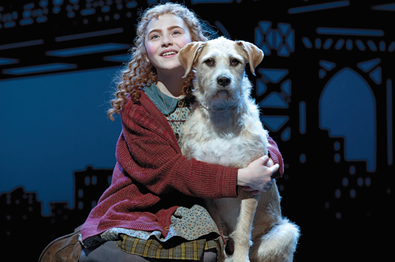 Most theater aficionados can recall with delight their first theater experience—and on Jan. 24, Broadway's Palace Theatre will be filled with more than 2,500 New York City public school students, many of whom may be memorizing their first time too. Inside Broadway, a leading arts education not-for-profit, is partnering with the Broadway revival of "Annie" to offer two free "Creating the Magic" events to local children.
The students, ranging from grades three through nine, will be given a behind-the-scenes look at a Broadway production and learn about career opportunities in the theater. Even though actors in Broadway musicals often have a grueling schedule—between evening shows, matinees, and the physical demands of their profession—many of the brightest talents have carved out time to participate in these events.
"I didn't know what to expect, but I thought that [the kids] were extremely involved. They seemed totally enthralled especially with the technical aspects of the show," recalled Lauren Cohn, who plays Rosie in "Mamma Mia!" and participated in the program last year.
Cohn, a former Los Angeles resident, said she was excited to help out one of the many charities Broadway supports and noted that the emphasis on giving back is part of the overall New York City theater community. "I was so grateful to have this opportunity," she said. "It was a very special thing to do for a really generous organization. I had a great time, and I think the kids did too."
"Many people in the theater believe very strongly in the value and importance of education," added Inside Broadway founder and executive director Michael Presser. "They also believe and are proud of what they do and want to share this with younger audiences. All of the technical aspects of the production, all of it exists in service of the actor and playwright. Theater is about the actor; everything there is created to help the actor do their job."
As part of this year's session, the participating youngsters will get the chance to meet members of the "Annie" cast and crew, watch lighting and sound demonstrations, and enjoy performances from the cast and a Q&A session. While many students are dazzled by the performances, Presser says that they are also particularly delighted by the technology employed in modern Broadway shows.
"Children today are very technologically oriented, and in the theater it is very exciting and interesting," he said. "They can see how a stage manager can call a series of light cues and 150 lights will rotate and refocus, or a wagon suddenly comes in from the side of the stage, or a set comes up from the basement."
Presser also noted the introductory opportunity of the program. "These children are at an age where they are beginning to think about what they are going to do for work," he said. "We are able to show them all of these possibilities."
Since its creation in 1982, Inside Broadway has encouraged nearly a million New York City schoolchildren in the arts with programs designed to inspire an appreciation for the arts.
Presser is especially excited for this year's event because of the prominence children play in "Annie" and mentions that the title character's beloved dog, Sandy, will make an appearance as well.