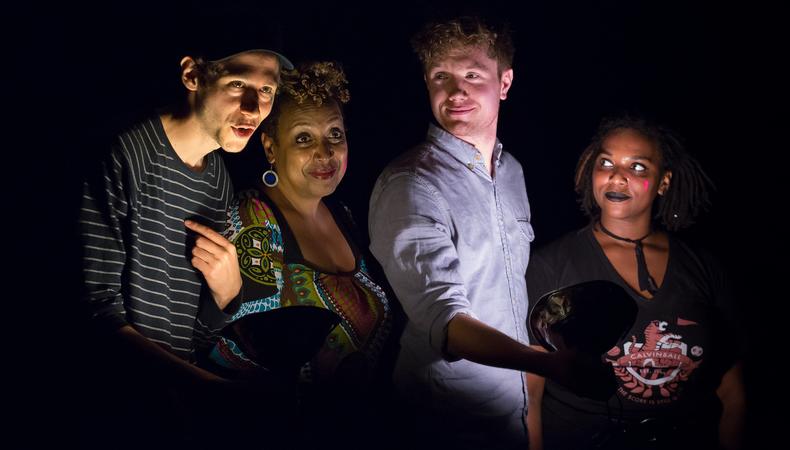 Just after nightfall on almost every weekend of the year, a group of free-spirited artists assemble to perform 30 original plays in 60 minutes. The show known as "Too Much Light Makes the Baby Go Blind," created in 1988 by Greg Allen, takes several styles—surrealism, low-budget aesthetics, direct address, and the frenetic thrill of the Italian Futurists—and whips them into a delicious theatrical confection.
Thespians everywhere can learn much from the Neo-Futurists, a company that values each actor, writer, director, producer, and technician by blurring those roles together in true ensemble fashion. Founded in Chicago's underground scene and now also active in San Francisco and New York City, the community has thrived because of its deceptively simple ideology: a joyful awareness and inclusion of the real world while onstage.
What this means for the actors, according to company member Joey Rizzolo, is that "you are who you are, you are where you are, you are doing what you are doing, and all of those things are acknowledged at all times." Rizzolo, who did technical work for the company before joining the New York ensemble in 2005, was drawn to the Neo-Futurist commitment to nonillusory performance. "We don't pretend anything," he explains. "None of our actors play characters, none of our sets take place anywhere other than where those plays are being performed, all tasks that are performed are real tasks that contain the possibility of failure."
Put another way: There is no suspension of disbelief. "If we're doing shots of whiskey," says ensemble member Meg Bashwiner, "it's actual whiskey."
For the NYC-based Bashwiner, Neo-Futurism fit her experimental sensibilities like a glove. "I was looking for who I wanted to be after college," she remembers. "I loved writing for the stage and performing, but I didn't love 'acting.' I was much more interested and inspired by direct address." Upon seeing "Too Much Light" and the performers' willingness to interact with audiences, she was hooked, working her way from box office to stage manager and into the ensemble (and meeting her husband Joseph Fink, creator of the popular "Welcome to Night Vale" podcast).
"Our show is a living newspaper, adjusting to events in the world and in our lives," Bashwiner says. Because each two-minute play is intensely specific to its author, the slate—or "menu"—of plays changes week to week depending on which company members are performing; audiences determine the order. "The plays are a diverse patchwork of comedy and personal stories and dance and politics and current events and abstract experiences that are meant to be as varied as possible in both content and presentation," says Rizzolo.
In addition to this weekly ritual (plus published compilations of "Too Much Light" plays), the Neo-Futurists offer workshops, original works residencies, and presentations that tour everywhere from Washington, D.C.'s Woolly Mammoth Theatre Company to the Edinburgh Fringe Festival.
Full-length pieces, extensions of their convention-shattering philosophy, tend to challenge as much as delight audiences. Rizzolo and Christopher Borg staged a New York Innovative Theatre Award–winning production in which they excavated a storage locker, treated it as an archaeological dig, and told stories about its contents. "Soup Show" featured a trio of women, Desiree Burch, Cara Francis, and Erica Livingston, chatting naked in a hot tub. Dylan Marron's "The Human Symphony" was performed entirely by audience members receiving stage directions via headphones. In May, Rizzolo will direct an Off-Broadway run of Yolanda K. Wilkinson's autobiographically inspired solo show "Bible Study for Heathens."
Bashwiner and Rizzolo have plenty of advice for actors looking to write, writers looking to act, and all thespians in between. "Harbor a culture of respect, ask for help, and pay attention," advises Bashwiner. When it comes to creating theater, she says, try what Neo-Futurists do: write a new two-minute play every week. "It's a lot easier to be churning out [work] if it's a regular practice. It allows you to be not so precious with things. And finding a community to give feedback is really, really important."
"Make the art that you want to make," adds Rizzolo. "There's nothing more important than that."
Inspired by this post? Check out our theater audition listings!