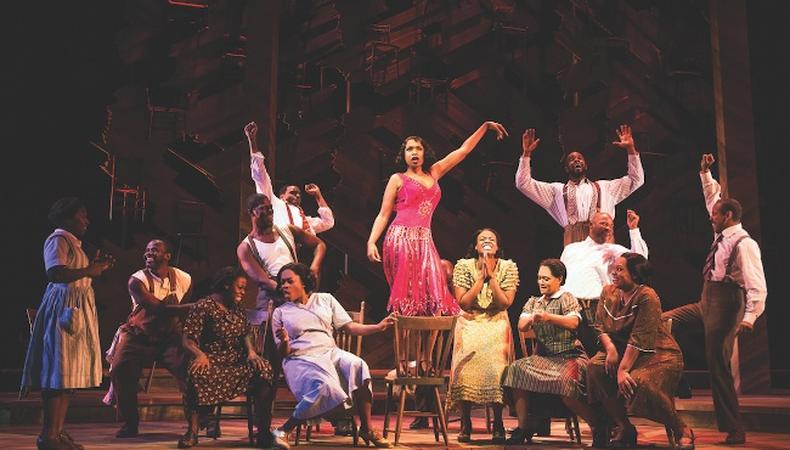 One look at Bernard Telsey's résumé and there's little wonder why he's the recipient of this year's Hoyt Bowers Award, given annually by the Casting Society of America's Artios Awards in remembrance of Bowers, the late casting director. With his hand in what seems like every Broadway hit since "Rent" (including current hits "The Color Purple," "Something Rotten!," and "Hamilton")—not to mention award-winning ensemble films like "Into the Woods" and "Rachel Getting Married"—the only question is why it took this long for Telsey to land the recognition. Even so, he says he was surprised by the news from CSA President Richard Hicks; himself a CSA VP, Telsey's admittedly grown used to being on the other side of the Artios equation.
"To actually be chosen by the national board was pretty amazing," Telsey says. "I'm always one of those people who are thinking of who it should go to, so I was not thinking it would ever be me."
Telsey also received four Artios Award nominations this year for his work on feature films "The Intern" and "Ricki and the Flash," and stage productions "Diner" and "Finding Neverland." With a career in theater and film that spans over three decades, he recalls graduating from NYU uncertain of his prospects before working as an assistant at Simon & Kumin Casting.
"The minute I started working for Meg [Simon] and Fran [Kumin], I fell in love with it—the whole idea of working with and for actors and creative teams," Telsey says. "I just started going to the theater every night with Meg and Fran and started acquiring a taste and detective skills for how to find this or that. I just loved it."
After six years assisting, Telsey began freelancing for CDs Risa Bramon (now Risa Bramon Garcia) and Billy Hopkins before opening his own New York–based office, Telsey & Company, in 1988. The 1996 premiere of "Rent" became the company's first major claim to fame, and, as they say, the rest is history. To this day, Telsey remembers his years working with director Michael Greif as one of his most fulfilling creative collaborations.
"The thing I love most about casting is getting to collaborate with directors and producers," Telsey says. "['Rent'] was probably the first musical that I worked on where we actually cast for nine months before we ever got to Step 1. During that time, working with [Michael] was incredibly collaborative…. That's what's so great about getting to work with the same people. Whether it be ['Hairspray' director] Jack O'Brien or ['Wicked' director] Joe Mantello or ['Rachel Getting Married' director] Jonathan Demme—these are all people that we've done lots of projects with. You start to have a shorthand."
Part of that shorthand, Telsey concedes, is knowing and trusting when an actor he's privy to is right for a role. He notes his recent collaboration with "On Your Feet!" director Jerry Mitchell: "[I] can say, 'I know you're going to love this person.' I'm not saying that because I want to be right, I'm saying it because I actually know what Jerry responds to, nine shows later."
These long-lasting working relationships between creative and casting establish an environment where risks can be taken and exciting, unexpected moves in casting can be made. Rosemarie DeWitt, for instance, was a favorite Off-Broadway actor of Telsey's before he brought her to Demme to read for the titular bride in "Rachel Getting Married." He also cites Annaleigh Ashford as a personal favorite-turned-star.
"Those are moments when you feel excited because you participated in [their] journey," Telsey says. "It's our job to know these people and introduce them to other people who might be able to hire them. Then things take off. Those are the great rewarding stories—when you had a hand in it."
Inspired by this post? Check out our audition listings!