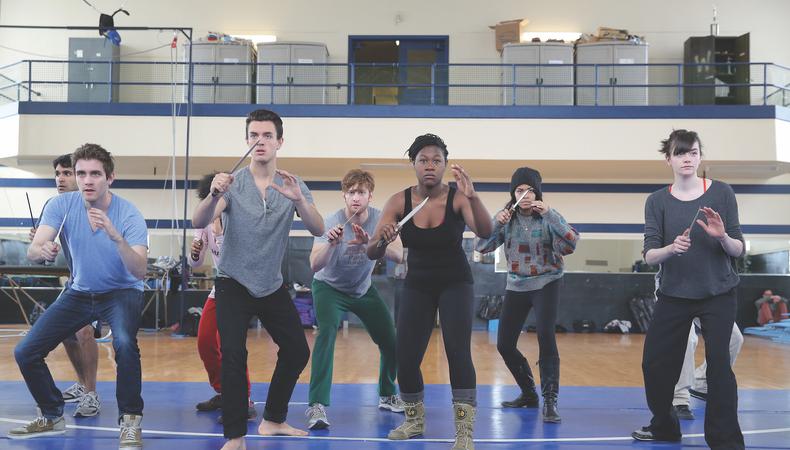 Each year, around 1,000 people audition for an acting program in Connecticut that accepts only 15–17 students. Why compete with those kinds of odds? To join the ranks of Frances McDormand, Paul Giamatti, and Meryl Streep, of course.
The Yale School of Drama's master of fine arts in acting is widely considered the ultimate training ground for tomorrow's greatest performers. Graduates of the school's nine available advanced degree programs—in acting, directing, playwriting, design, sound design, dramaturgy and criticism, stage management, technical design and production, and theater management—are launched into the country's top stage productions and on-camera projects, and for actors, the success rate is unparalleled. When Lupita Nyong'o, now headlining "Eclipsed" on Broadway, won an Academy Award for her 2013 feature film debut, she was practically fresh out of New Haven.
"In the acting program, we're very interested in who the person is, as much as in that person's talent," Walton Wilson, chair of the Yale School of Drama's acting department, tells Backstage via email. "I think that's part of what the experience of training here does—it encourages and develops the artistry and the individuality of each person."
The three-year program, open to those with undergraduate degrees and those without (the latter of whom receive a Certificate in Acting instead of an MFA), covers text analysis, speech and dialects, several forms of physical performance training, and much, much more. Actors train for five hours a day before working closely with students in other departments. "Creating frameworks or models or practices for various kinds of artistic collaboration is a significant part of the school's mission," says Wilson.
One of the reasons Yale stands out from other MFA programs is its connection to Yale Repertory Theatre, the 1991 regional theater Tony Award winner and a professional LORT theater that features many of the nation's top artists. All acting students are assigned to understudy there at one point, enabling them to graduate with their Equity cards. In addition, the School of Drama itself produces 19 plays a season, many written by its playwrights, while the student-run Yale Cabaret stages 18 public shows and encourages cross-disciplinary endeavors.
The overlap between disciplines is a crucial component in any drama student's education, according to Wilson. "Our students report that they frequently hear related information from their teachers in different classes, which tells me that we as a faculty are attuned to a similar wavelength.... Although each of us may employ a slightly different vocabulary in our classes, we all seem to share a common understanding of what 'good' means and what 'acting' is."
As an adjunct professor specializing in voice and speech, he adds, "It doesn't matter to me if an actor discovers something important about their voice in another class—what's important is that actor's experience of learning. There are many doors into the room, metaphorically speaking. What's important is that the actor gets into the room."
Speaking of which, how does an actor go about auditioning for such an intense program? Yale's website mentions "a strong sense of individuality," "expressive and trainable" instruments, as well as "imaginations and emotional lives." But for Wilson, actors interested in submitting themselves (by the Jan. 1 deadline) should do plenty of research and ask themselves if Yale fits their artistic sensibilities and ambitions: "What specifically are you in possession of, in terms of your understanding of your own creative process, and what do you feel is missing in your work?"
Regardless of where a prospective MFA actor is setting his or her sights, Wilson adds that the career decision must already be made; actors shouldn't have a shred of doubt when it comes to what they want to do for the rest of their lives. "Graduate school," he says, "is not the place to go to figure that question out."
Want more? Check out news and advice from our college guide!