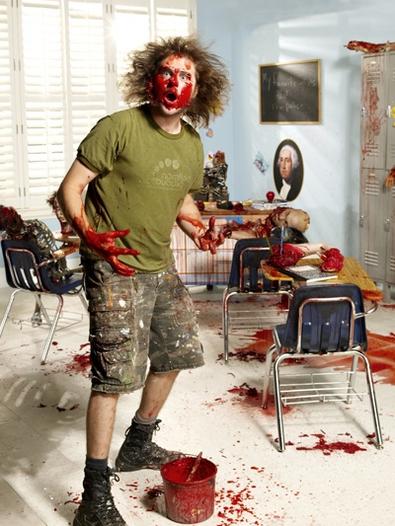 It might be a couple of weeks too late for a horror film marathon, but the organizers of the Buried Alive Film Fest like to think of it as an extended Halloween celebration (on Friday the 13th weekend, no less).
Celebrating its tenth anniversary, Buried Alive received more than 400 submissions from 34 countries for 2015. Taking place at Atlanta's Synchronicity Theatre Nov. 14–15, this year's fest digs up three features making their Southeastern premieres, almost 70 short films, including two world premieres and several American premieres, as well as a 40th anniversary screening of Dario Argento's "Deep Red."
As a set dresser on Georgia productions like Rob Zombie's "Halloween II" and "The Walking Dead," and an independent filmmaker whose recent special effects skills can be seen in horror shorts "Welcome to Dignity Pastures," "Crow Hand," and "Gwilliam," festival director Blake Myers delights in putting the festival together. Buried Alive programs are dedicated to specialized topics such as experimental films and music videos, animation and puppetry, and tentacles and slime.
"It's important to us to have credibility as a film festival and for filmmakers to know that we're taking it seriously," says Myers. "We have a jury set up and don't play our own films. It's more about the filmmakers and the Atlanta film community. We've gotten so many filmmakers and actors together that didn't know each other before, and they go on to make other projects. That's what it's all about: everyone gaining new connections with each other."
Several filmmakers from across the country and beyond will be in attendance for Q&A sessions throughout the weekend, making Buried Alive a great opportunity for aspiring filmmakers and actors to get inside the heads of accomplished indie directors. With no submission fees for local filmmakers, this year's festival includes the world premiere of local director Brian Teague's "1580 AM" and Video Rahim's award-winning "The Lost Boys"-inspired music video for Gunpowder Gray's "Saints." Local films compete for the Golden Shovel and Silver Spade awards while other films are judged in various categories for Splitzies (a mounted face being torn in two by a chainsaw).
Myers sees horror films as a great way for actors to break into the industry, and Buried Alive offers the opportunity to network with filmmakers looking for fresh talent. Though special effects and set dressing are his specialty, Myers has also worked in casting and has valuable advice for up-and-coming actors.
"I cast everybody in 'Crow Hand,' " he says. "On other independent movies, I saw who worked hard and who was a good actor. I had met Caitlin McPhail on 'Werehooker' and here was an actress being asked to be made into a toxic, zombie-looking werehooker. She underwent three hours of makeup, and when you watch the film she pulled it off like she belonged there. She was a pleasure to work with and it was a good time. So, when we did 'Crow Hand' I said, 'We ought to get Caitlin.' "
Making a positive impression is Myers' biggest piece of advice, along with surrounding yourself with creative friends.
"Be in your friends' films and meet people," he says. "Every strange thing an independent filmmaker asks you to do, see it as a challenge. It may not be the greatest idea or the best movie, but when the actor pulls off something that's ridiculous, he gets more respect from people. You never know who you're going to be doing something stupid for that may be doing something really great in five years. You hustle through the hard-to-do jobs until you find the good stuff. You can't just sit around and wait for that great role to show up."
Inspired by this post? Check out our Atlanta audition listings!