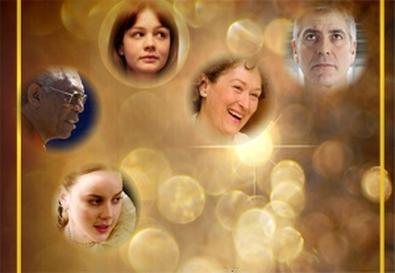 As the old adage goes, 90 percent of a director's work is casting. That is by no means a scientific figure, and the number tends to fluctuate depending on whom you're speaking to, but no one can dispute the importance of finding the right actor for a part.
If any actor other than Joseph Gordon-Levitt had pined away for someone other than Zooey Deschanel, the sleeper hit "(500) Days of Summer" would have taken on a whole new feel. Could anyone but Matt Damon have pulled off the lovably pathological Mark Whitacre in "The Informant!" and earned our empathy? And it's not just Clive Owen who shines in "The Boys Are Back" but also two young actors, Nicholas McAnulty and George MacKay, who break our hearts. And the year has yet to see buzzed-about turns by the likes of Meryl Streep ("It's Complicated"), Colin Firth ("A Single Man"), and Stanley Tucci and Saoirse Ronan ("The Lovely Bones").
If the value of a great cast is recognized anywhere, it's at the Screen Actors Guild Awards, the only show that awards prizes in film and television solely to the actors. On Nov. 25, ballots will be mailed to the SAG nominating committees, which choose the performances that the full membership will vote on in December. The ceremony takes place Jan. 23, 2010, at the Shrine Auditorium in Los Angeles and will be broadcast simultaneously on TNT and TBS.
The film committee will have a lot to choose from this year—from breakout talents such as Sharlto Copley in "District 9" and Carey Mulligan in "An Education" to bravura turns from Michelle Monaghan as a steely mother in "Trucker" and Mo'Nique in "Precious." The SAG Awards also has an ensemble category, which recognizes the contributions of an entire cast. So crowd pleasers like "Star Trek" could sneak in alongside likely nominees such as "Up in the Air."
In anticipation of the 2010 SAG Awards, Back Stage spoke with the casting directors, actors, and directors of several of the year's most prominent movies to find out what went into creating their films:
"Avatar
"
Casting director Margery Simkin had to find people who could convincingly express emotion through a yet-to-be-created language, and she had to do so under a massive veil of secrecy.
"
Bright Star
"
Named for a poem originally thought to be British poet John Keats' last, "Bright Star" depicts the tragically brief and heartbreaking love affair between the penniless poet and the beautiful Fanny Brawne.
"
Up in the Air
"
Jason Reitman, the Oscar-nominated director of "Juno," says he is not interested in an actor's range, much preferring honesty. "I suppose I don't really enjoy acting," he admits frankly.
"A Serious Man"
"A Serious Man" posed a serious, and welcome, challenge for Joel and Ethan Coen's longtime casting director, Ellen Chenoweth, and her partner on this project, Rachel Tenner.
"Precious: Based on the Novel Push by Sapphire"
For casting director Billy Hopkins, the central challenge of director Lee Daniels' "Precious: Based on the Novel Push by Sapphire" was obvious and immediate.
"Nine"
Veteran casting director Francine Maisler, whose diverse credits range from "Milk" to "Meet the Fockers," was pleased to work once again with director Rob Marshall on the film adaptation of the Broadway musical "Nine."
"
The Men Who Stare at Goats
"
Inspired by Jon Ronson's nonfiction bestseller, "The Men Who Stare at Goats" is one of those stories so crazy it couldn't be made up.
"Julie & Julia"
Nora Ephron told Meryl Streep what she was working on, and Streep offered her best Julia Child impression: "Bon appétit!" Ephron knew her search was over.
"Invictus"
A December without a Clint Eastwood drama would be like a January without 5 pounds of holiday blubber insulating your midsection.
"The Hurt Locker"
Chemistry was the key in concocting director Kathryn Bigelow's exlosive thriller "The Hurt Locker," says casting director Mark Bennett.
"Everybody's Fine"
Kerry Barden and Paul Schnee are used to challenging casting projects—especially when indie film budgets are falling as fast as the economy and getting the green light for a project becomes more and more difficult.
"An Education"
Lucy Bevan was single when she got the call to cast "An Education." When she finished her work on the film, she had married and given birth to a child.
"Amelia"
Despite the differences in nationality and era, the main character and the director of the Fox Searchlight biopic "Amelia" share many traits.