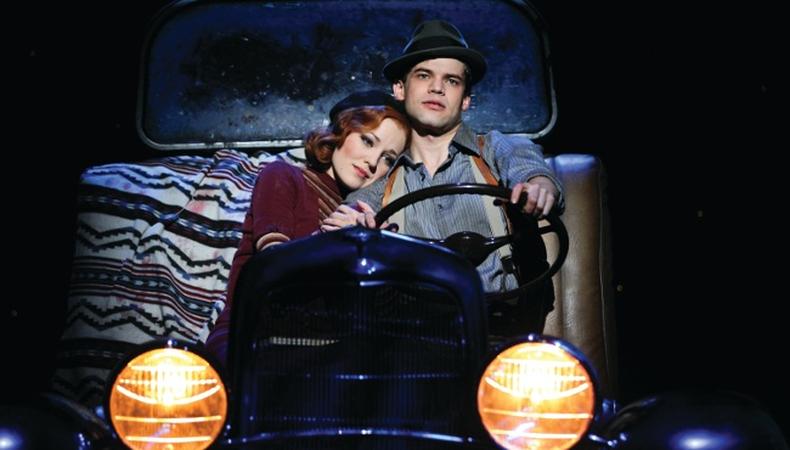 Frank Wildhorn knows how to showcase a voice. The composer for musicals as diverse as "Jekyll and Hyde," "The Scarlet Pimpernel," and "Bonnie and Clyde" has provided voice students and auditioning singers plenty of material. And to honor his impressive career, Wildhorn and friends will bring the legend's hits to Broadway's supper club in the weeklong celebration "54 Below Celebrates Frank Wildhorn."
Jeremy Jordan and Laura Osnes—the stars of Wildhorn's short-lived "Bonnie and Clyde"—will join the composer Dec. 2–3, while Dec. 5–6 will feature Leslie Odom Jr., Brandi Burkhardt, Janet Dacal ("Wonderland"), and more performing works from Wildhorn's diverse catalog, ranging from pop to musical theater.
"It's kind of a hodgepodge of things that people have heard before, maybe done in some new ways, and then also a bunch of new stuff from some of the forthcoming shows around the world," Wildhorn explains.
And though he feels like "the luckiest guy in the world," Wildhorn doesn't necessarily feel deserving. "I don't feel like a seasoned veteran of anything; I really still feel like a kid who's learning." He says he can still close his eyes and picture himself as "a lifeguard on the beach in Fort Lauderdale, teaching myself how to play the piano in 1976."
Modeling his life and career after the mantra "always be a student," Wildhorn urges others to do the same. "Be a student about life and love and sex and food and music—whatever your passions are. Life lessons are much more important than art lessons," he says. "It's great to have a hit show, but it's much better to have a hit life."
The two-time Tony nominee for best original score has had both. But after seven Broadway shows and countless regional and international productions, Wildhorn says it takes "happiness coming from your family and your relationships, and just having spiritual sentiment—not just show biz, show biz, show biz all day long" to achieve true joy.
Of course, all those shows and songs mean that Wildhorn has picked up a few pieces of advice for singers along the way.
"It's less the beauty of the voice sometimes and more about just making me feel something," he says. "I don't think people in the musical theater world would say Bruce Springsteen or Bob Dylan or Neil Young have what they would call 'technically beautiful voices,' but you believe everything they say, don't you? And that's the power, that's the thing I want young singers especially to work on more. Don't show me how clever you are, move me."
The younger generation is the one Wildhorn is most interested in reaching. Worried "they kind of have made the decisions of what is theater and what isn't theater," the composer says, "that is such bullshit.
"You put 1,000 people in a dark place and entertain them and if they're moved, why isn't that theater? No matter what it is, no matter what it sounds like."
To stay open, Wildhorn says everyone should listen to all different types of music. "You should be listening to hip-hop and you should be listening to Rodgers and Hammerstein, and you should find something in every style that you love, that you can embrace."
Proud of being someone who practices what he preaches, "54 Below Celebrates Frank Wildhorn" will showcase all of the "different musical vocabularies" from his career.
So what's next for Wildhorn? "I want to write an opera. I really want to write a ballet one day," he says. "You know, I've dabbled a little bit, writing pieces and stuff, but I'd love to write a full ballet. I feel like I'm just still starting."
Inspired by this post? Check out our theater audition listings!