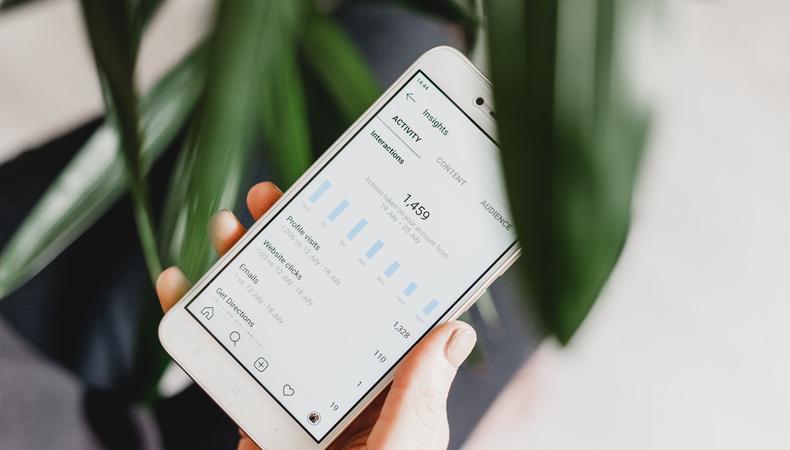 Social media expert Heidi Dean is here to show you how to improve your Insta-clout and build up your personal brand online. Instagram is a fantastic place for actors to build their audience, solidify their brand, and make connections for their career. In a recent YouTube Live as part of Backstage's on-camera programming, The Slate, Dean teaches actors all of the tips and tricks they need to know to use Instagram to their advantage and to navigate the ultra-competitive world of the Internet.
"Most influencers will only post a couple times a week, tops. With a new algorithm, you can get away with posting less on the feed and more on stories."
Approach your Instagram with "we," not "me."
"So many actors treat their Instagram like a television—like they are broadcasting their news at people as opposed to treating it as their phone to text with people. So make actors say, 'Look at me on this and that.' Instead, create posts that open a dialogue with people. In the ever-changing world of social algorithms, this is the best way to show up in the feed…. But what's the best way to turn a regular post into a conversation? Well, it's to take that post and turn it into a question; on Instagram, that's the caption. If you post that you were on a show, in the caption, ask what people's favorite part of the show was or any other questions to get them involved. Next, use Instagram stories! Instagram stories are already great for conversations. You've got emoji slider polls, question stickers, etc. The create tab is great for conversation. Insta stories already have all of these great features built into them to create conversations. At the bottom of every story, you can DM the person who posted it; that is built for conversation! It's all set up for that. This applies for comments, too. Acknowledge and like comments you get. I have over 35,000 followers and I acknowledge every single person who comments—and it does take a couple days, but it's worth it."
Dive deep into hashtags.
"You guys have to make sure you are using the right hashtags. A lot of people are using them, but not the right way to make connections or to see follower growth. Hashtags on Instagram need to be two things. No. 1: They need to be relevant. No. 2: They need to be specific. Relevant is pretty obvious. We need to make sure these hashtags are relevant to the subject matter of our posts. I'm all for prepping posts ahead of time. Do your hashtag research ahead of time. I think you should have them in different groups on your phone, and there are a bunch of different savvy ways you can upload them to your posts, too. Just copying and pasting the same hashtags over and over on all of your posts is doing you a disservice and won't help your posts, because you can't tell me the same hashtag group that you use all of the time is relevant to every single thing you post…. [And] you have to choose the hashtag that is just right for you. Something too broad won't get you any real exposure and you won't see any results. A hashtag too small will have, like, 500 posts. No one is really searching for them. Sometimes there are hashtags we have for ourselves, like a name or something specific to your brand. These are great to categorize my posts for my current following, but they aren't great for follower growth. Something with 10,000 searches, that's going to be the sweet spot for your hashtags. Stick to a hashtag that will give you growth but also a connection."
Take the "Insta" out of your Instagram.
"If you snapped a photo today, you don't have to post it immediately. You can wait days, weeks, even months before you post it. As your profile grows, you want to be very aware of what you are posting. If you are reckless, you can expose a lot of things unintentionally. You can spoil upcoming projects, your location, your family…. Another reason to take the "Insta" out is because it helps you take your life back. Enjoy those moments and wait until the end of the day when you get home to post it. I create much better posts when I think about the post and the story I want to tell with it."
READ: What Social Media Does an Actor Need?
Don't post so much, especially on your grid.
"If you post too much, you are going to get burnout. I have a friend who was posting on all of her platforms everyday and her engagement actually went down. She was really upset when this happened. She thought that she needed to be consistent and post on your feed everyday. But that is not the case. You are an actor, not an Instagram marketer. Even still, most influencers will only post a couple times a week, tops. With a new algorithm, you can get away with posting less on the feed and more on stories. By posting every day without a plan, you are really just spaghetti posting; throwing unrelated posts on the grind just to see what works."
The best strategy to grow your following: engage more!
"The best strategy: post less, engage more! On Instagram, there are two types of follower growth strategies: active and passive. For passive strategies, you can use hashtags and shareable posts. Let your followers grow your profile for you by sharing your hashtags and engaging posts (the paper airplane icon). That's how I was able to grow so much in the past year alone. I have posts that have been shared over 400 times. For active strategies, focus on engagement in the comments, and collaborations with other Insta profiles. Ideally, you should be utilizing both active and passive strategies. Finding a balance between all of these strategies IS the best strategy. Most people I see on Insta will only do the passive strategies, but you need to do both in 2020."
For more from Dean, watch her full YouTube Live session below, and keep tabs on who's coming up on The Slate with our list of programming right here!
Looking for remote work? Backstage has got you covered! Click here for auditions you can do from home!