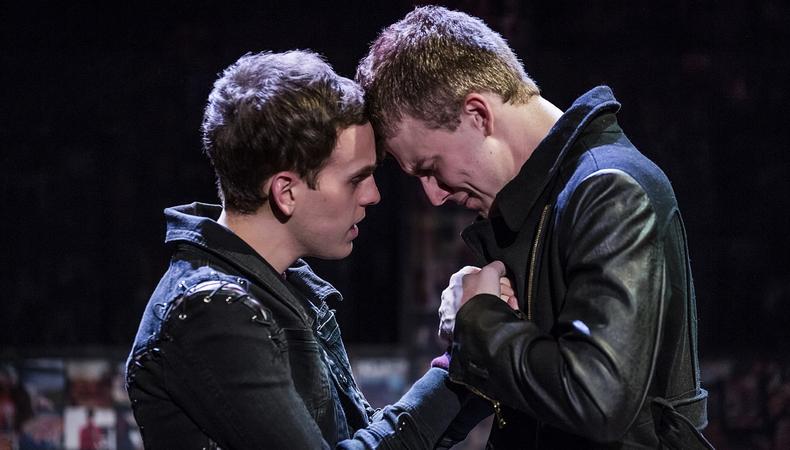 If good intentions, sincerity, and important subject matter were enough to guarantee artistic success, then "Bare" would be a triumph. Unfortunately, Jon Hartmere's generic book and lyrics and Damon Intrabartolo and Lynne Shankel's bland pop score can't elevate this tale of star-crossed gay love at an oppressive Catholic boarding school above the stereotypes and clichés in which it traffics.
This is director Stafford Arima's second attempt in quick succession to retool a failed cult show into a hit, but he has been even less successful with "Bare" than he was with "Carrie." Jock Jason and artistic Peter fall in love for no particular reason and pursue a romance while on holiday at Jason's family's lake house. Their return to St. Cecilia's School soon brings them back to reality, with the now-uncomfortable Jason moving on to sexy new girl Ivy in an attempt to go straight. This naturally upsets both Peter and the geeky Matt, Ivy's current squeeze, who goes from worrying that she's too good for him to a righteous determination to reclaim her. Hanging around observing (and facilitating the plot) is outcast Nadia, Jason's angry sister, who is also the school drug dealer. As Jason is playing Romeo in the school play, with Ivy as Juliet and Peter as Benvolio, its no surprise that Hartmere's storytelling seeks to parallel Shakespeare's when it can and that things finally come to a head onstage.
The show first played NYC Off-Broadway in 2004 as "Bare: A Pop Opera," when it was virtually through-sung. Arima has instigated extensive revisions, the first of which are Hartmere's book scenes, which get off a few snappy lines but also sap the extravagant sense of raging hormones once conveyed by the nonstop singing without compensating by establishing dimensional characters. Lyrics have been heavily rewritten due to plot changes and at least one song has been reassigned, from Peter to Jason. There are now no adults on view except for the possibly closeted Father Mike and rebellious drama teacher Sister Joan, whose Act 2 solo "You're Not Alone" sets a new standard for mawkishness. The other students are identified by single traits, much as they were in "Carrie," and contribute little beyond their service as a chorus.
The enthusiastic young cast works hard. Jason Hite and Taylor Trensch make an attractive and sympathetic pair of lovers as Jason and Peter, Elizabeth Judd is effectively confused and vulnerable as Ivy, and Barrett Wilbert Weed shows us the ache underneath the glowering, caustic Nadia. Gerard Canonico, as Matt, has a focused presence that helps to mitigate the fact that his character keeps getting lost. Missi Pyle gives Sister Joan a tart energy that undercuts the foolishness of some of her actions, but Jerold E. Solomon struggles to find layers in the opaque Father Mike.
Donyale Werle's set unhelpfully brings to mind both Arima's "Carrie" and the original production of "Rent," and Travis Wall's distracting music-video choreography is spectacularly unrelated to character. The original "Bare" apparently has a devoted following. Perhaps it might have been better to leave things well enough alone.
Presented by Paul Boskind, Gregory Rae, Randy Taradash, and Carl D. White, in association with Carollo and Palumbo, at New World Stages, 340 W. 50th St., NYC. (212) 239-6200, (800) 432-7250, or www.telecharge.com. Casting by Telsey + Company/Craig Burns.
Critic's Score: D