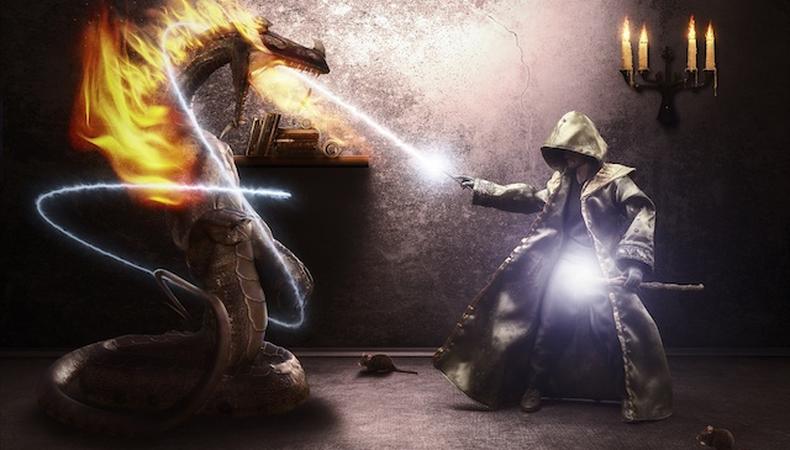 The English writer Samuel Johnson mused, "When a man is tired of London, he is tired of life." The same could be said of Atlanta—well, except for the traffic, which everyone is tired of. Even people who have lived here for 20 years are still always finding new things to do. There's no reason for you to stay home this week and not find the artistic spark in all that is around you.
1. Go dragon slaying.
Dad's Garage prides itself on being "a gateway drug to the arts." Home to award-winning Atlanta improv comedy, scripted events, and improv classes in the historic Old Fourth Ward part of town, the garage will host an evening of "Dungeons and Dragons"-themed improv on Friday, April 14.
2. French up your life.
Spend an afternoon with at the Landmark Midtown Arts Cinema. This month's screenings include new indie projects by François Ozon ("Frantz") and Danièle Thompson ("Cézanne et Moi"). Stop by the adjacent Après Diem for a rich French hot chocolate and take in the local art that hangs throughout the fin-de-siècle-style restaurant.
3. Take a workshop class.
Brush up on your acting skills and audit an acting class with Alliance Theatre. On Friday, April 14, the theater will offer a free on-camera workshop for adults. The theater invites prospective students to participate in inspiring and fun activities while studying the craft. Alliance also presents the one-man show "The Magic Negro and other Blackity Blackness, as told by an African-American Man who also happens to be Black" by Dad's Garage's Mark Kendall, running now through April 15.
READ: How to Break Into the Atlanta Theater Scene
4. Create something great.
Start brainstorming for the upcoming AT&T Create-a-thon on April 21. Emerging filmmakers, actors, writers, and content creators of all types are encouraged to create short films over a weekend in the city. The event kicks off with creative panels followed by shooting throughout Saturday and screenings and prizes on Sundays. This is a great opportunity to network with new members of the Atlanta film community.
5. Get lost in 'Labyrinth.'
Jim Henson once said: "Life's like a movie; write your own ending. Keep believing; keep pretending." Truer words were never spoken! Find inspiration in Henson's creations at the Center for Puppetry Arts which currently houses a special exhibit dedicated exclusively to "Labyrinth." See David Bowie's costumes and catch muppets and puppets you won't find anywhere else in the country.
6. Join 'The Walking Dead.'
They call Atlanta the Hollywood of the South, and while it may not have the iconic signage, it does have quite a bit of famous scenery from popular TV shows and films. Take a ride to Bellwood Quarry, the backdrop of projects such as "The Walking Dead," "The Hunger Games," and more recently, "Stranger Things." The quarry is closed so it may be a bit of an adventure but this handy guide shows you have you may be able to get a photo op. Attempt at your own risk! For the less adventurous, drive 50 minutes north of the city and take the Big Screen Walking Tour, which shows film locations from many of these productions.
READ: 3 Things 'The Walking Dead' Cinematographers Need From Actors
7. Get down with Michael Myerz.
You'll have to wait till October for the internationally known A3C Hip Hop Conference, and FX's "Atlanta" on FX won't be back till 2018. Get your hip hop fix at the Michael Myerz show Saturday, April 15 at 529 on Flat Shoals. He's like Weird Al meets Tyler the Creator meets John Carpenter's "Halloween." Put on by one of Atlanta's best promoters, A. Rippin Productions, this is a party you won't want to miss.
Are you looking for work as an Atlanta-area actor? Check out our Atlanta audition listings!