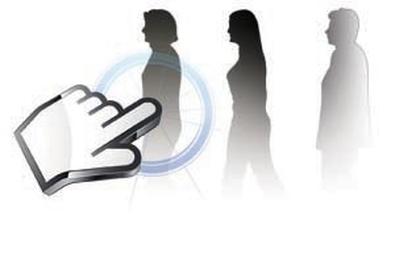 Emma Roberts auditioned for "Scream 4" through Skype. Emma Stone submitted an online audition for "Easy A." Director Arthur Laurents discovered Josefina Scaglione on YouTube for his 2009 Broadway revival of "West Side Story."
From A-list actors to beginners, performers are using new technologies to audition and look for work. As the tech universe continues to change, new platforms and social media are making the casting process more accessible and casting information more available—to the benefit of actors and casting directors alike.
"We're really at a first stage of really modifying and transforming the casting process," says Yoktan Haddad, co-founder of the audition website
Let It Cast
. "By allowing actors to audition directly, you're really leveraging the nature of the Internet, and for the first time really changing the casting process."
Caught on Tape
Let It Cast, along with similar sites such as
ActorCast
and
Now Casting
, offers actors the opportunity to submit a video audition to casting directors as opposed to a traditional headshot and résumé. Let It Cast hosted the search for an actor to play the lead role of Fanny Brice in a new (now postponed) Broadway production of "Funny Girl" and garnered 333 submissions from 11 countries.
Los Angeles casting director Heidi Levitt thinks the international reach of online auditioning is part of its appeal, and she is using Let It Cast to search for the lead in her latest film project, a biopic about Cesar Chavez.
"I want somebody who's Chicano," Levitt says. "I want somebody who's authentic who might not have had the opportunity to play a leading role. I want to see everybody."
While self-taped auditions have been around for years, especially for film and TV projects, they're less popular for theater, as Actors' Equity Association has tight restrictions. "Our general policy has been not to allow video auditions," says Equity spokesperson Maria Somma.
However, Erika Sellin, head of casting for L.A.'s Center Theatre Group, relied on Let It Cast for "Funny Girl" and for an upcoming production of Danai Gurira's play "The Convert" (co-produced with the McCarter Theatre Center and the Goodman Theatre).
"All auditions are supposed to be done live, and it's supposed to be voluntary if the actor wants to submit a tape," Sellin says of Equity's rules. But when getting the creative team together is "geographically prohibitive"—Gurira lives in Zimbabwe—video is a great way to start a dialogue about an actor, the CD says.
Casting an actor directly from a video audition is rare in theater, as theater is a live event. Sellin has cast two actors through video, but the initial audition is always followed by a callback on Skype, another great tool for conducting auditions.
L.A.-based casting director
Marci Liroff
used Skype recently in casting the film "Mr. Popper's Penguins," with Jim Carrey. She was interested in Ophelia Lovibond for the role of Pippi, Mr. Popper's assistant, but Lovibond was in London. Through Skype, Liroff was able to connect the actor with the film's director, Mark Waters, and audition her online. Lovibond landed the role without meeting anyone face to face.
"It really takes an open and tech-savvy director," Liroff says. "Some people are still pretty freaked out by technology."
Socializing
Liroff is also one of the most active casting directors on
Twitter
and
Facebook
and uses social media to make casting information more readily available.
"Casting directors have always been kind of hard to get to, and I feel that business model is changing," she says. Liroff hosts a Twitter conversation called "Ask Me Anything," in which actors can tweet their questions to her. She also video-blogs and wrote a series called "Inside the World of Casting" on her Facebook page.
Liroff is currently producing a low-budget indie film that will be shot in Kansas, and she needs to cast local actors. By creating awareness of the project through Twitter, she attracted welcome inquiries from some local performers. But Liroff says this is a special circumstance and that actors need to be careful about how they use social media.
"I could be very overwhelmed with a response of actors submitting themselves for things that they're really not right for," she explains, adding that it's best to use social media for building relationships.
Liroff also started a fundraising campaign for the film on
Kickstarter
, allowing actors to connect with the project by contributing money. Actor Erin Cronican has used Kickstarter and the similar site IndieGoGo to fund her own projects, and by showing interest in other people's projects she has landed auditions and booked roles, she says.
Cronican is also a co-founder of the bimonthly live event NYActors­TweetUp (which has sister events in Los Angeles and London), and says it's a great way to network with other actors and land roles.
"Usually they're people who are self-producing and need to bring people on board," Cronican says. "I've gotten two paid SAG film jobs. I've also sourced for the projects that I'm doing."
Going Mobile
Mobile platforms can be another great way to connect with casting directors. Levitt created the smartphone app
Actor Genie
, which provides actors with industry resources and audition listings.
"People are overloaded with information," says Levitt, who curates the app's content. "They need to be able to sift through and know what information I need to look at."
While the app is not an auditioning platform, Levitt connected with actor Adria Tennor when she submitted a review of Actor Genie. The two met and developed a relationship, and Levitt recently cast her in "The Artist."
"She wasn't even trying to contact me," Levitt says. "I just was really impressed with her and several other of these women who really understood and were using social media and had huge followings."
Levitt also connected with actor
Taryn O'Neill
through social media, and O'Neill, who works frequently in Web series, says she books the majority of her jobs as a result of her online presence.
"The acting marketplace has really changed," says O'Neill, who recently landed a role in the online sci-fi show "Continuum" because of her blog. "Taking advantage of all the opportunities to create your own content and build a fan base and a community around yourself really holds value."
Levitt agrees. "Investors are going to be looking at that," she says of an actor's online following. "What do you need to succeed? You need to know that there's an audience."
---
How to Film a Video Audition
You're not expected to shoot a professional-quality video, but do make sure it's good enough that you can be seen and heard clearly throughout before you send it.
Natural light is sufficient. But be sure to face your light source so you are not lost in the contrast.
Test your microphone and ensure there isn't too much background noise, so you remain audible throughout the audition.
Frame your shot so that your face is clearly and frontally visible in a medium close-up (the top of the frame should be slightly above your head and the bottom of the frame just below your shoulders). In other words: Your face should be your most visible part.
Keep your camera as still as possible unless there's a good reason to move it about. Use a tripod.
Unless you choose to film yourself on location, use a plain background if you can.
Avoid filming other people. Unless you're doing a monologue, have someone read with you, but don't film the other person. "They should be standing right next to the camera, and read your lines directly to them," advises casting director Marci Liroff. "Many times I see the actor is reading with their eye line so far off, it doesn't connect with the viewer."
Avoid fancy montages. This is more likely to make the casting director think you can't do an entire scene in one take.
If you're filming with an iPhone, be sure to hold it in landscape mode (horizontally, with the lens toward the top). Otherwise your video will either be very narrow or sideways when it's viewed (even though you won't notice this on your iPhone, since it automatically rotates the video).
If you're using a webcam, use your camera's software to increase the video frame rate to the maximum; otherwise your video will likely be choppy.
This list, based on the feedback of numerous casting directors, is provided courtesy of the website Let It Cast.